Dyson elevating game with Rangers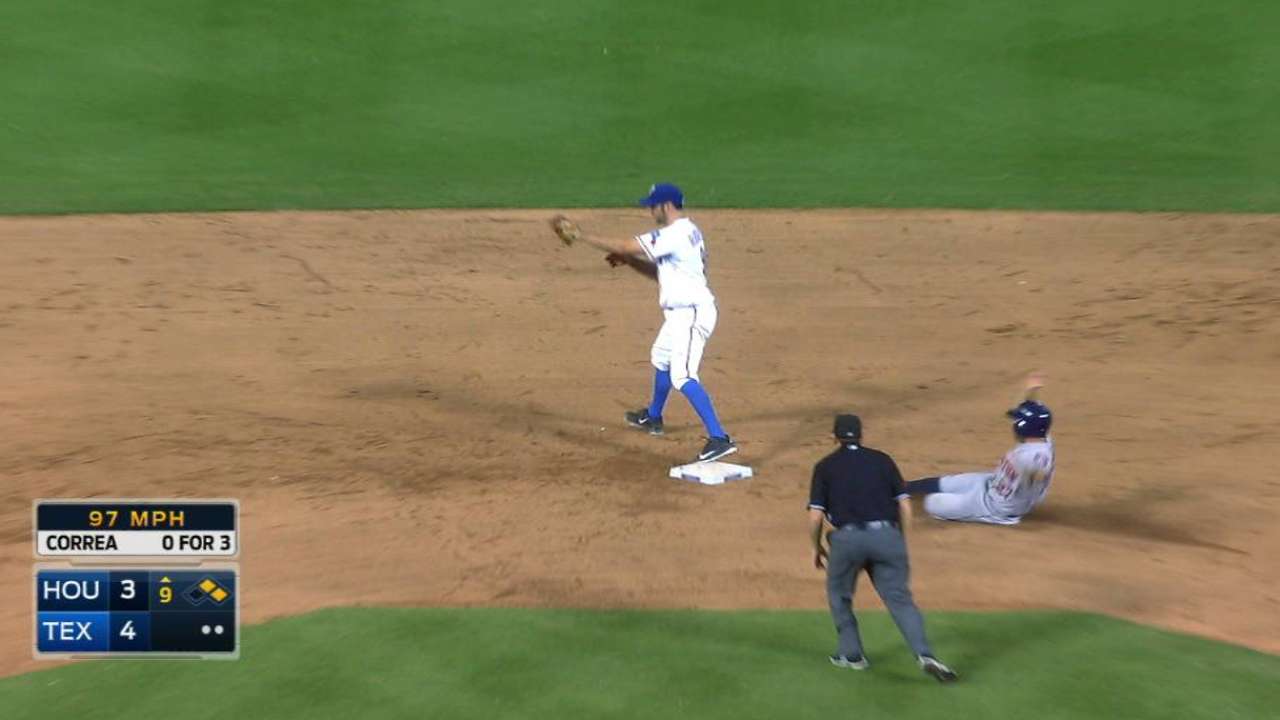 ARLINGTON -- Sam Dyson didn't exactly come to the Rangers thinking he was going to be working the ninth inning, but only a few days into his Rangers career, that's how it's worked out.
Dyson, who was acquired in a trade with the Marlins on Friday, earned his second save in four days after getting out of a ninth-inning jam in Wednesday night's 4-3 win against the Astros.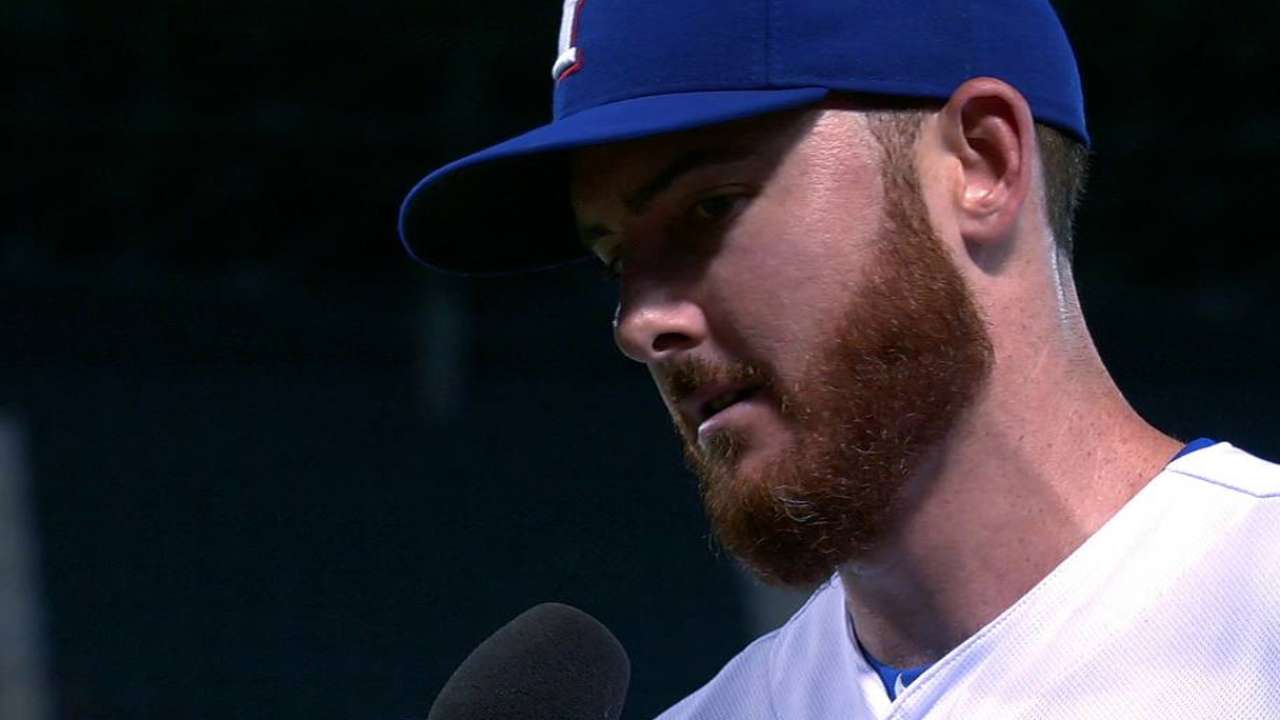 The two saves are the only ones of his career, and he went from pitching for an out-of-contention team to getting meaningful innings for a surging Rangers squad.
"I'm definitely enjoying it," Dyson said. "I wouldn't say I'm like a pressure freak or anything, but it's definitely nice to get out there when the game is on the line, just from an adrenaline standpoint."
With Rangers closer Shawn Tolleson needing a day of rest after appearing in six of the last seven games, Dyson got the ball in a one-run game. He allowed a leadoff single to Marwin Gonzalez, but then got Jason Castro out on a dribbler in front of the plate.
His biggest mistake was missing up on a 3-2 pitch that hit Jose Altuve, putting the go-ahead run on with one out. Dyson, though, responded by striking out Carlos Gomez and getting Carlos Correa to ground out to end the game.
"The 27th out of the ballgame, when it's close and you're on top, is the toughest out to get," Rangers manager Jeff Banister said.
Dyson's performance is a microcosm of the Rangers' bullpen as a whole. Texas relievers pitched four straight shutout innings in Tuesday's win. On Wednesday, Phil Klein allowed two runs after taking over a 4-1 game in the sixth inning, but Sam Freeman, Spencer Patton, Jake Diekman and Dyson combined to throw 3 2/3 scoreless in relief of Nick Martinez. It wasn't necessarily pretty -- Rangers pitchers combined for eight walks -- but it's the final result that counts.
Patton entered the series coming off a bad outing against the Yankees and allowed two runs in Monday's opener, but he threw 2 1/3 combined shutout innings Tuesday and Wednesday, including striking out Gomez and Correa to escape a sticky situation in the seventh inning Wednesday.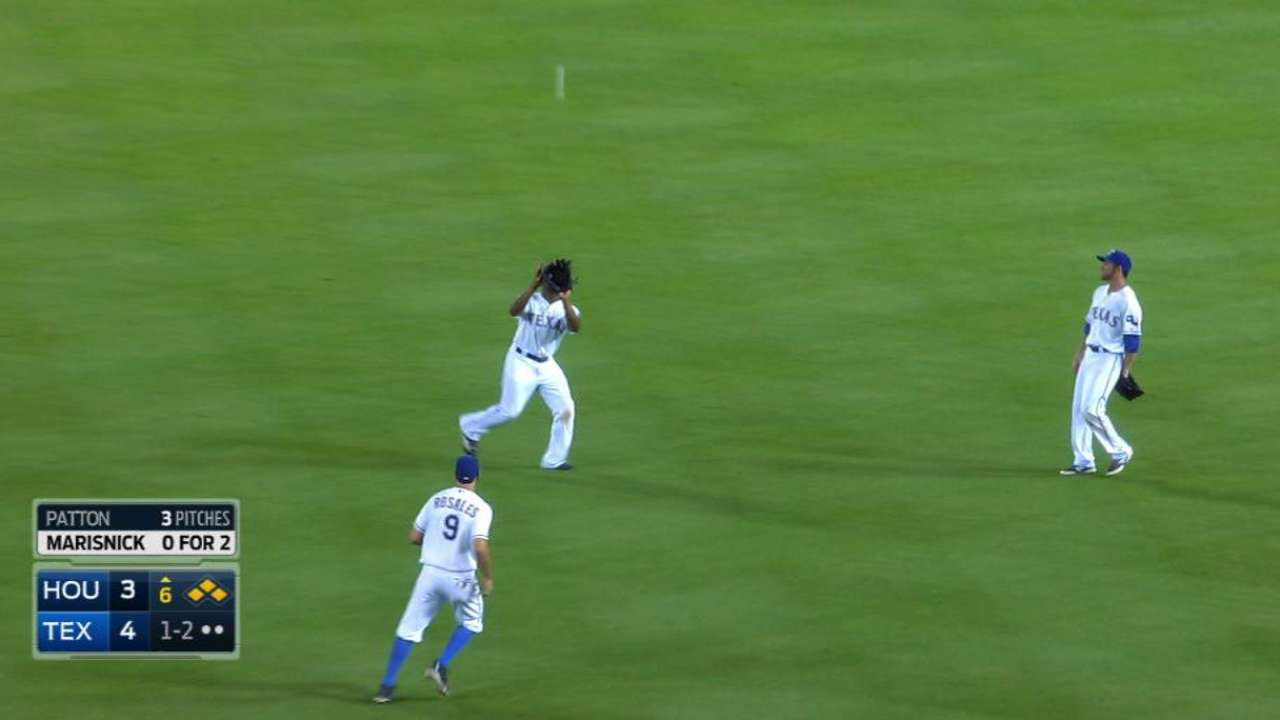 Patton said he made some minor mechanical adjustments to slow his delivery down, but he has also slowed the game down in his mind, staying collected by using breathing techniques.
Freeman has become a go-to bullpen arm, and the addition of Dyson and Diekman has made a notable difference since the Trade Deadline. Rangers relievers have saves in four straight games.
"It's a big plus for us because we've been searching for those pitchers, those arms, those players that can handle those stations," Banister said.
Cody Stavenhagen is an associate reporter for MLB.com. This story was not subject to the approval of Major League Baseball or its clubs.