MLB.com Columnist
Marty Noble
Severino justifies callup with promising debut
Promoted to fill a spot, not a headline, Yankees' top prospect strong in defeat
NEW YORK -- During the days of tyranny in the Bronx, the Yankees occasionally made personnel moves based on the Mets' maneuvers. A silly practice, to be sure, but the combustible, bombastic and impulsive man who owned the Yanks had this thing -- Lou Piniella called it a complex -- about the other team in town. And though the Yankees had won more World Series in 1977 and '78 than the Mets had won in their then-17-year existence, the Boss wanted to retain control of the back pages. Or, at the very least, he wanted to deny the Mets large, black headlines.
So it was in the spring of 1981. The Mets were without a Seaver, a Koosman or a Matlack, and Doctor K was doing undergraduate work at Hillsborough High. But they had Timothy Leary. No, not that Timothy Leary, the one who wore No. 38 in St. Petersburg and emerged during the Grapefruit League season as the most dominant pitcher in Florida.
George Steinbrenner was perplexed by Leary's promise. The Yankees had won 103 games in 1980. The Mets had won 67 games. And despite the Mets' early attempts to hire Dave Winfield, the Yanks signed him. Still, Steinbrenner was jealous of the printed words devoted to Leary.
So he acted, anointing Gene Nelson to offset Leary. Nelson had produced a 20-3 record the previous season, so naturally, he became the chosen one. No matter that his experience was limited to Class A. Nelson was 20 and younger than Leary, and, in Steinbrenner's mind, that made him a more compelling story.
Neither pitcher made much of a splash in '81, Leary because of injury, Nelson because he wasn't ready. But at some point, Steinbrenner believed he had won a skirmish in the tabloid war.
Nonetheless, Steinbrenner acted as if he had learned his lesson; two seasons passed without that sort of folly. But when The Boss learned of the kid from his own backyard -- Tampa, Fla. -- who was a lock to be in the Mets' Opening Day rotation in 1984, he noticed that Jose Rijo, two months short of his 19th birthday, had become big league-ready in some miraculous overnight metamorphosis.
Two days before 19-year-old Dwight Gooden made his first big league appearance, Rijo made his debut. Gooden would win 41 games and a National League Cy Young Award before Rijo would earn his ninth big league victory. The Boss was stung.
* * * *
Tyranny is long gone from the Bronx these days, and though the Mets have the makings of a Murderers' Row-tation, the Yankees are far more concerned with intra-division play than intracity comparisons. The standings don't appear on the back pages. Turn a few pages and find that the Yanks -- like the Mets -- are a first-place team.
And so Yankees general manager Brian Cashman waited until his team had played 105 games -- and won 60 of them -- and until a genuine need for more starting pitching developed. Michael Pineda went down with a right forearm strain, consequently Luis Severino came up. Cause and effect, but legitimate cause and effect in this case.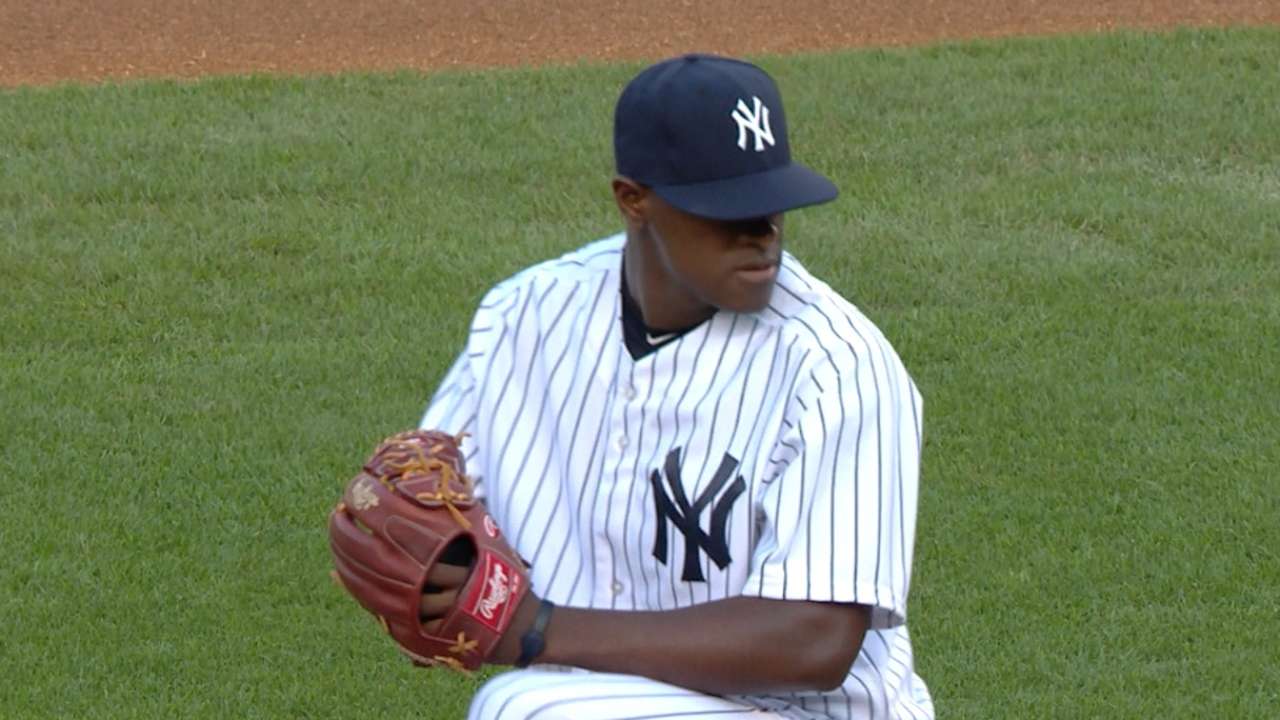 Severino, 21 years and 166 days old, became the youngest pitcher to start a game this season when the Yanks engaged the Red Sox at the Stadium on Wednesday night. And if not for the sixth stage of the Mets' unexpected U-turn, an error by Chase Headley and a monster shot by erstwhile monster David Ortiz, Severino might have done Steinbrenner proud and dominated Thursday's back pages.
As it is, Severino -- ranked as the Yankees' No. 1 prospect -- pitched well enough to lose, which says something in his favor. The score was 2-0 when he was replaced and 2-1 when the evening ended.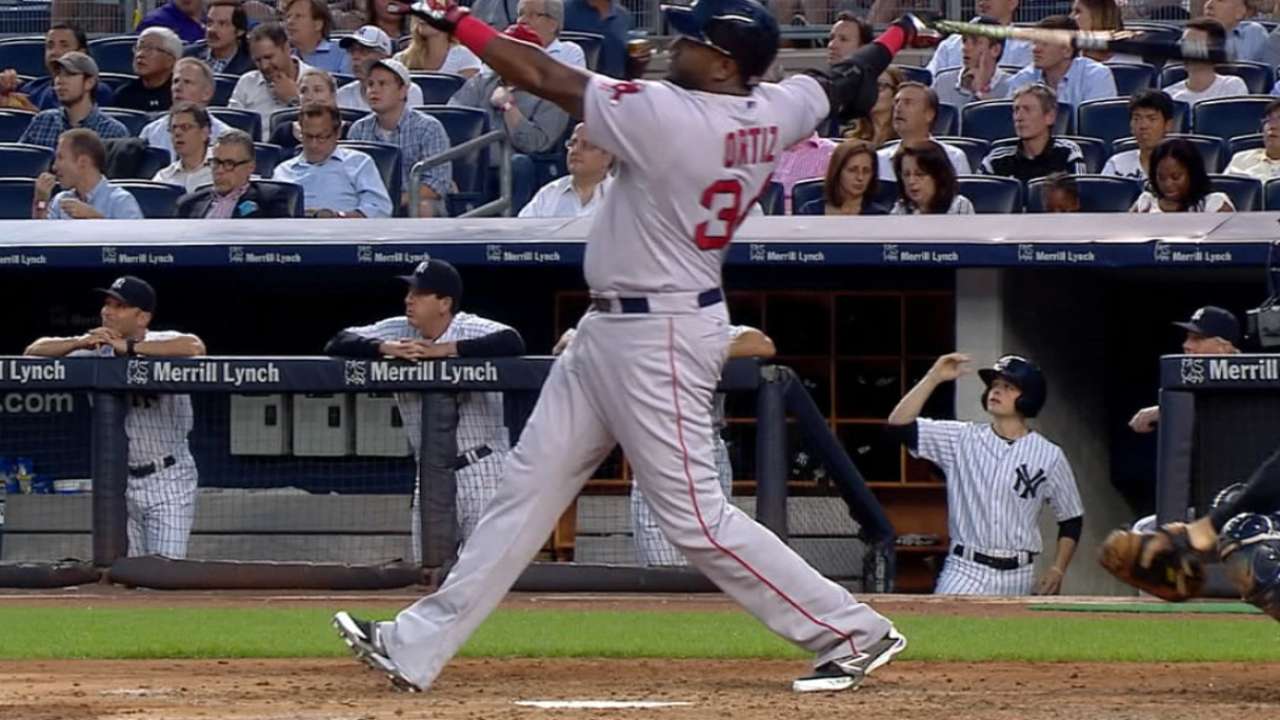 Severino had provided five innings of effective, though not efficient, pitching. Headley's throwing error in the second inning was followed by a booming double by Alejandro De Aza. Two innings later, Ortiz led off with a home run that flew over the auxiliary scoreboard in right-center and landed halfway up the bleachers. Severino wasn't the first Yankees pitcher battered by Big Papi.
Otherwise, Severino was everything the Yanks had hoped for -- poised, professional and, most of all, promising. He was something short of sensational despite a pitching line that included seven strikeouts, two hits and zero walks. Problem was Severino needed 94 pitches -- 59 of them strikes -- to produce merely 15 outs.
A large crowd, 47,489 had been attracted by the prospect of Red Sox-Yankees, a matchup that matters less than usual at this stage in the season, with the Sox further from first than Papi's splashdown was from his swing. The masses had to settle for a glimpse of the future -- the immediate future.
Severino is here to stay. Cashman said so the other day. If Pineda were to recover tomorrow -- September is the prognosis -- Severino would remain. The Yankees can't be sure of CC Sabathia. And why not allow the rookie to get his feet completely saturated before October?
Severino can be a primary factor in how the Yankees prosper in their final 56 games. He made his debut one week short of the 51st anniversary of Mel Stottlemyre's first big league game. Stottlemyre won nine of 12 decisions for the 1964 Yanks and even received some American League MVP Award support that year.
Severino probably won't have comparable impact. But he appears to be well suited for the challenges awaiting him.
Chances are Severino's colleagues will be more generous in their support during his next start. They had been abusing opponents for days and nights before Steven Wright -- no, not that Steven Wright -- and his knuckleball found the soft spots in their bats. The Yankees amassed four singles and a home run by Carlos Beltran.
Severino seemed as peace with the evening's developments. He dealt with the Headley error and Papi's poke in a matter-of-fact manner. Runs happen. The biggest difference between Triple-A and the big leagues is, Severino said through an interpreter, "You miss with a pitch here, and you pay for it."
His manager was pleased. "He didn't seem overwhelmed," Joe Girardi said.
His first baseman was impressed. "He's a guy we expect to be here for a long time," Mark Teixeira said.
And, other than Ortiz, the Red Sox's hitters offered no dissenting opinion.
Marty Noble is a columnist for MLB.com. This story was not subject to the approval of Major League Baseball or its clubs.