Duffey's debut derails vs. tough Jays lineup
Twins starter allows 6 runs on 5 hits in 2 innings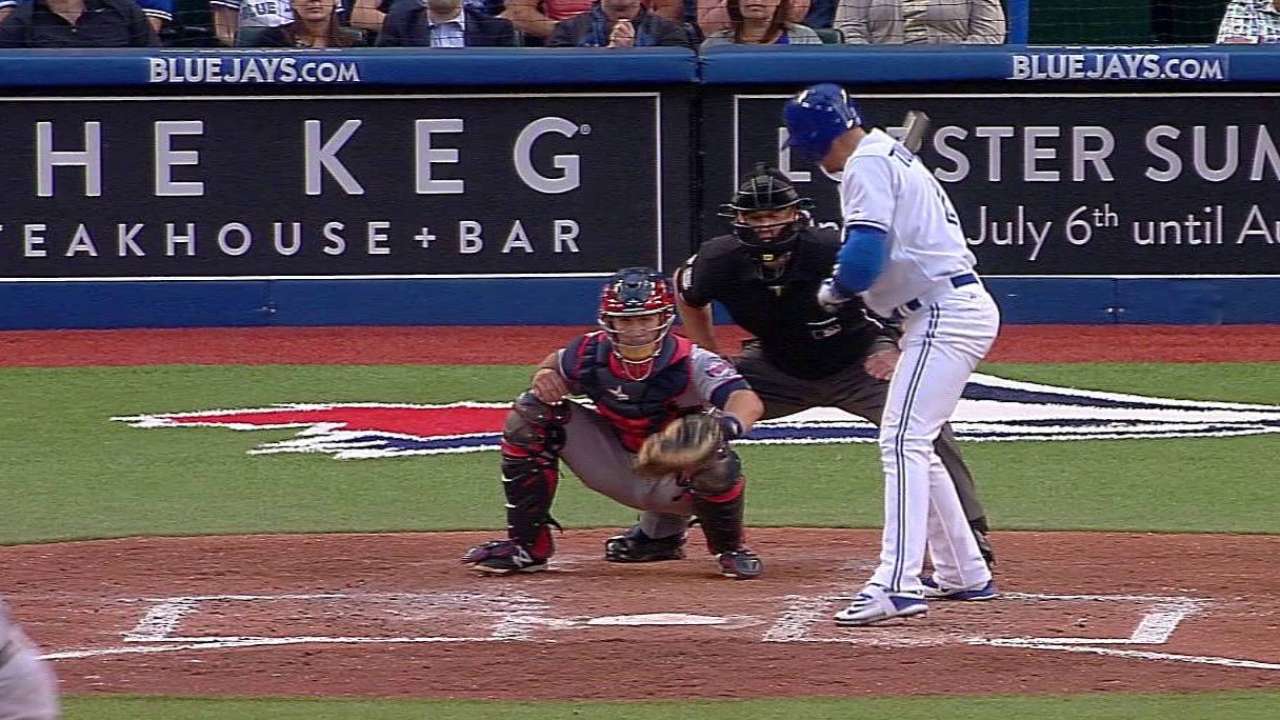 TORONTO -- The Twins tried to do just about everything to reverse their fortunes against the Blue Jays on Wednesday night, including shuffling their lineup, Mike Pelfrey dressing up in Brian Dozier's jersey during warmups to keep the team loose and catcher Kurt Suzuki delivering the lineup card to home plate.
And while it seemed to wake up a struggling offense, as the Twins notched seven runs -- matching their total over their previous five games -- it wasn't enough, as right-hander Tyler Duffey struggled in his Major League debut in a 9-7 loss to the Blue Jays at Rogers Centre.
Duffey, who was recalled from Triple-A Rochester to replace injured left-hander Tommy Milone, lasted two innings, surrendering six runs on five hits and two walks. Duffey allowed just one homer in 132 innings in the Minors this season, but served up a two-run blast to Josh Donaldson in the first and a grand slam to Jose Bautista in the second.
"You put a young kid out there and we knew it was a tough environment for him, but they got the best of him," Twins manager Paul Molitor said. "The difference here is that sometimes pitches that are chased down there [in the Minors] are taken up here. They were patient on his breaking ball. And he had to throw it out over and they're pretty good at doing that."
Duffey, though, had good stuff, as he mixed in a fastball that ranged from 91-94 mph, a curveball from 79-82 mph and a changeup from 83-85 mph. It was more about location and command, as Donaldson's blast came on a 2-2 fastball left on the inner half of the plate, while Bautista's grand slam came on a 3-1 changeup.
Duffey said he had issues locating his breaking ball, as he tried to be too fine with it.
"I got a little ahead of myself and tried to make stuff too good instead of what I've been doing," Duffey said. "It came back to bite me a few times with a couple walks. And then I left a pitch over the middle twice."
With Duffey's struggles, Molitor said they're debating whether he'll make another start. The Twins could also decide to stick with a four-man rotation in the short-term with an off-day on Monday.
"We're talking about how we're going to go forward," Molitor said. "We'll sleep on it and have some clarity tomorrow."
Rhett Bollinger is a reporter for MLB.com. Read his blog, Bollinger Beat, follow him on Twitter @RhettBollinger and listen to his podcast. This story was not subject to the approval of Major League Baseball or its clubs.