Jumbo comes up big for Reds in extra innings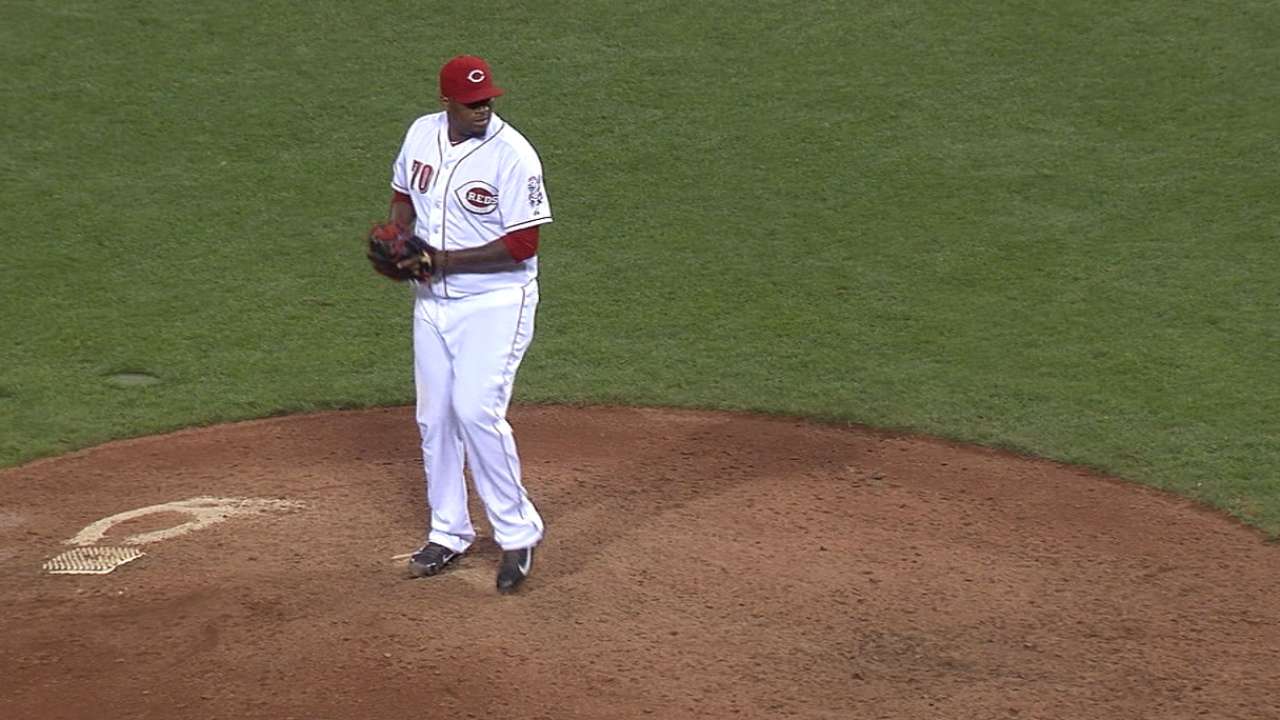 CINCINNATI -- The Reds have become known for some top-end speed out of the bullpen, primarily because of premier closer Aroldis Chapman. While Chapman struck out three in his one inning of relief work, it was Jumbo Diaz who stood out from the bullpen in a 4-3 loss to the Cardinals in Wednesday's 13 inning affair.
Following Chapman in the ninth, Diaz came in to pitch a pair of scoreless innings in the 10th and 11th to help keep the Reds in the game. Diaz gave up only one walk while striking out five, using primarily his fastball.
"I felt really good today with my fastball," Diaz said. "I can locate my fastball and [catcher Brayan] Pena gave me the sign, and I threw it to him. Felt very good with the fastball today, I threw a couple of sliders, but I think they were looking for my sliders because they know I throw that outside, but I want to go out there with my fastball."
All five of Diaz's strikeouts came on 98-99-mph fastballs. He said he missed a few times when he walked Jason Heyward, but overall was able to locate the fastball with consistency.
"I'm trying to hit a spot and that's what I do," Diaz said. "I missed a couple of ones with Heyward like a fastball inside, but I feel good because I want to throw inside and I didn't miss it by much. When I try to throw inside, if you miss it outside that's wrong, but if you miss it a little bit [inside] you're going to feel great. That's the way I feel today and control my fastball anytime."
Wednesday marked the ninth appearance for Diaz since being recalled from Triple-A Louisville after the All-Star break. During that stretch, Diaz has given up just one earned run while striking out 15 in 9 1/3 innings.
Diaz said while with Louisville he worked closely with pitching coach Ted Power to improve his slider, changeup and mentality of enjoying the game. That combination has helped lead to his recent success.
"When I got sent down, I go over there and working on my location and my changeup, slider," Diaz said. "Power helped me a lot over there. He said, 'get comfortable, have fun in the game,' and that's what I do. I'm having fun in the game, locating my pitches and that's been sort of right now [why] I've been throwing the ball very good."
Robert Bondy is an associate reporter for MLB.com. This story was not subject to the approval of Major League Baseball or its clubs.