DYK: Facts, stats from Correa's 1st 50 career games
Houston shortstop hits milestone Wednesday night vs. Rangers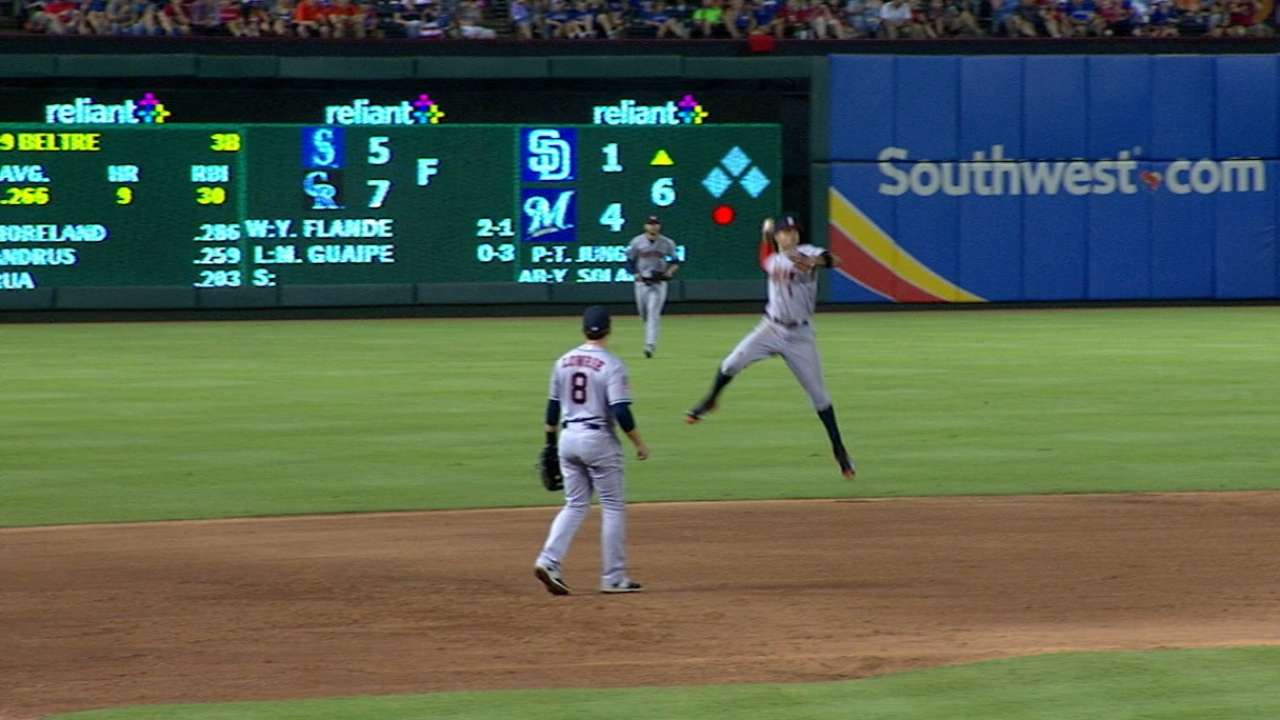 Carlos Correa has only been in the Majors for slightly less than two months, but the Astros phenom has wasted no time making his mark on the league.
The 20-year-old shortstop played in his 50th game on Wednesday night -- and against the Rangers, Correa put his all-around talent on full display. Along with swiping a couple of bases en route to scoring a run, the former No. 1 overall pick added to his already-lengthy highlight reel with an incredible stop-and-jump throw to end the fifth inning.
Ranked as the No. 2 overall prospect by MLB.com at the time of his June 8 debut, Correa has had little trouble living up to, if not exceeding, the lofty expectations that accompanied his promotion. Here's a look at a dozen of his most impressive accomplishments over his first 50 career ballgames:
• Correa's 13 homers are four more than any other shortstop has hit in his first 50 games. The previous record belonged to Nomar Garciaparra, who hit nine homers over his first 50 games with the Red Sox in 1996.
• The 13 home runs are also the fifth most by any active player in his first 50 games, regardless of position. The only current players to hit more homers over their first 50 games are Jose Abreu (17), Albert Pujols (16), Ryan Braun (15) and Evan Gattis (14).
• Correa has homered in 12 of his first 50 games, including one multihomer effort, making him the first Astros player to homer in at least a dozen of his first 50 games. The second-highest total belongs to teammate George Springer, who homered in 11 of his first 50 games last year. Prior to Correa and Springer, no Astros player had homered in even 10 of his first 50 career contests.
• Correa already has six games in which he has racked up at least three hits and a home run. The only player since at least 1914 with more such efforts within the first 50 games of his career is, notably, also an Astro -- Hunter Pence, who had seven such outings back in 2007.
• Correa also joined Pence and Eric Anthony (1990) as the only three players in franchise history with multiple games of at least one stolen base and one home run within his first 50. Correa is also just the third shortstop to accomplish that same feat, joining Garciaparra and Bert Campaneris.
• Correa has seven three-hit games overall, tied for the most by a shortstop through his first 50 games. Four other shortstops -- Garry Templeton, Lonny Frey, Clint Barmes and Mike Aviles -- also racked up seven three-hit efforts in that same span.
• Moving on to some of Correa's other tools, the all-around talent stole two more bases on Wednesday night to bring his 50-game total to eight. That makes him the first player with at least 13 homers and eight stolen bases in his first 50 games since Braun hit 15 home runs and swiped eight bases over his first 50 games in 2007.
• Three of those stolen bases came in just his 10th big league game back on June 18 against the Rockies. In swiping three bases in a single game, Correa became just the third American League player in the last 100 years to do so within his first 10 career ballgames. The only other AL players to accomplish that same feat were Alex Cole (1990 Indians) and Julio Borbon, who did it twice within his first 10 games for the 2009 Rangers. Correa was just the ninth player to do so overall and the first since Billy Hamilton in 2013.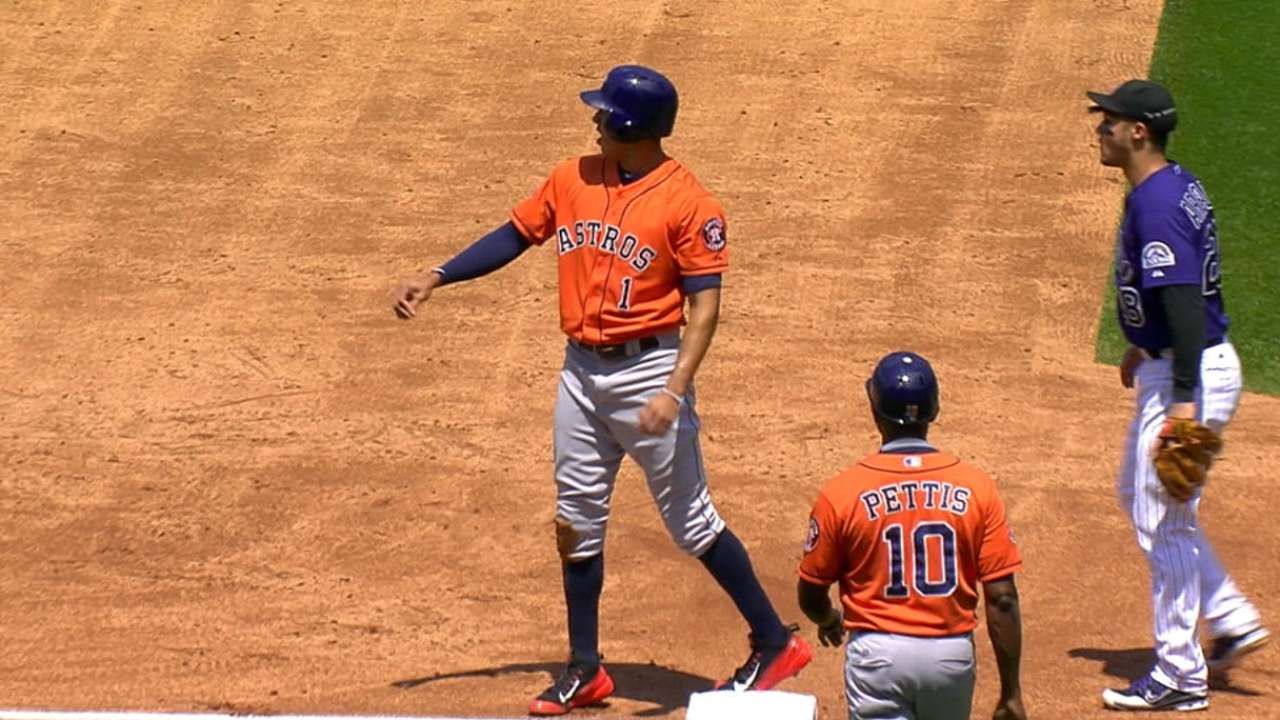 • As if that weren't impressive enough, Correa also scored two runs in that June 18 game, making him the only shortstop in Major League history to steal three bases and score at least two runs in the same game within his first 50 contests.
• The Astros phenom has also turned in eight games in which he compiled at least two hits and two RBIs. Among active players, only Pujols, David Ortiz and Braun had more two-hit, two-RBI efforts within their first 50 games.
• Correa picked up at least one hit in 37 of his first 50 games, tied for the fifth most in franchise history. Outfielder Gerald Young holds the club record by collecting at least one hit in 40 of his first 50 big league games back in 1987.
• Those 37 games with at least one hit are also tied for the sixth most by any shortstop within his first 50 games. Red Kress and Harvey Kuenn hold the all-time record, with each picking up a hit in 40 of their first 50 games. Both players did so over parts of two seasons; Kress completed the feat from 1926-27 and Kuenn did it from '52-53.
Paul Casella is a reporter for MLB.com. This story was not subject to the approval of Major League Baseball or its clubs.