Tomlinson opens eyes in first big league start
Second baseman draws comparisons to Duffy after two-hit night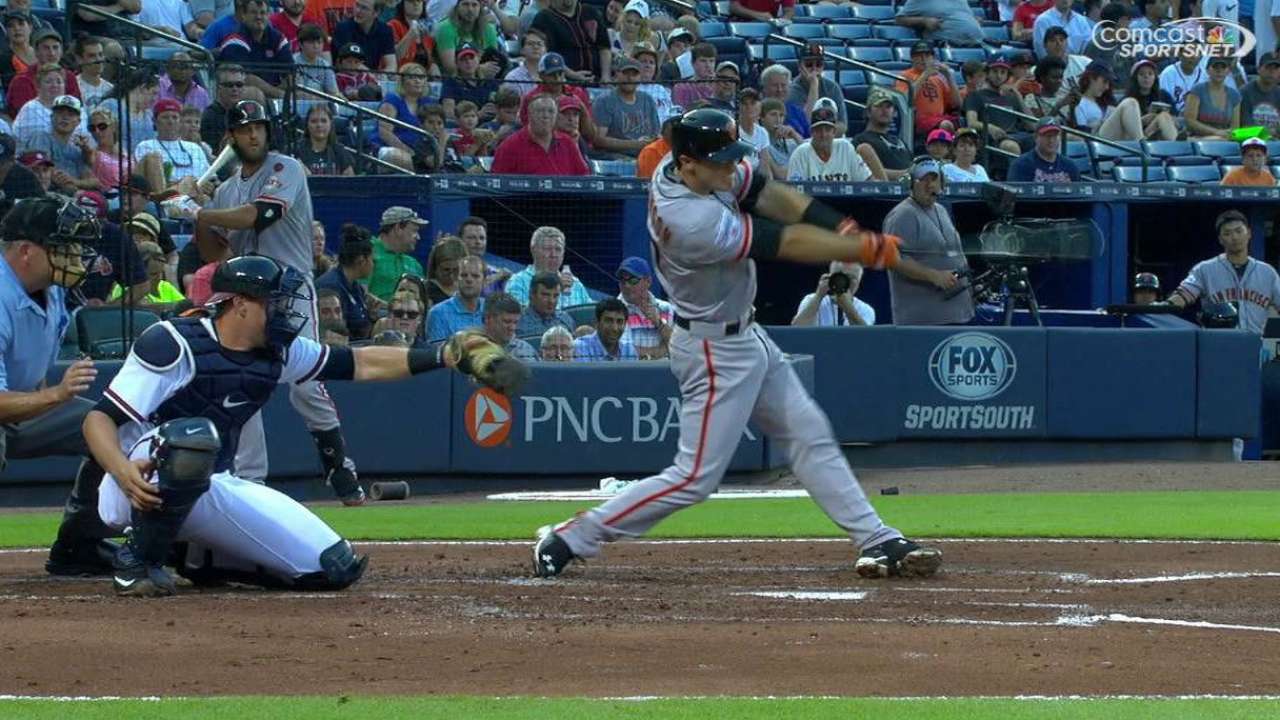 ATLANTA -- By now, the profile is familiar: A slender build. The ability to hit to all fields. An unheralded yet steady ascent through the Minor Leagues. A demeanor that's calm and apparently impervious to anxiety.
That's Matt Duffy, the Giants' National League Rookie of the Year candidate. But after San Francisco's 6-1 triumph on Wednesday over the Atlanta Braves, the description also fit Kelby Tomlinson, who excelled in his first Major League start.
Replacing the injured Joe Panik at second base, Tomlinson drove in three runs in his first two at-bats -- a two-run single in the second inning and an RBI single in the fourth. Combined with his 12th-inning pinch-hit single Monday, this made Tomlinson the first Giant to hit safely in his first three at-bats since Fred Lewis in 2006. The only Giant to eclipse this accomplishment was, of course, Willie McCovey with his 4-for-4 debut against Philadelphia on July 30, 1959.
From different corners of the visitors' clubhouse at Turner Field, Giants manager Bruce Bochy and left-hander Madison Bumgarner made identical observations.
"He's got a lot of Duffy in him," Bochy said of Tomlinson. "He has a good stroke and he uses the whole field. He doesn't have Duffy's pop, but he's a grinder out there."
Asked about Tomlinson, Bumgarner said, "He reminds me a lot of Duffy. They look like ballplayers to me. They grind out at-bats and make plays. He seems like a hard-nosed type of player, somebody you want to have out there."
Conceded Tomlinson, "I guess we're both kind of the same -- tall, skinny kind of guys."
He acknowledged that they share more than physical traits. Tomlinson has drawn inspiration from Duffy, who leads NL rookies with a .310 batting average and 107 hits.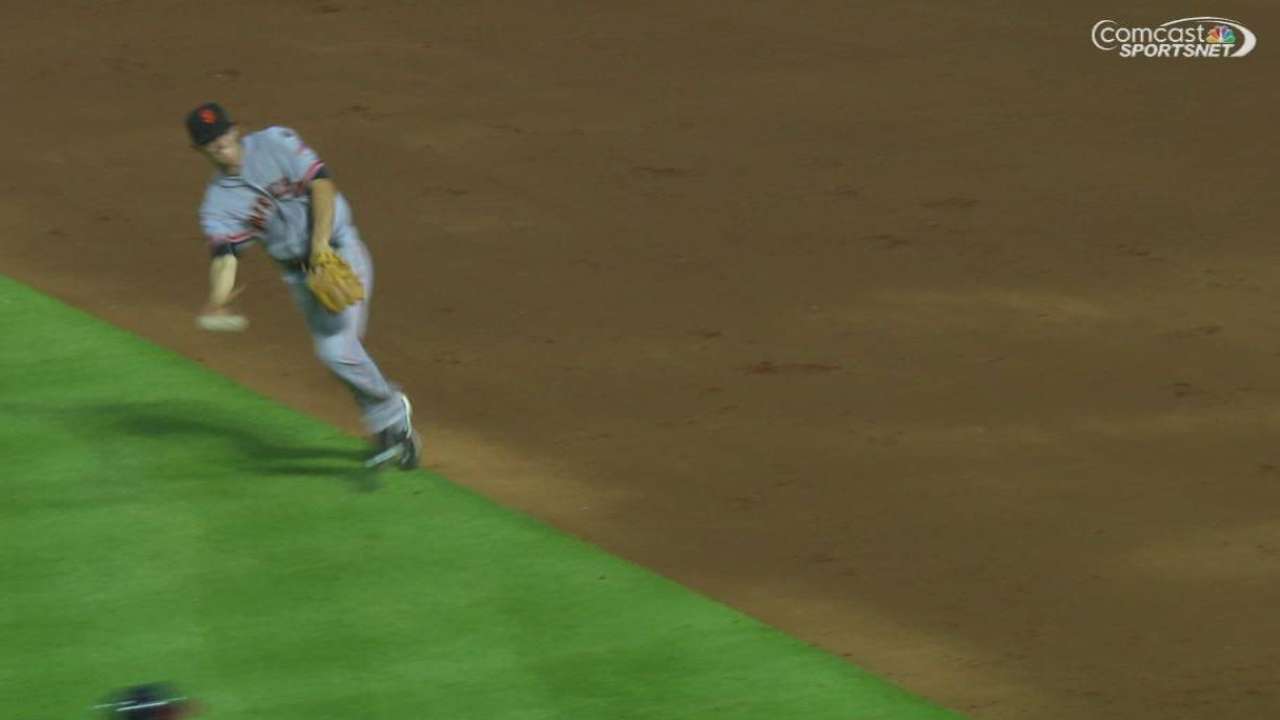 "Watching him and the success he had kind of gave me the confidence to be able to do the same," said Tomlinson, whose contract was purchased from Triple-A Sacramento on Monday when Panik went on the disabled list with lower back inflammation.
It just so happens that Tomlinson and Duffy were roommates last year when both played for the Giants' Double-A Richmond affiliate. Perhaps they rubbed off on each other, as Tomlinson's hitting approach indicated.
Tomlinson lined his first hit with first base open and two outs, a situation in which some teams might have intentionally walked him to pitch to Bumgarner. But taking for granted that he might be allowed to stroll to first base didn't occur to Tomlinson.
"You have to be ready to compete," he said. "You can't go up there with a softer mindset."
Chris Haft is a reporter for MLB.com. Read his blog, Haft-Baked Ideas, follow him on Twitter at @sfgiantsbeat and listen to his podcast. This story was not subject to the approval of Major League Baseball or its clubs.