MLB.com Columnist
Mike Petriello
Statcast shares Goldy's stolen-base secrets
D-backs star's average lead distance of 11.73 feet tied for 13th in baseball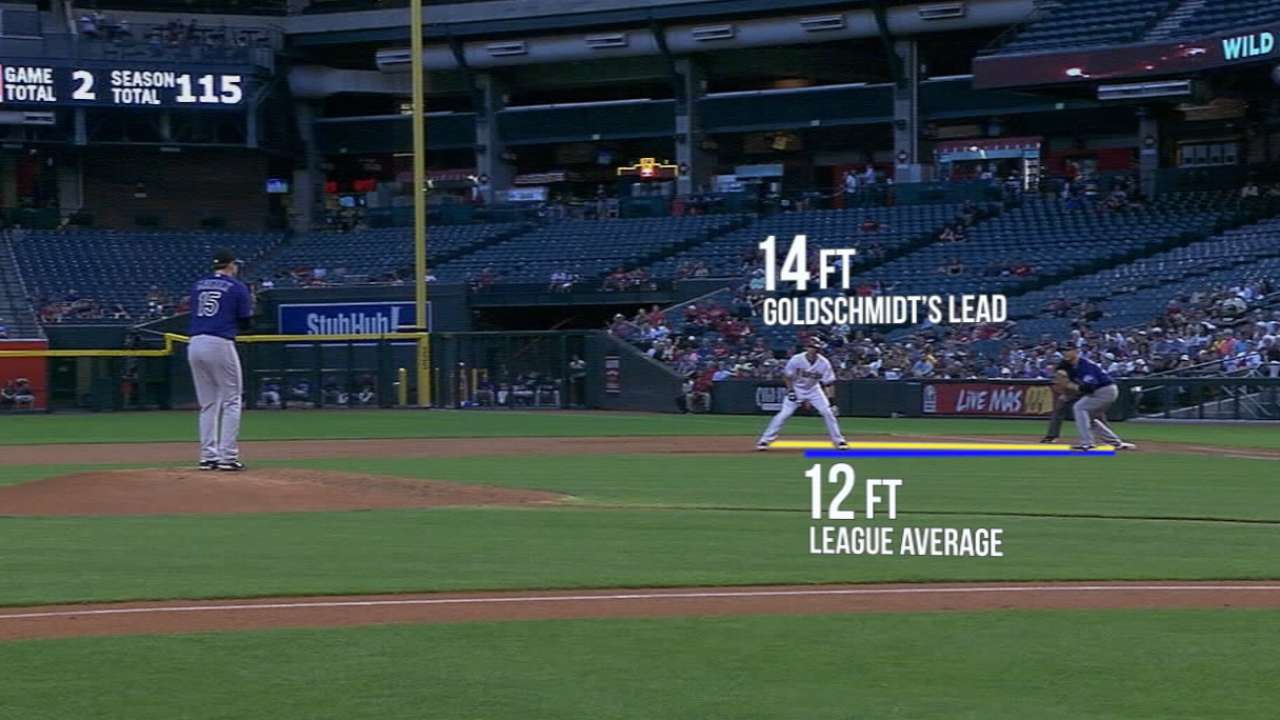 Most of the way through his age-27 season, Paul Goldschmidt has put together a stellar career line. It's almost eerily identical, in fact, to the performance through the age-27 season of a relatively recent first baseman with a name you'll certainly know. Take your best guess, though:
Goldschmidt: .301/.395/.534 149 wRC+
Player B: .306/.395/.515 149 wRC+
That's the 1991-95 performance of Jeff Bagwell, who had a career so impressive that it seems only a matter of time that he'll be elected to the Hall of Fame. Whether Bagwell ever makes it to Cooperstown is beside the point; that we can even favorably compare Goldschmidt to a player of Bagwell's skill says plenty about him.
That's not the only way in which Goldschmidt and Bagwell are similar, however. Despite being a muscular first baseman, Bagwell was surprisingly effective on the bases, stealing 202 bags in his 15 seasons and collecting double-digit steals 10 separate times. Goldschmidt has already grabbed 65 steals, by far the most by a first baseman since his 2011 debut. (Eric Hosmer is second, with 46.)
Because Bagwell's career ended a decade ago, we're left with brief mentions of "good instincts" in long-ago newspaper accounts of his basestealing success. But with Goldschmidt, we can do better. We can dig into Statcast™ and see just what makes him such a surprisingly effective basestealer.
It's not pure speed, as you'd imagine. Goldschmidt moves well for a big man -- he's listed as 6-foot-3 and 225 pounds -- but clearly we're not talking about Dee Gordon or Billy Hamilton here. Goldschmidt's average running speed of 14.85 mph doesn't rank in the top 200 on the leaderboards, even with a minimum of 100 tracked instances. Of course, as we learned in June when we broke down how Detroit's James McCann nailed Hamilton stealing, success on the bases isn't just about speed, and Goldschmidt is gaining his advantage in other ways.
How? Simple. In the same way that pitchers like Carter Capps and Jordan Walden are taking feet off the standard 60-feet, 6-inches of distance between the mound and the plate thanks to elite extension, Goldschmidt does a solid job of turning the 90-foot distance between the bases into something more manageable. Overall, Goldschmidt's average lead distance is 11.73 feet, tied with Carlos Gomez for 13th in baseball. (Oakland speedster Billy Burns, at 12.27 feet, is first.) Right there, 90 feet has turned into only about 79 feet.
But that's counting all tracked pitches where Goldschmidt is taking a lead. What about only when he's trying to steal? When he knows he's going, his lead distance averages 14.74 feet, a jump of nearly three feet -- now he's running only 76 feet -- and well ahead of the big league average of 11.93 feet. If it doesn't sound like that's a big deal, remember that pitcher-release times and catcher-pop times are measured in tenths of a second. Every step matters. Every foot matters.
Back in 2012, barely more than a year into his career, Goldschmidt's surprising basestealing skills were the focus of an MLB.com story about the care he puts into his preparations.
D-backs first-base coach Eric Young, who is primarily responsible for the team's running game, had said that "Goldy is probably one of our better students and has better instincts than a lot of our fast guys. Goldy understands a little bit more of what's going on."
That a lot more than speed goes into stealing bases is probably not talked about enough. Goldschmidt spends time studying pitchers' moves, learning just how far off the base he can get when taking his lead, and he also seems to have a good feel for when a pitcher may throw an offspeed pitch.
At the time, all we had to go on were the words of a coach, and stolen-base totals that didn't seem to make much sense. Now we realize that Young was right, that "learning how far off the base he can get when taking his lead" wasn't just kind thoughts from a coach looking to pay a compliment. It's something real, and measurable. It's a skill. We can assume Bagwell had it. We know Goldschmidt does.
Mike Petriello (@mike_petriello) is an analyst for MLB.com. This story was not subject to the approval of Major League Baseball or its clubs.