MLB.com Columnist
Tracy Ringolsby
CarGo a proud mentor to young Rockies
Outfielder welcomes leadership role, inspired by talk with former manager Tracy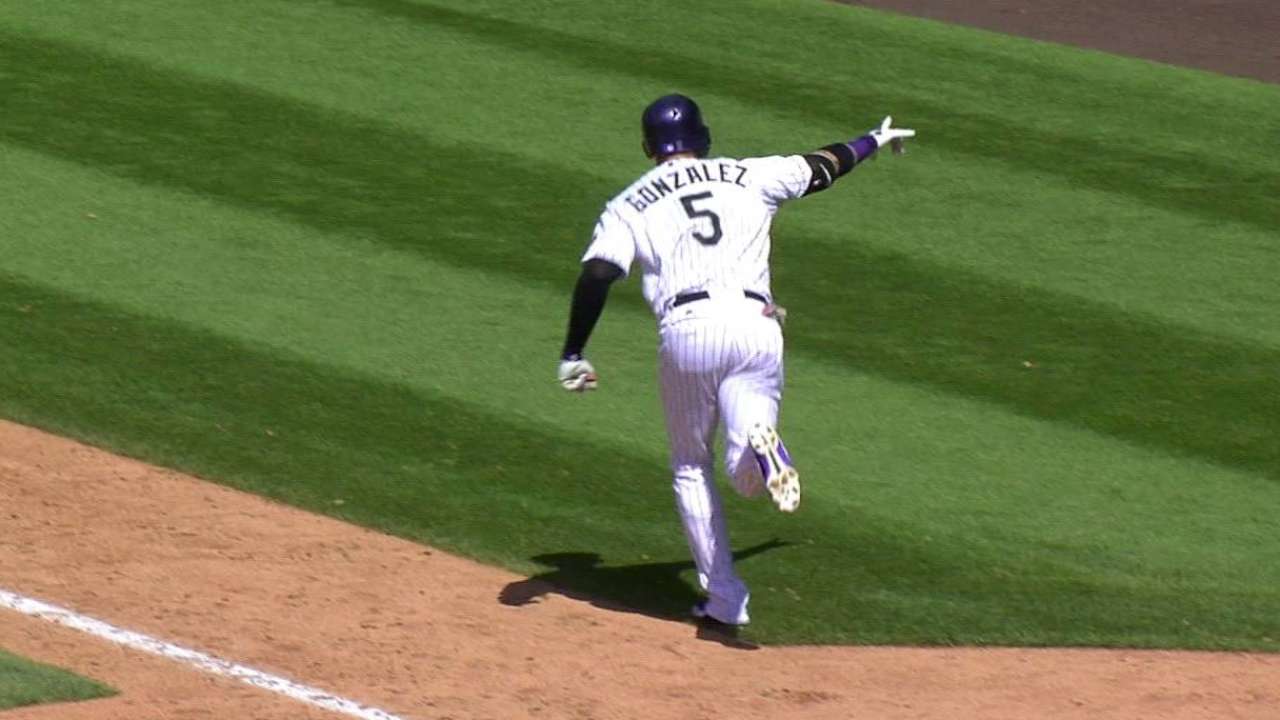 DENVER -- Slightly more than six years ago, Carlos Gonzalez was the new guy in the Rockies' clubhouse. He was a 23-year-old phenom with something to prove. Now look at him.
At the age of 29, and in the aftermath of the Rockies' decision to trade star shortstop Troy Tulowitzki to the Blue Jays last week, Gonzalez has become the elder statesman.
Gonzalez, a right fielder, is joined in the outfield by 29-year-old center fielder Charlie Blackmon and 25-year-old Kyle Parker in left on the days that Ben Paulsen, 27, is at first base. There is DJ LeMahieu, 25, playing in front of him at second base, and Nolan Arenado, 24, at third.
"I'm not the old man," Gonzalez said in good-natured protest.
Gonzalez is, however, the sage veteran of a franchise that has fallen since advancing to the World Series in 2007 and another postseason appearance in '09. The Rockies haven't posted a winning season since 2010, and they're trying to avoid a fourth last-place finish in five years. Without a winning season since '10, the clubhouse has been in a constant state of flux.
Relief pitcher Rafael Betancourt is Colorado's only current player who appeared with the club in the 2009 postseason, although lefty Jorge De La Rosa was on the regular-season roster that year.
Betancourt, De La Rosa and Gonzalez are among the 147 players who have appeared in a game for the Rockies since Gonzalez's arrival on June 5, 2009.
And now it is Gonzalez's time to pass on the lessons he has learned, particularly one from former manager Jim Tracy. Eighteen days and 17 games after Gonzalez's arrival with Colorado, Tracy had a closed-door session with Gonzalez in the visiting manager's office at Angels Stadium and gave the young outfielder the ultimate challenge.
"You'd better figure it out," Tracy said that day in Anaheim. "There is nothing for you to prove back there [at Triple-A]. You belong here. I'm not sending you back down, so it's up to you to get the job done."
Gonzalez smiles at the memory of that June afternoon. Having already been traded twice in his career, he had opened the season at Triple-A Colorado Springs, hitting .339 with 12 doubles, seven triples, 10 home runs and 59 RBIs in 48 games.
The trip at the big league level, however, was bumpy. The night before, the Rockies had beaten the Angels, 11-1, but Gonzalez was on the outside looking in. He went 0-for-5 and struck out four times. After 15 games with Colorado, Gonzalez had 10 hits and 11 strikeouts. He was hitting .175.
"Jim was special to me," said Gonzalez. "He gave me the confidence to play at this level. I was struggling, and he called me in the office and told me I was going to be his everyday left fielder so I'd better get the job done or we'd both be gone."
Gonzalez did the job. In his final 76 games of that season, he hit .302 with 19 home runs. More than that, he proved to himself, as much as anybody, that he belonged, playing a key role as the Rockies rallied in the second half to claim the National League Wild Card spot.
That was a fun time. Right now is a challenge.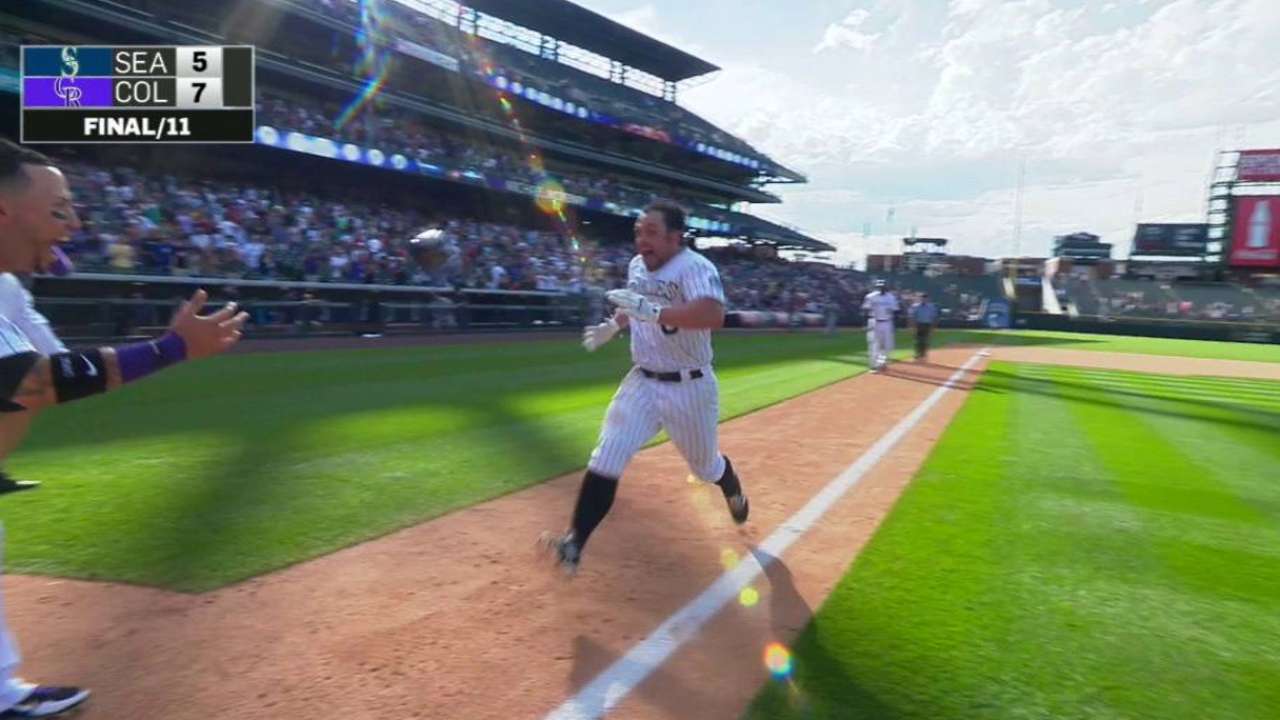 The Rockies rallied to pull out a 7-5, 11-inning victory over the Mariners at Coors Field on Wednesday afternoon. Michael McKenry provided the game-ending blow, a walk-off two-run home run, but it was Gonzalez who jump-started Colorado. With two outs in the sixth and the Rockies trailing, 3-0, having been limited to just three hits, Gonzalez unloaded on a 1-1 split-fingered pitch from Taijuan Walker that hit off the back wall of Colorado's bullpen and tied the game at 3.
"When CarGo hit that, I turned to [bench coach] Tommy Runnells and said, 'These guys are killing us, 3-3,'" said manager Walt Weiss. "That's what it felt like. [Walker] was so dominant. That gave us life."
And that, said Gonzalez, is the responsibility he now assumes in the aftermath of Tulowitzki's departure. It's up to Gonzalez to take some of the younger players aside, like Tracy did to him, and give them the push some need to establish themselves as legitimate big league players.
"It was special for me that Jim was here," Gonzalez said. "He is the one who gave me the confidence to play at this level, even when I was struggling.
"I tell these young guys, 'This is your chance, your opportunity to make adjustments and let people know you are ready to be at this level.' There is no next level. This is the level you reach, and you have to work hard to stay here."
It's not easy.
"This is a tough situation," Gonzalez said. "I want to be a Rockie. I don't want to be in last place. Baseball is not about one guy. It takes a team to be good. But maybe I can be one guy who can help other guys, the way Jim Tracy helped me."
That, after all, is part of the responsibility of being an elder statesman.
And as strange as it may feel for Gonzalez at the age of 29, he is the graybeard in the Rockies' clubhouse.
Tracy Ringolsby is a columnist for MLB.com. This story was not subject to the approval of Major League Baseball or its clubs.