Kazmir's first Astros loss a matter of tough luck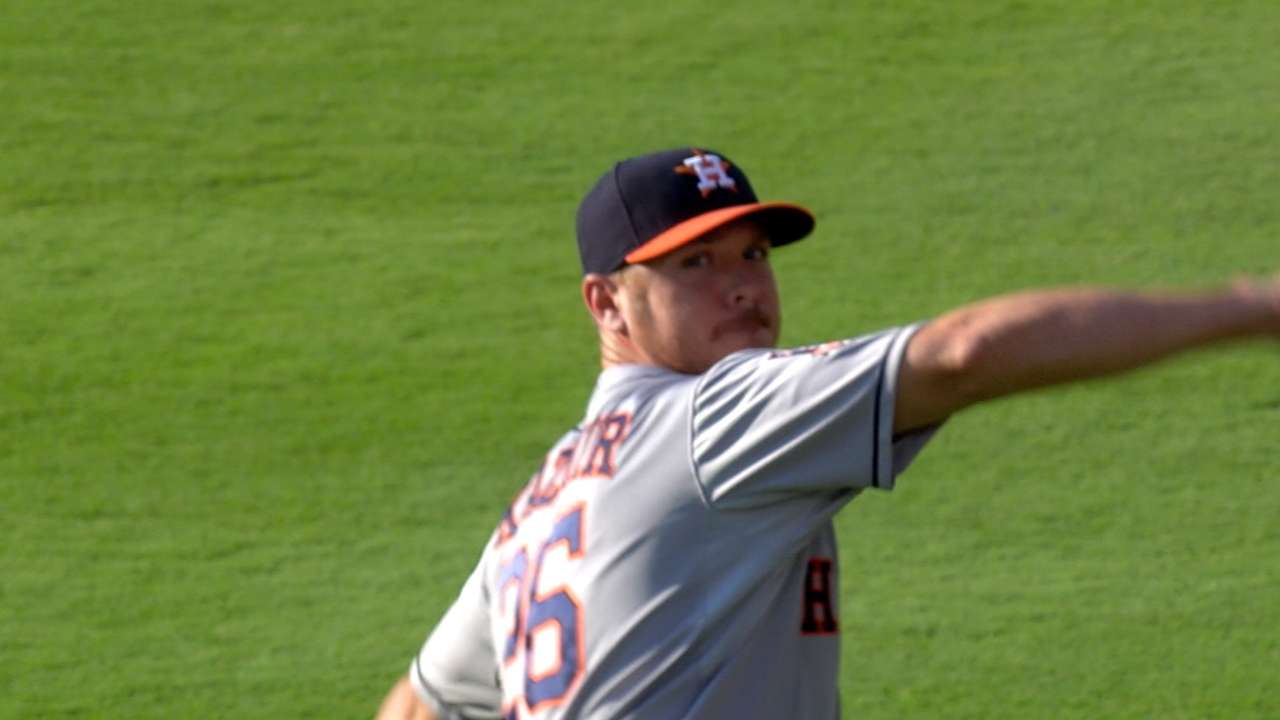 ARLINGTON -- The first two batters to face Scott Kazmir on Wednesday night reached on errors after hitting the ball maybe a combined 15 feet. Then there was a sacrifice fly, a walk and a couple of soft liners that landed in the outfield for RBI singles.
It was that kind of night for Kazmir and the Astros, who were swept by the Rangers on their second consecutive 4-3 loss at Globe Life Park. Kazmir (6-6), making his third start with Houston, didn't pitch poorly, giving up one earned runs in 5 2/3 innings while taking the loss.
"I think the whole game starts in the first inning," Astros manager A.J. Hinch said. "They had two singles, three runs, two errors, a walk. We just didn't get into the game."
Rangers leadoff hitter Delino DeShields began the rally with a dribbler in front of the plate that Kazmir dropped as he tried to pick it up. Ryan Strausborger followed with a bunt that catcher Hank Conger threw away, putting runners at first and third with no outs.
That set up the Rangers nicely. Prince Fielder had a sac fly and Mitch Moreland and Elvis Andrus had RBI singles to give Texas a 3-0 lead.
"It was tough," said Kazmir, who threw 25 pitches in the first inning on a night when it was 100 degrees at first pitch. "It all started with me. I didn't set the tone well. Easy play right in front of me and just rushed it and didn't get in front of the ball. It cost us. A couple of errors like that early on and you give a team like that momentum, and it's tough."
Conger said he didn't do Kazmir any favors by throwing the ball away.
"It's just one of those innings on back-to-back bunts and things got out of hand a little bit," he said. "After that I thought he did a great job coming back and giving us a good chance to win later in the game."
Kazmir, who didn't allow a run over 14 2/3 innings in his first two starts after coming over in a trade with Oakland, did surrender his first earned run with the Astros when Chris Gimenez homered to lead off the second for a 4-0 lead.
"He hit it well," Kazmir said. "I just thought it was too high. I thought it was going to stay in the park."
Still, Kazmir has allowed three or fewer earned runs in 20 of 21 starts and has allowed one earned run of fewer in six consecutive starts.
Brian McTaggart is a reporter for MLB.com and writes an MLBlog, Tag's Lines. Follow @brianmctaggart on Twitter and listen to his podcast. This story was not subject to the approval of Major League Baseball or its clubs.