MLB.com Columnist
Paul Hagen
Phils optimistic after recent surge
After underperforming early in season, club has shown fight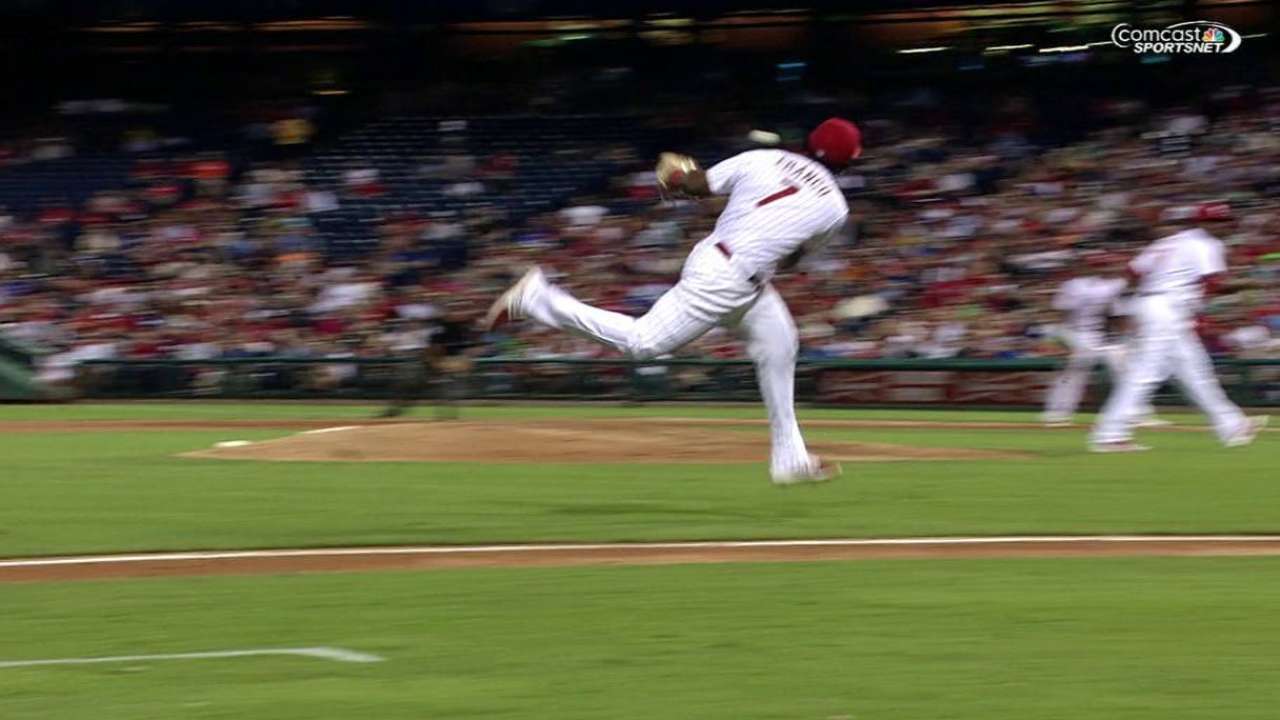 PHILADELPHIA -- When the All-Star break arrived this season, not a moment too soon for the Phillies, they had the worst record in baseball. And it wasn't even close. At the rate they were going, they would have ended up with 110 losses.
Since play resumed, virtually the same roster has MLB's best record. Despite a 4-3 loss to the Dodgers at Citizens Bank Park on Wednesday night, they're 13-4.
What in the name of Andy MacPhail is going on here? How can a team that looked suspiciously like the 1962 Mets for much of the first half now more resemble the '27 Yankees?
Glad you asked ...
Part is covered by the universal, one-size-fits-all answer: "That's baseball." Consider 1997. As late as July 27, the Phils were 42 games under .500. They closed out the year with a 38-22 record. Consider 1991. They were in last place with a 40-58 record on July 28, then inexplicably ran off 13 straight wins. Besides, as impressive as the record has been for the past 2 1/2 weeks, that's a small sample in baseball terms.
Still, there are several factors which, with the benefit of hindsight, have helped trigger the turnaround.
The one getting the most attention is the change in managers. After Ryne Sandberg stepped down on June 26, Pete Mackanin was given the job on an interim basis. Sandberg was a self-described old-school baseball man. Mackanin runs a looser ship. Veteran Jeff Francoeur on Wednesday became the latest to suggest that the players are performing better because they're more relaxed under Mackanin.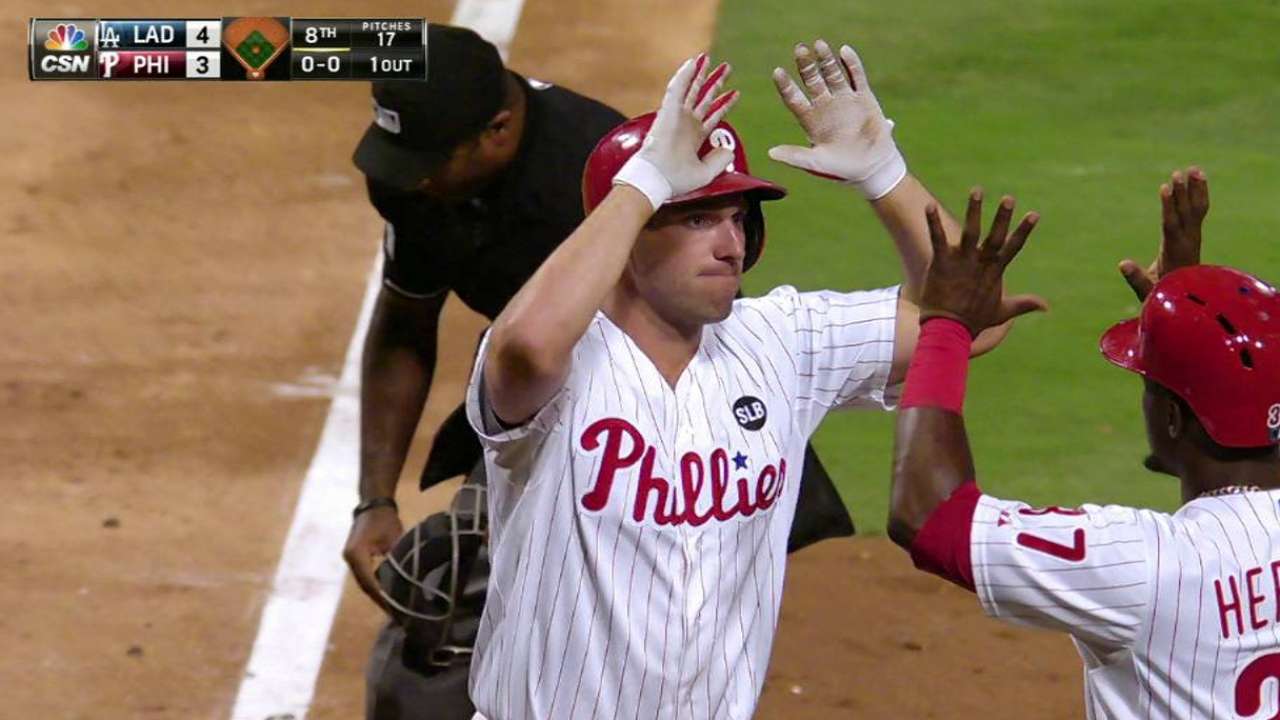 In fairness to Sandberg, a managerial change often provides a temporary bounce, whether it's going from a disciplinarian to a player's manager or vice versa. When hard-nosed Larry Bowa took over from more easygoing Terry Francona in 2001, a team that lost 97 games the year before jumped out to a 35-18 start.
Still, this abrupt U-turn must put into play the possibility that Mackanin could be considered to stay on next season. He spoke at length Wednesday about his evolution as a manager who started out under domineering types like Gene Mauch, Billy Martin and Dick Williams.
"I have a certain style," Mackanin said. "And I've changed over the years. I realize the players are the ones who win and lose. And if I can keep the players positive and happy, while at the same time keeping that little bit of friction between us, and letting them know that we're trying to win and it's a bottom-line business, that's what I want to do.
"My first few years, I was a yeller and a screamer. I found out over time that's not the way it should be. That doesn't work today."
Mackanin's epiphany came while he was managing winter ball in Maracaibo, Venezuela. He came home after a loss and was ranting and raving.
"And my wife [Nancy] said, 'Are you going to have a heart attack over this? What are you doing?'" Mackanin said. "And it stuck with me. And I started changing."
It also doesn't hurt that after managing in the Dominican Republic and Puerto Rico as well as Venezuela, Mackanin can speak passable Spanish. The Phillies currently have 11 Latin American players on their 25-man roster.
There are other reasons players might be more relaxed, too. Starting the second half with the worst record in baseball lowers expectations and takes a lot of the pressure off, for example.
Mackanin has further benefited from the organizational decisions to bring Aaron Nola and Adam Morgan to the big leagues, plus David Buchanan's return from a trip to Triple-A Lehigh Valley and the disabled list. For the most part, they've been more effective at giving the Phils a chance to win than stopgap veterans like, for example, Sean O'Sullivan and Kevin Correia were able to do.
An offense that ranked at or near the bottom of baseball in most major offensive categories has perked up as well. Part of that could be attributed to not having to come back from early deficits on a regular basis. Before the break, Phillies starters had a first-inning ERA of 6.65. Going into Wednesday night, it was 2.25 since the break.
That Aaron Harang took the loss Wednesday after giving up three in the first underscores the point. The Phils were unable to overcome the early deficit and also had a streak of six straight home games with 10 or more hits snapped.
Besides, it's logical that younger players like third baseman Maikel Franco, center fielder Odubel Herrera, shortstop Freddy Galvis and second baseman Cesar Hernandez should be more confident now, as they gain experience and come to the park every day knowing there's a good chance they'll be in the lineup.
Hernandez presents an interesting illustration. He was hitting .232 when Chase Utley went on the disabled list, three days before Sandberg resigned. Hernandez has batted .324 with a .381 on base percentage, 22 runs scored and 12 stolen bases in 35 games since. Utley, who could be activated as early as Thursday, was batting .179 when he was sidelined with right ankle inflammation.
• Utley will get playing time when he returns
Finally, it's possible that the Phillies were able to ambush some teams who subconsciously let down knowing they were playing the team with baseball's worst record. It's a long season. Players are only human. It could have helped the Phils take two out of three from the Rays at home and sweep the Cubs at Wrigley Field.
Look, nobody is suggesting that the Phillies will play at this pace for the rest of the season. Nobody is pretending that their rebuilding project doesn't still have a ways to go. But just as they aren't as good as they've looked since the break, maybe they weren't as bad as they looked earlier.
"I think we're much better than what we showed in the last month or two of the first half," Francoeur said.
There isn't a single, simple explanation why the Phils have played so much better lately. There are several reasons, as it turns out.
Paul Hagen is a reporter for MLB.com. This story was not subject to the approval of Major League Baseball or its clubs.