Angels' walk-off victory a much needed win
Wild ninth inning sparks what has been a struggling offense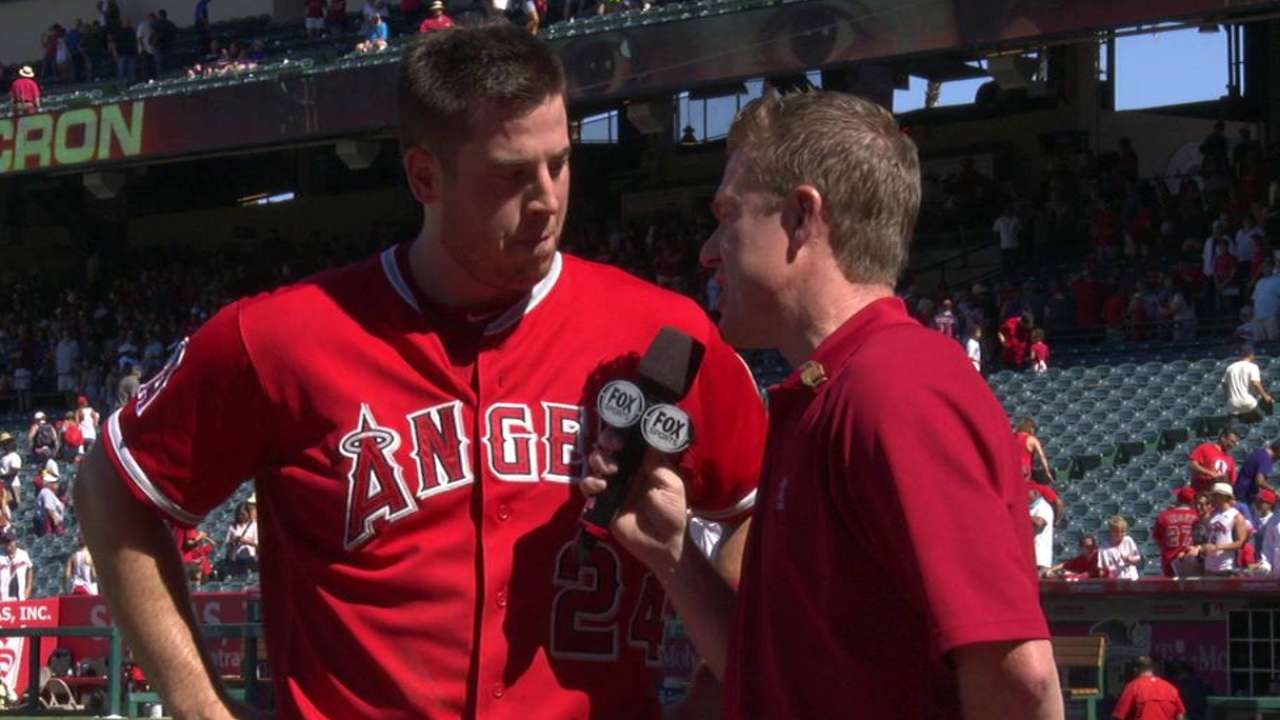 ANAHEIM -- It was the bottom of the ninth. Cody Allen's curveball squirted away, Taylor Featherston was dashing toward home plate and David DeJesus remained in the batter's box, waving Featherston in but blocking the view of home-plate umpire Pat Hoberg.
"Get out of the way!" Hoberg yelled at DeJesus, but he didn't budge.
"No" DeJesus said, "we need this win!"
Oh, did they ever.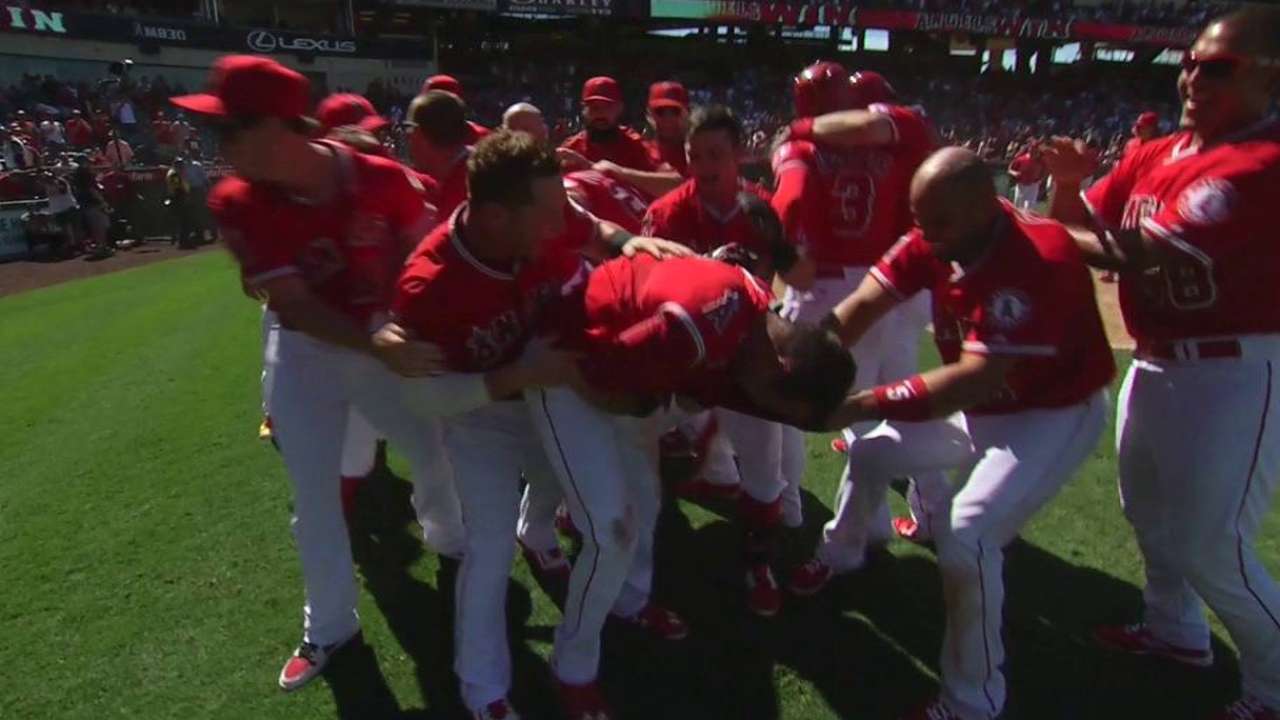 When the home half of the ninth inning began on Wednesday afternoon, the Angels were two runs behind and three outs away from their 11th loss in 13 games, an improbable rut considering the uplifting, 17-for-20 stretch it immediately followed. They came away from it with a similarly outrageous 4-3 walk-off win, sparked by a two-out, two-run single by C.J. Cron and an ensuing wild pitch by the Indians' closer.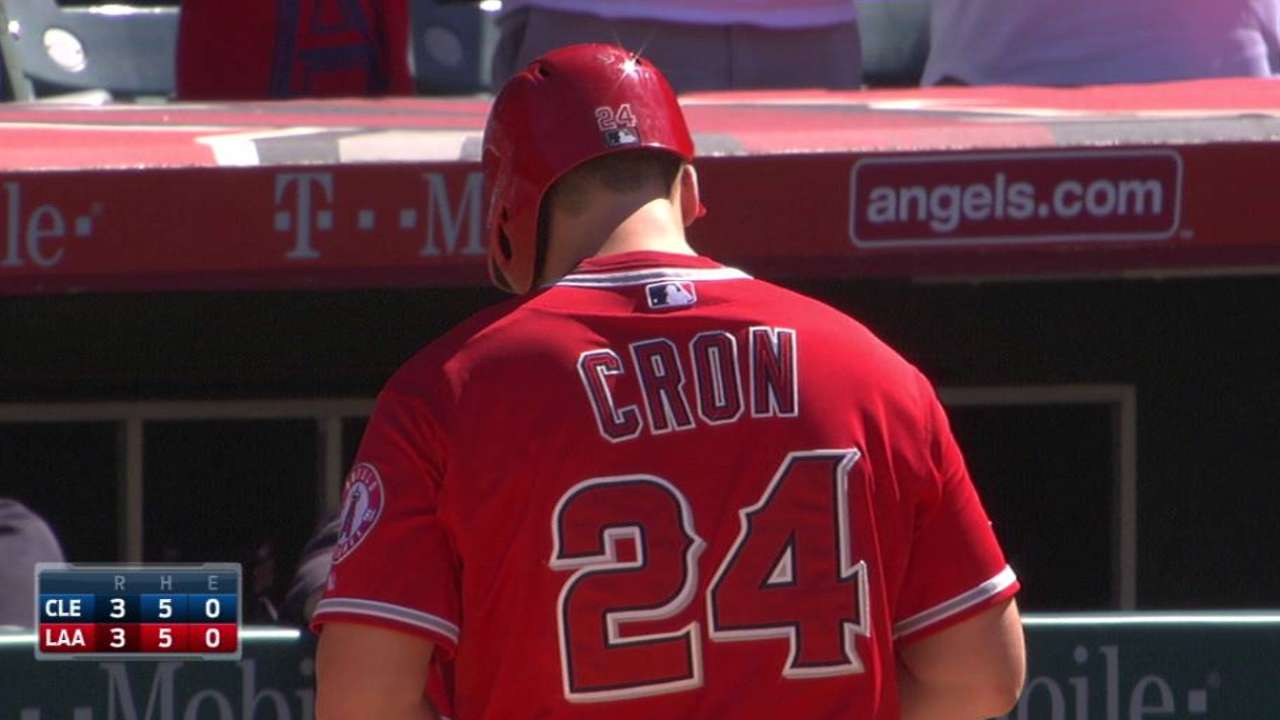 "It was a fun game," DeJesus said. "It's crazy how things work out."
The Angels' offense entered the ninth with a .192 batting average since July 28 and one run over their past 22 innings. Then Albert Pujols came up with a one-out single, and Erick Aybar drew a two-out walk, and Conor Gillaspie followed with a full-count walk to load the bases, and Angels manager Mike Scioscia let Cron hit.
"If there's one place he's really comfortable," Scioscia said, "it's in the batter's box."
Scioscia could've replaced the right-handed-hitting Cron with the left-handed-hitting DeJesus, but Allen carried reverse splits, giving up a .591 career OPS to lefties and a .715 OPS to righties. So Cron strolled to the plate, got an 0-1 fastball down the middle and smoked it to center field, plating the two runs that tied the game.
"They were pounding me away, all day and I was kind of looking out there, and tried not to do too much, tried to get those two runs in," Cron said. "It's fun, man. We play nine innings, and sometimes beyond nine. To be down by two there and to be able to tie it up at that moment was definitely pretty cool and definitely pumped me up."
Cron's single sent Featherston -- the pinch-runner for Gillaspie -- to third base. Indians third baseman Giovanny Urshela wasn't really holding him on, so the rookie infielder was free to take a big secondary lead. And as soon as Allen's 1-2 curveball ricocheted off the gear of Indians catcher Roberto Perez, Featherston broke to the plate, reaching a top speed of 18.74 mph, according to Statcast™.
The ball only trickled about 20 feet away, but Featherston didn't have much doubt.
"You have to bet on yourself," he said. "You have to believe in what you see and what your eyes tell you, and you just have to run with it."
The Angels took two of three from the Indians, but they're still waiting for their offense to get going again. The Angels averaged 5.65 runs per game while winning 17 out of 20 from June 27 to July 22. Shortly after that, they acquired three veteran outfielders -- DeJesus, David Murphy and Shane Victorino -- to provide platoon advantages in left field and designated hitter.
But they've averaged only 2.6 runs in their past nine games, winning just two.
"It's been a process," Angels right fielder Kole Calhoun said. "When you get new offensive guys, you get a spring, usually, to work with them. We're right in the middle of a race right now. As soon as we can get jelled together and kind of start playing as a team, the sooner the better. But it's a good group of guys. It's all veteran guys who came in here. They've been around here before, know what it takes to be winning players. I don't think we're far off, but today was definitely a good one to get."
Alden Gonzalez is a reporter for MLB.com. Read his blog, Gonzo and "The Show", follow him on Twitter @Alden_Gonzalez and listen to his podcast. This story was not subject to the approval of Major League Baseball or its clubs.