Walker dials up second straight strong start
Young Mariners righty allows three runs over 7 1/3 innings, adds first hit with RBI double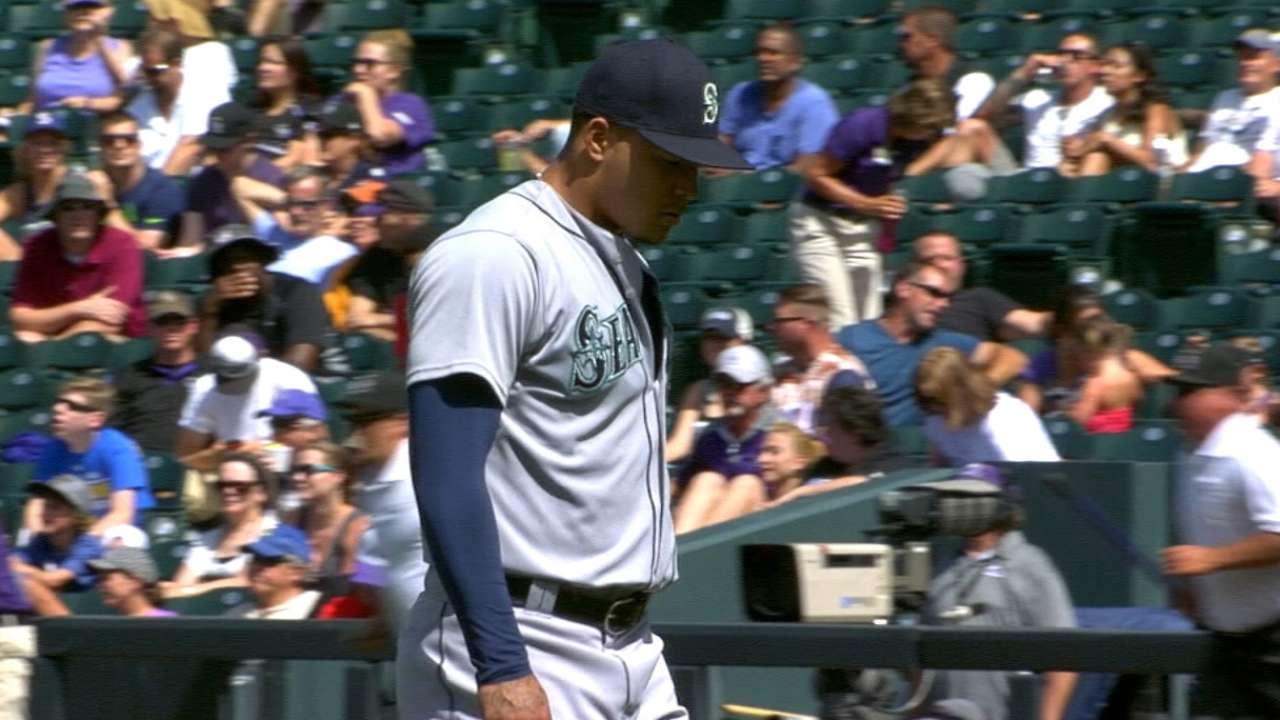 DENVER -- Taijuan Walker said his breaking ball and changeup didn't feel particularly effective Wednesday in his first start in the difficult environment of Coors Field, but he still pitched a strong 7 1/3 innings in what turned out to be a tough 7-5 loss to the Rockies in 11 innings.
Walker's maturing process as a 22-year-old includes learning how to deal with tough circumstances and he proved plenty capable in holding the Rockies to five hits, the only mistake being a three-run homer by red-hot right fielder Carlos Gonzalez in the sixth.
Walker was still in line for his ninth win of the year when Franklin Gutierrez broke a 3-3 tie with a two-run shot of his own in the seventh, but Seattle's bullpen couldn't close the deal as the Rockies snapped the Mariners' three-game win streak.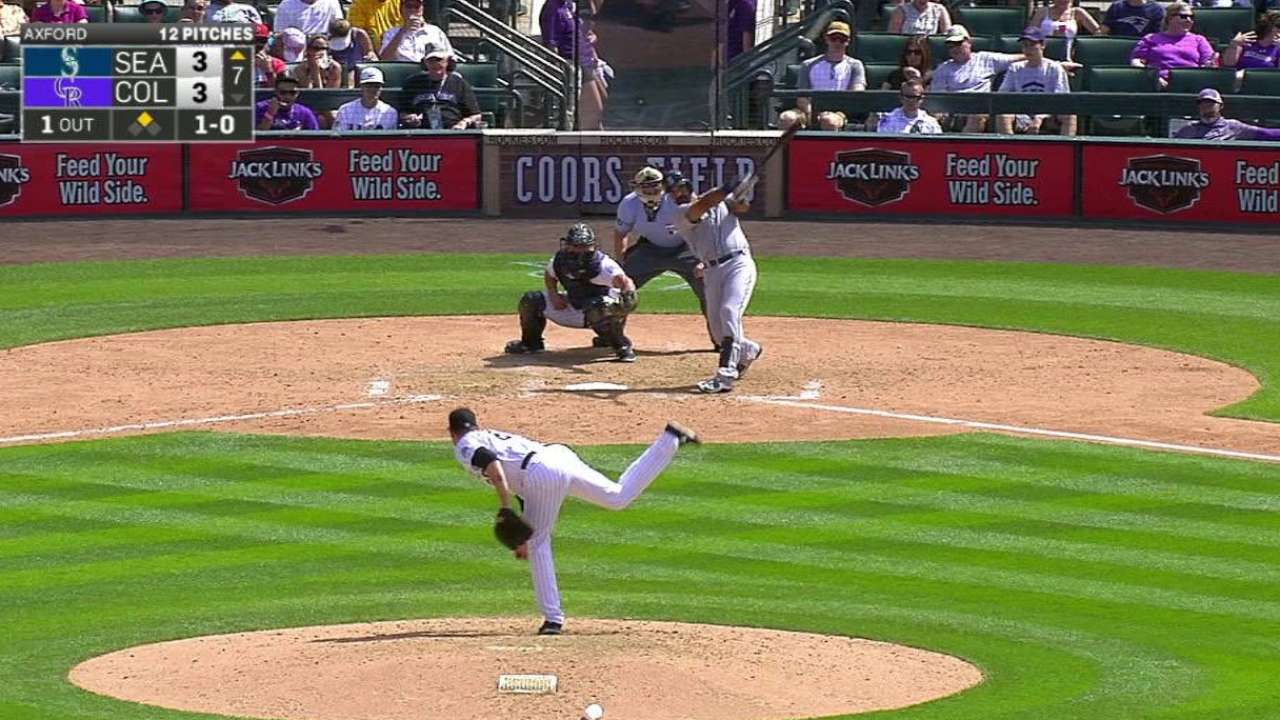 "This is one of those that that kind of hurts," Walker said. "It would have been huge to get the win today and get the sweep. But it happens, and we'll get ready for the next one."
Walker did his part, backing up his one-hit, 11-strikeout win in Minnesota with another strong performance. The Rockies came away impressed by the young right-hander, who remains 8-7 with a 4.67 ERA following the no-decision.
"I didn't know if we'd ever get anything off Walker," said Colorado manager Walt Weiss. "CarGo hit that homer and I turned to [bench coach] Tommy Runnells and said, 'Those guys are killing us, 3-3.' At least that's what it felt like, he was so good."
On a 92-degree afternoon in the high altitude, Walker avoided damage the rest of the way, extending into the seventh before being replaced after 101 pitches.
"Taijuan threw a really nice game for us," manager Lloyd McClendon said. "He did a tremendous job."
"I was just trying to keep the same approach and pound the bottom of the zone and try to get as many ground balls as I could," Walker said. "I felt like my stuff wasn't really working today. It wasn't breaking like I wanted. My changeup and curveball weren't there. But my fastball command was pretty good. I mixed it in and out."
Gonzalez said he was looking for a pitch down in the zone from Walker after grounding out on a similar changeup in the fourth.
"It was down at his ankles," said Walker. "He's a lefty and he likes the ball down, and he put a good swing on it."
Walker put a good swing on a ball himself, recording his first Major League hit with an RBI double in the fourth. But even that play had a tough ending as a ballboy down the right-field line picked up the ball -- thinking it was foul -- and perhaps costing the Mariners a second run as the umpires ruled Mark Trumbo had to hold at third on the ground-rule double.
"It was a cool. I got a hit," Walker said. "But it would have been nice to get the win. ... I didn't even know what happened [with the ballboy]. I was just running."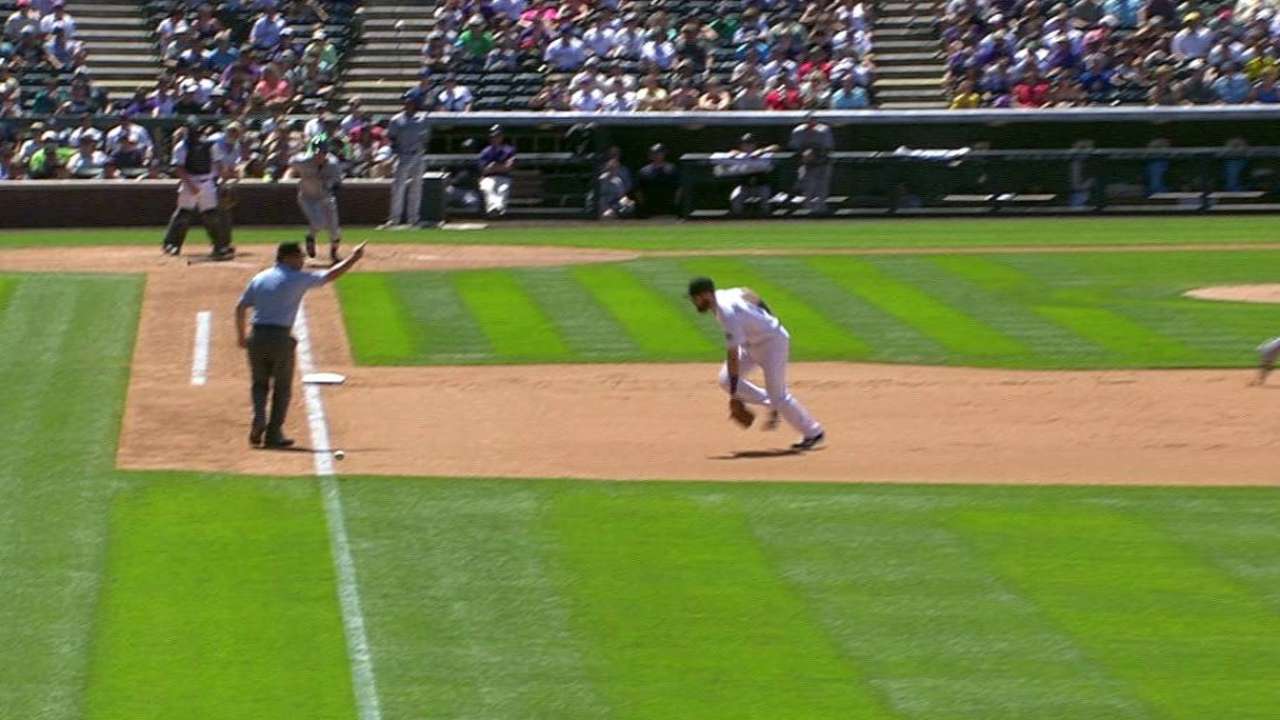 Greg Johns is a reporter for MLB.com. Follow him on Twitter @GregJohnsMLB, read his Mariners Musings blog, and listen to his podcast. This story was not subject to the approval of Major League Baseball or its clubs.