Allen working through struggles since break
Closer allows three runs in ninth inning, blows save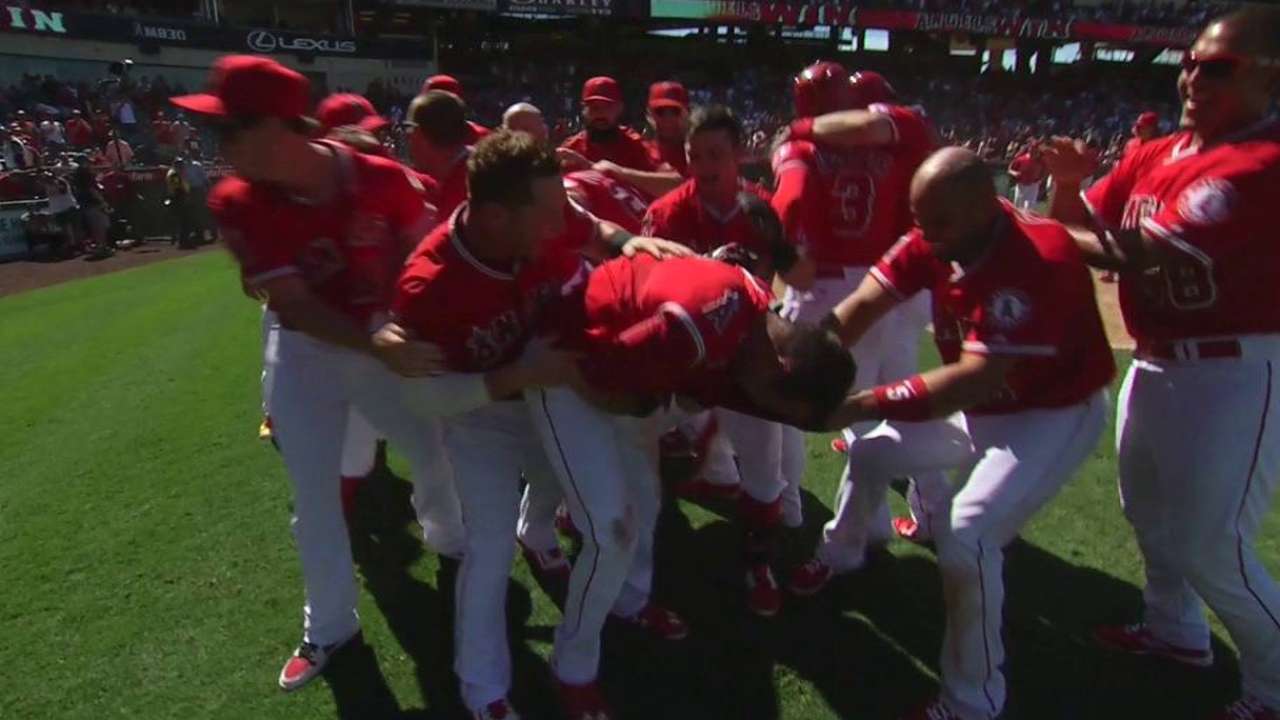 ANAHEIM -- There was one prevailing thought that Cody Allen kept returning to as he stood inside the visitors' clubhouse at Angel Stadium on Wednesday. With his face still red from his outing only a few minutes earlier, and his right shoulder packed in ice, the Indians' closer repeated it a couple times.
"I make one pitch, and we're out of it," Allen said.
Allen knew there was no getting around the fact that Cleveland's 4-3, walk-off loss to the Angels fell on him. So often, the right-hander's dynamic curveball has been a devastating weapon that has dodged bats. On this afternoon, one of Allen's breaking balls betrayed him, darting to the dirt, striking catcher Roberto Perez's glove and skipping far enough away to result in a gut-punch of a defeat.
Taylor Featherston -- called upon as a pinch-runner earlier in the ninth inning, when the Indians still had a 3-1 lead -- sprinted home from third base as Perez hustled to retrieve the rolling baseball. Allen ran to the plate, received the relay from his catcher and applied a tag, but Featherson was already sliding head-first across the dish. And his Angels' teammates were already pouring from the dugout.
"It's unfortunate," Indians utility man Ryan Raburn said. "Cody's been pretty good. It just wasn't his day today. Things happen. It's a heartbreaker, but we've got to move on."
Allen's task now is to determine whether Wednesday's three-run meltdown in the ninth inning is part of a larger trend, or if it was simply a bad day at the office.
Since the All-Star break, Allen has allowed seven runs on 12 hits in 6 1/3 innings, equating to a 9.95 ERA to go along with two blown saves and a pair of losses. Before the midseason respite, Allen had rattled off 16 successful saves in a row and had spun a tidy 1.35 ERA in 33 games, dating back to April 21. His season got off to a rough start (eight runs in his first four April innings), but all the damage back then came in two rough outings.
In this recent stretch to start the second half, Allen has given up at least one run in five of his eight outings.
"I really can't pinpoint it," Allen said. "I haven't really looked too deep into it, because I felt like it was just something where I just got beat. It wasn't like I was really hurting myself. I just got beat. But, maybe after today, we'll take a look at some stuff and try to figure something out."
Allen said he feels healthy, and his velocity backs up that claim. Wednesday's readings of 96 mph on his fastball and 87.1 mph on his curve were actually a touch above his season averages (95.9 mph and 86.8 mph, respectively).
In the ninth inning, when Allen took the hill armed with a two-run lead, he looked strong out of the gates. First, Mike Trout struck out on an 87-mph curve. Then, Allen worked slugger Albert Pujols into an 0-2 count, but the three-time MVP flicked a breaking ball into right field for a tip-your-cap single. The Tribe closer followed with a flyout against David Murphy. Nine of his first 12 pitches were strikes.
"You're sitting two outs, runner on first, up by two," Allen said. "You make one good pitch ... "
Seven of Allen's final 17 pitches registered as balls. That began with back-to-back walks drawn by Erick Aybar and Conor Gillaspie. C.J. Cron fell behind, 0-1, but then roped a 96-mph fastball into center field, where the ball dropped in front of Michael Bourn for a two-run, game-tying single.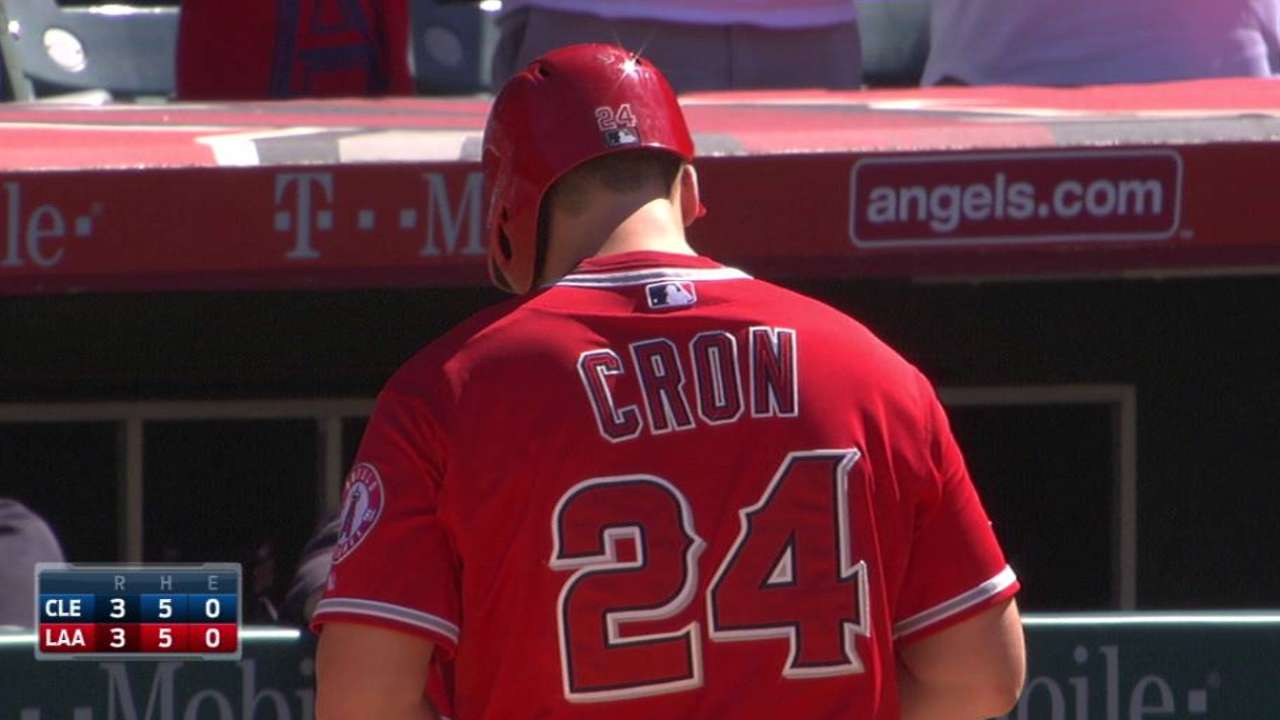 "It kind of fell apart," Indians manager Terry Francona said. "It looked like he lost his direction, especially against left-handers. He even spiked a couple fastballs, which is kind of rare."
The 1-2 curveball that Allen spiked against David DeJesus turned out to be the difference.
"I just kind of lost it out there," Allen said, "and didn't really do myself any favors."
Jordan Bastian is a reporter for MLB.com. Read his blog, Major League Bastian, follow him on Twitter @MLBastian and listen to his podcast. This story was not subject to the approval of Major League Baseball or its clubs.