Inbox: Tribe's offense a work in progress
Beat reporter Jordan Bastian answers fans' questions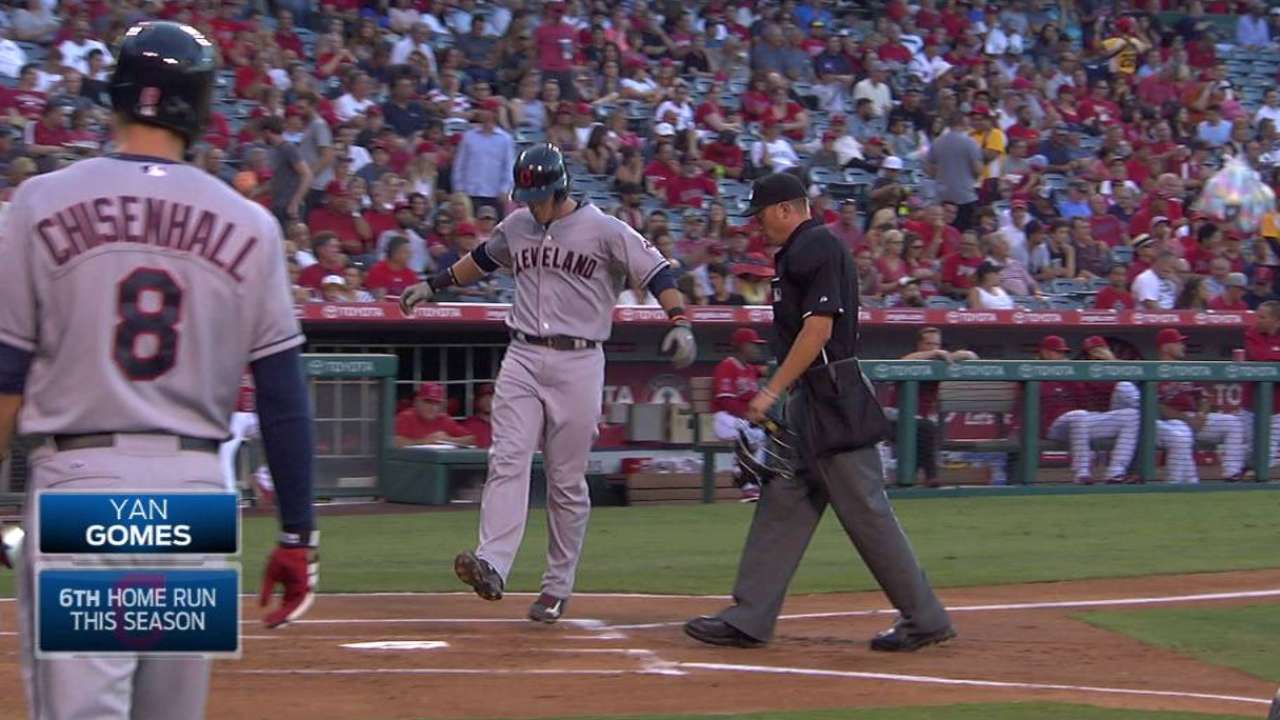 Where do the Indians hope to get offense from for the remainder of this season and next season?
-- @Gary_Hemphill (via Twitter)
During the recent series in Anaheim, we posed that question about the rest of this season to general manager Chris Antonetti.
"We've got our work cut out for us," Antonetti replied. "It's been a challenge for us for a better part of a year, even when we had our full complement of players that we started the season with. We, as a group, need to continue to work to be better than we've been. I know that [hitting coaches Ty Van Burkleo and Matt Quatraro] and our guys are working as hard as possible to get on track. We've just had a tough time doing it consistently."
Talk about an understatement. Dating back to June 1, the Indians have ranked last in the Majors in runs scored, and that uphill climb has only gotten steeper in the past couple weeks. Gone are outfielders David Murphy and Brandon Moss, who were dealt away before the July 31 non-waiver Trade Deadline. And All-Star Jason Kipnis is now on the disabled list, recovering from a right shoulder injury.
For the rest of this season, the Indians will be taking a hard look in the mirror. Cleveland has a pair of rookies on the left side of the infield (third baseman Giovanny Urshela and shortstop Francisco Lindor), a former third baseman in the outfield (Lonnie Chisenhall), a shortstop-turned-utility man trying to fill in (Jose Ramirez) and some Triple-A players trying to show something on the big league stage (Tyler Holt and Jerry Sands).
Looking ahead to next year, the core group of Kipnis, Michael Brantley and Yan Gomes still provides some hope. Gomes has been inconsistent this year, but he missed time due to a right knee injury and, don't forget, he won a Silver Slugger Award only a year ago. What the Tribe needs to find out, though, is whether guys like Chisenhall and Sands figure into the 2016 plans.
The offense is the area in most need of attention over the offseason, and the final seven weeks of this season will be spent evaluating which positions Cleveland needs to be more aggressive about upgrading once the offseason arrives.
I'm one of those guys who tends to blame players when general expectations are not met, not the front office or ownership. The guys between the lines are paid the most, and if they underperform, how is that the fault of the front office? That being said, how much of this season can be attributed to horrendous luck? These averages with runners in scoring position and the bases loaded simply can't be a reflection of talent as much as ridiculously poor fortune. I'd like to attribute it to a team-wide absence of a "clutch" gene, but that would be absurd. What say you?
-- Torre G., Holly Springs, N.C.
To your first point, Kipnis recently told reporters he hopes the blame doesn't fall on the hitting coaches, because they are not the ones swinging the bat. Before he was traded, Moss said he didn't blame the front office, because they were not the ones in the batter's box. So, along the lines of your thinking, the players also agree that the offensive blame rests on their shoulders.
As for the situational hitting, it has been one of the strangest things I've seen in my decade covering the Majors. The Indians rank first in in the American League in walks with runners in scoring position, so that shows you they are having decent plate appearances for the most part. But they rank 14th in the AL in average with RISP. With the bases empty, Cleveland was fifth in the AL in batting average. The bases-loaded average (.127, as of this writing) was on pace to be one of the worst showings by a team in history.
Some of that is poor approach, and perhaps a lack of aggressiveness (considering the high walk rate). That said, yes, some of it is plain ol' bad luck, too. Those are the kinds of statistics that you expect to begin evening out over time, but in the Tribe's case, it looks like time is running out, and the damage has been done.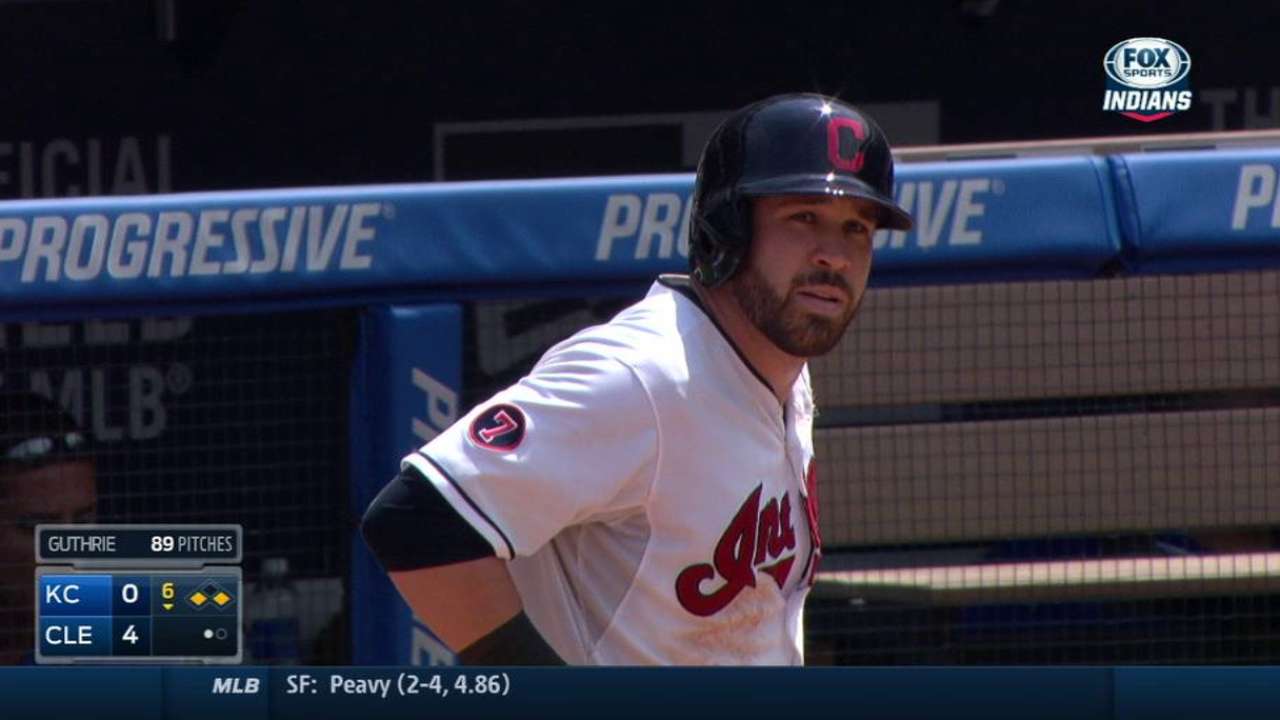 What are the chances of Kipnis being moved to the outfield next season? He's a great athlete and we all know he played the outfield at Arizona State. The market for outfielders who can hit and run well is typically astronomical. And even if the Tribe doesn't sign a cheaper replacement at second, it seems reasonable to expect run prevention to improve with Kipnis in the outfield and, say, Jose Ramirez at second.
-- Ty B., Brooklyn, N.Y.
I like Ramirez as a second baseman better than as a shortstop, but I'd be flat-out stunned if Kipnis was moved back to the outfield. Kipnis' defense took a hit during his injury-marred 2014 campaign, but his UZR/150 of 8.2 this season ranks fourth in baseball among qualified second basemen. Kipnis has developed into an All-Star at the position, so I wouldn't expect his place on the field to change any time soon.
Was the move for Chisenhall to become a utility man an organizational move? Or did Lonnie spark the idea?
-- @mistahjamess (via Twitter)
After being sent back to Triple-A earlier this season, Chisenhall suggested playing some outfield and first base to Columbus Clippers manager Chris Tremie. It was run by the team's front office, who backed the decision. Chisenhall is athletic enough to handle the outfield, and his arm plays in right. He also knows the Indians now have Urshela in mind as their everyday third baseman.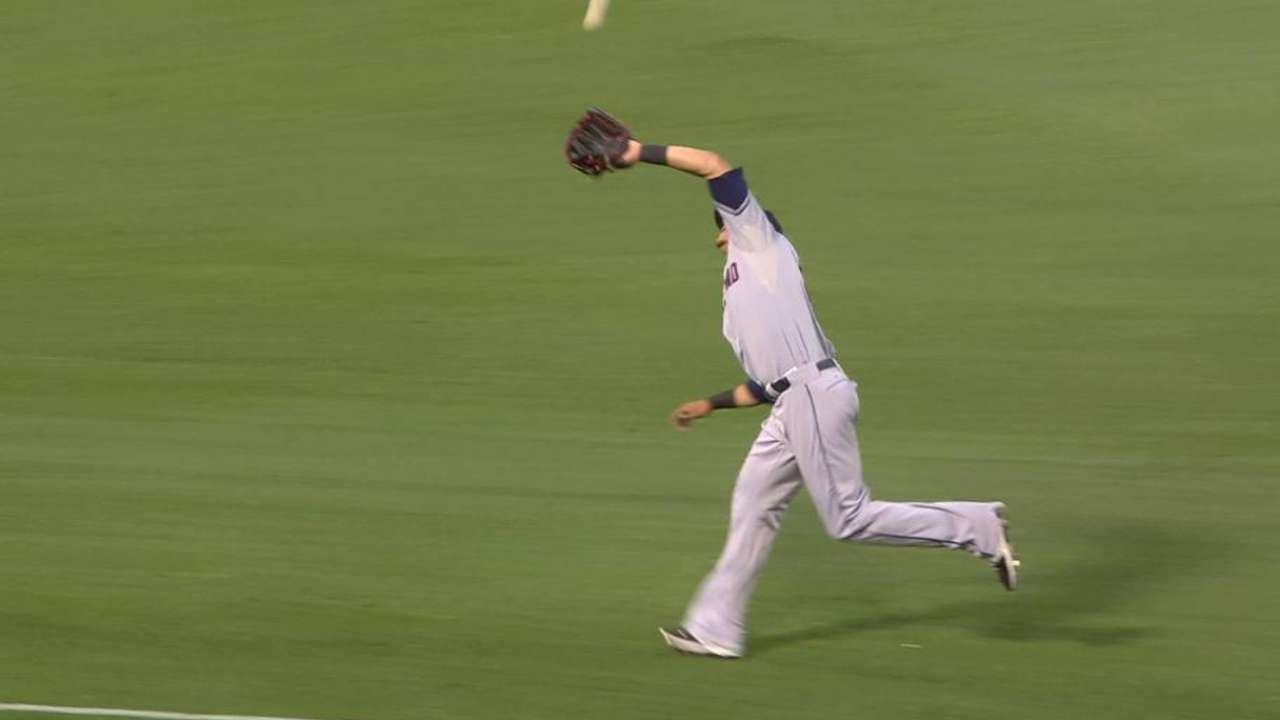 Of the prospects, which outfielders will have the greatest shot to make an impact in 2016?
-- @yeah_mitch (via Twitter)
Right now, I'd rank outfield prospect Tyler Naquin first in that regard. He can play center field, and he advanced to Triple-A Columbus this year. Naquin is not on the 40-man roster at the moment, but I wouldn't be surprised if Cleveland takes a look at him as a September callup this year. Bradley Zimmer is flying up the farm system, too, but his timeline to the Majors looks like it's a little bit behind Naquin's path.
Indians broadcaster Tom Hamilton constantly refers to shortstop Francisco Lindor as "Frankie" on air. Does Francisco go by Frankie? Or is that just a Hammy thing?
-- @DPCummerbund (via Twitter)
If you remember the story about Lindor's promotion to the big leagues, Tribe manager Terry Francona sent the rookie this text message: "Come on, Frankie. Get up here. Congrats." Lindor's teammates and coaches have taken to calling him by that nickname during his time in Cleveland's system.
Jordan Bastian is a reporter for MLB.com. Read his blog, Major League Bastian, follow him on Twitter @MLBastian and listen to his podcast. This story was not subject to the approval of Major League Baseball or its clubs.