Unusual play forces Rays' hand in 10th inning
Asdrubal's injury, Cash's strategy put Boxberger in difficult spot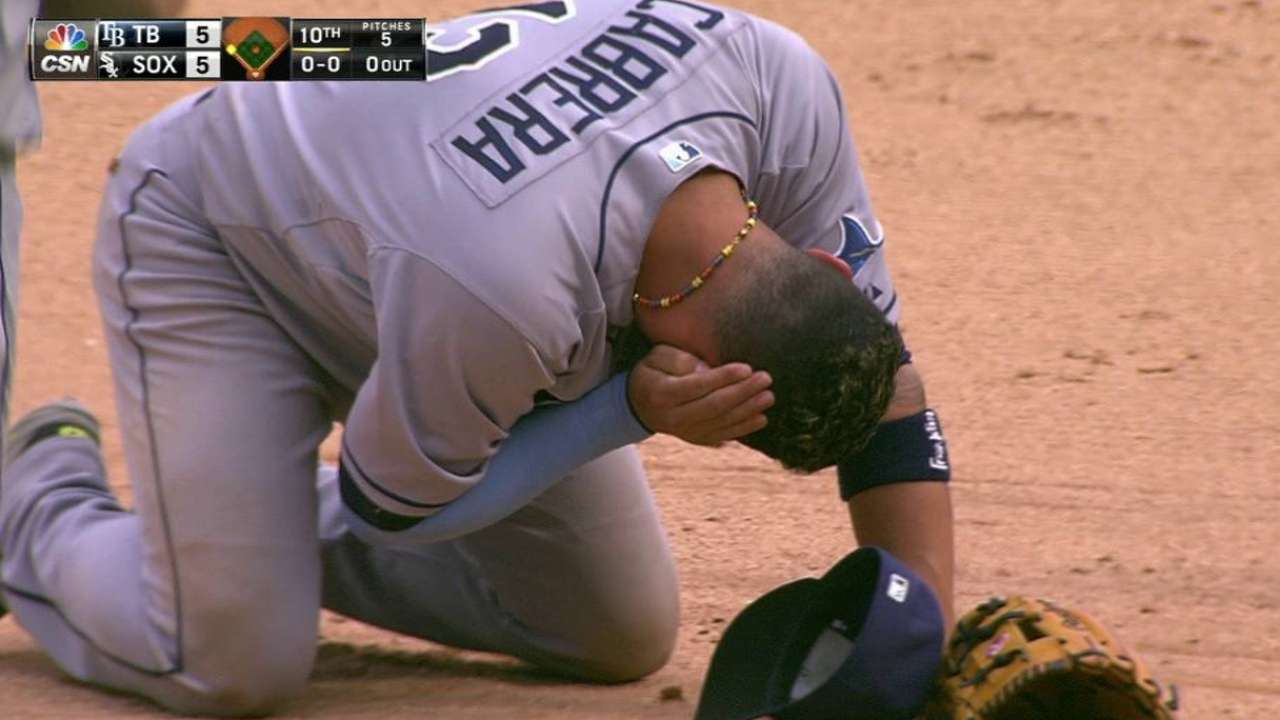 CHICAGO -- A strange 10th inning Wednesday afternoon doomed the Rays' chances of coming away from the South Side with a three-game sweep.
The White Sox scored the winning run when Brad Boxberger walked Avisail Garcia with the bases loaded in the bottom of the 10th for a 6-5 walk-off win at U.S. Cellular Field.
Adam Eaton singled to center to lead off the inning, then stole second, which began the odd sequence of events.
Rays shortstop Asdrubal Cabrera reached for the ball to try to tag Eaton and it deflected off his glove, hitting him solidly on the right side of his head. Cabrera went to his knees and Eaton raced to third.
"Kind of a fluke play," Rays manager Kevin Cash said. "I'm not sure if it took off on Cabby or he put the tag down too early. But it dinged him pretty good."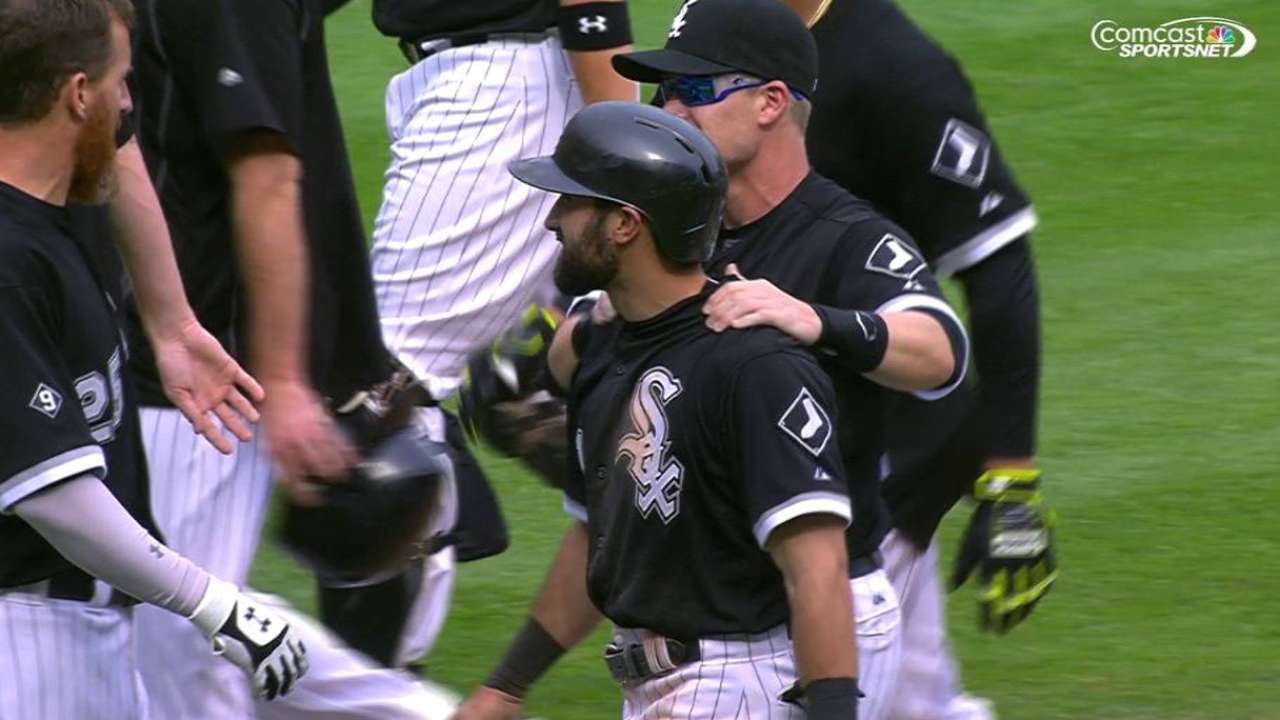 One out later, after the Rays had intentionally walked the bases loaded by issuing free passes to Jose Abreu and Melky Cabrera, Cabrera went to his knees and left the game.
Tim Beckham replaced Cabrera at shortstop, which meant the Rays lost their DH since Beckham had entered the game earlier as a pinch-hitter for the DH slot.
"Hit him on the side, high cheekbone, temple," said Cash, speaking for Cabrera, who did not talk to reporters after the game. "When I went out there, he said he was OK. Obviously, he got his bell rung. But then I saw him kind of bend down, after we walked the first guy and the second guy, when he went down to his knee, he had a pretty good headache going."
Cabrera did not have a concussion, only a bruise.
Burning their DH would not haunt the Rays since Boxberger walked Garcia to bring an end to the game.
"The situation there the last inning, it's not an ideal situation," Cash said. "You never want to put one of your best relievers in a jam with no margin for error. But I felt like it was the best thing to do at the time. If I had it to do over, I'd do the exact same thing.
"Whatever happened [on Eaton's steal], it put us in a situation where we were going to have to try and finagle our way out. That's not on Box at all. That's on me."
Boxberger would rather have pitched to Cabrera.
"I understand walking Abreu in that situation, maybe setting up a double play," Boxberger said. "... I was already struggling to throw strikes. I don't really get walking Cabrera, but it's not my choice."
Boxberger said he felt like they still had a chance to get out of the inning and send the game into the 11th.
"Yeah, putting Abreu on with the lefty coming up and the way my changeup plays," Boxberger said. "I thought I could get a ground ball with Melky running. Either that or weak contact and keep the runner at third. Get an out and be able to pitch out of it.
"With the base open, I mean, I could have pitched around him and made a good pitch. Have some weak contact. But without a base open, it's kind of hard to pitch around someone."
Boxberger said he was not asked whether he wanted to pitch to Cabrera, and he was not going to say anything in deference to his manager's wishes, noting: "It's not my call. I'm not going to overstep my boundaries. The manager's decision. That's what he wanted to do."
Bill Chastain is a reporter for MLB.com. This story was not subject to the approval of Major League Baseball or its clubs.