Recently recalled Cravy available in relief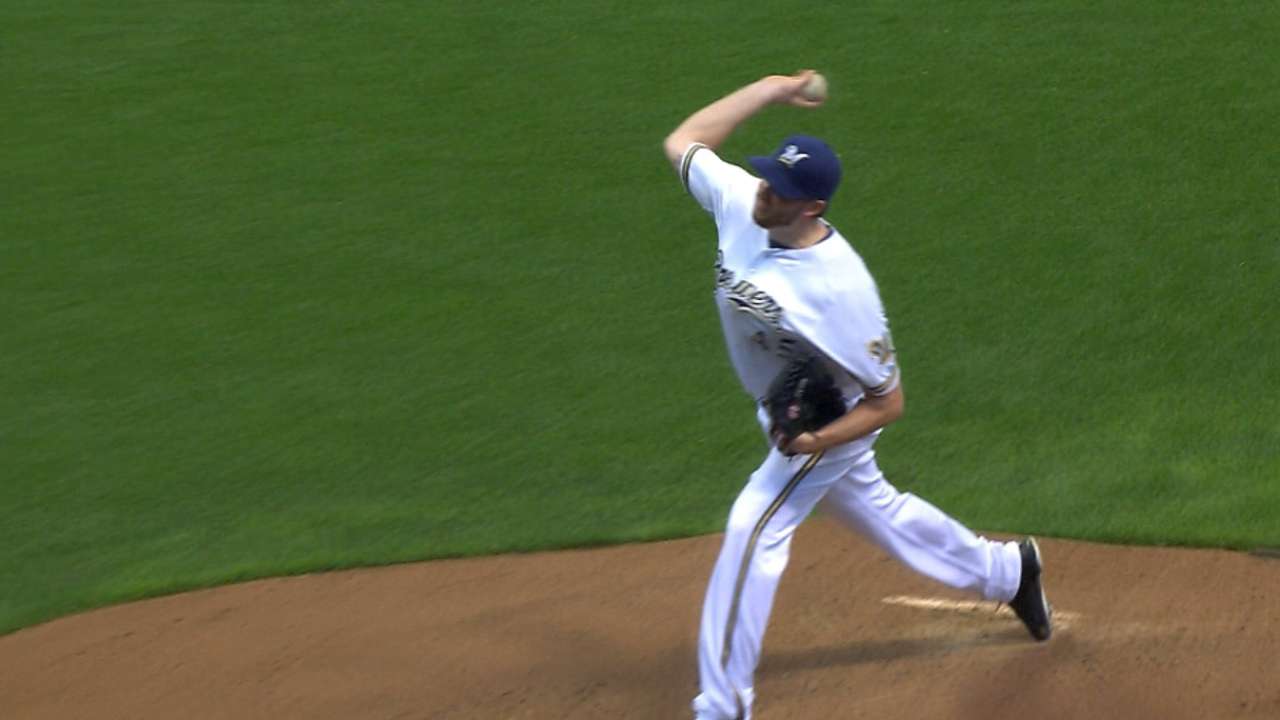 MILWAUKEE -- Recently recalled Tyler Cravy was with the Brewers relievers when they took the field Wednesday for their pregame stretch. Roughly an hour later, manager Craig Counsell confirmed Cravy would be available out of the bullpen against the Padres for Wednesday's game, dampening speculation that he might replace Kyle Lohse in the starting rotation.
Cravy was recalled on Tuesday from Triple-A Colorado Springs, replacing reliever Preston Guilmet on the 25-man roster. Lohse, who carries a 6.31 ERA and is scheduled to start Friday against the Cardinals, is coming off another underwhelming performance that caused discussion among the Brewers about what direction to take with the veteran.
As of Wednesday afternoon, Lohse was listed as the probable starter for Friday night.
"He's going to be available in the bullpen. He pitched Sunday," Counsell said of Cravy.
Sunday was Cravy's last start with Colorado Springs, which puts him in line for a potential start Friday, but Cravy hasn't been told anything about his status beyond Wednesday night.
"I think I'm going to be in the bullpen [Wednesday]," Cravy said. "They haven't said much more to me."
Cravy also said he's happy with either role and can handle a possible bullpen-to-rotation move, as long as it's in the big leagues. Getting away from the difficult atmosphere to pitch in at Colorado Springs is another bonus.
"It's the same every day there, you just have to pitch through it," Cravy said. "It's tough. Everyone struggles with it I feel like. Everyone gets a taste of it."
"He had a rough start last time out in Colorado Springs but overall, he's done very well," Counsell said of Cravy. "The environment in Colorado Springs is difficult to evaluate. I think everybody that starts there, they're going to have some starts that aren't pretty from a line score perspective."
Cravy allowed seven runs (six earned) on 10 hits in 5 1/3 innings during that last start. Overall, he carries a 3.97 ERA in 17 starts at Colorado Springs this season with a stop in the big leagues mixed in.
Cravy made his MLB debut in a spot start for Milwaukee on June 2, allowing a run in seven innings in a 1-0 loss to the Cardinals. After being sent to Triple-A, the right-hander returned to appear in two games in July with the Brewers -- two innings of relief on July 3 and a six-inning, four-run start against the Braves on July 7.
"[My season] has had its ups and downs," Cravy said. "It's been OK, but could be better. I still have a couple of months to finish strong. ... I'd like to start, but I would like to do anything as long as I'm up here. Whatever they need."
Brandon Curry is an associate reporter for MLB.com. This story was not subject to the approval of Major League Baseball or its clubs.