Narveson has scoreless outing in return to bigs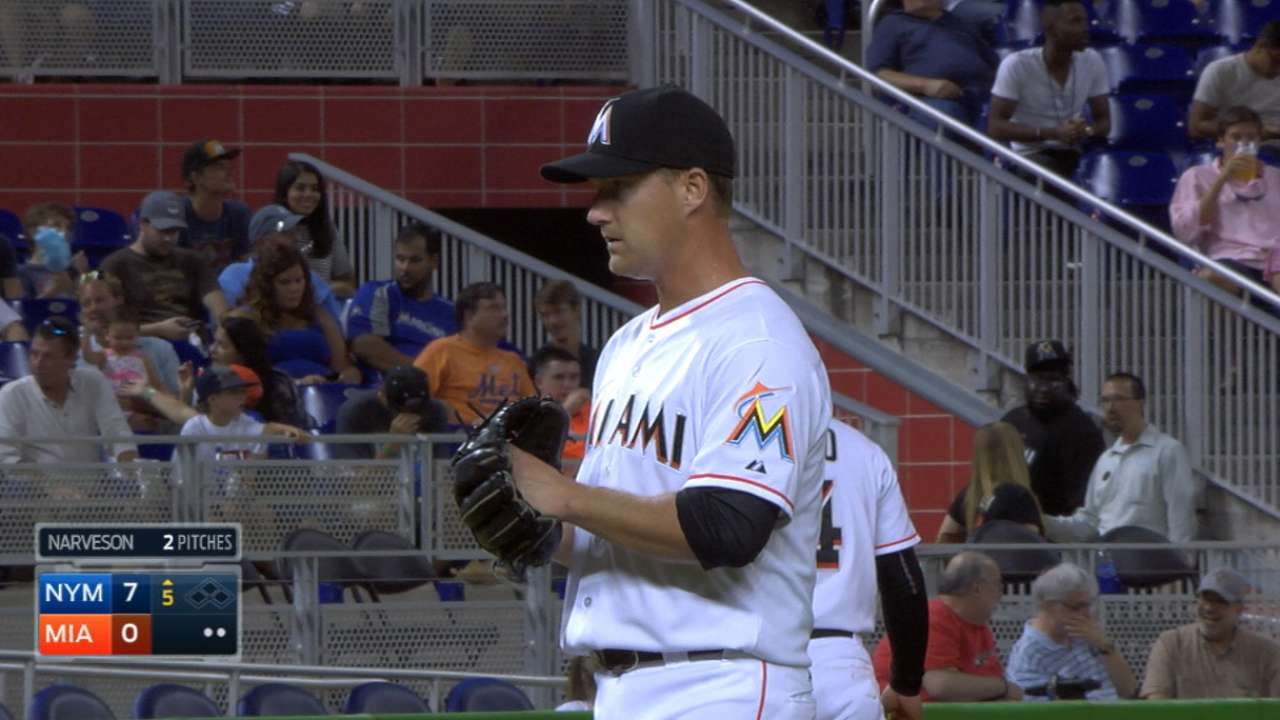 MIAMI -- It's been a long journey back to the Majors for Chris Narveson -- a journey that even included a stop in Japan along the way. But after having his contract selected from Triple-A New Orleans on Wednesday, the lefty finally returned.
Narveson, 33, made his first big league appearance since 2013 in the Marlins' 8-6 loss. He tamed a hot Mets offense by tossing 3 2/3 innings of scoreless relief, striking out four and surrendering just two hits.
"I felt good," Narveson said. "I think I had a lot of energy. I wanted to come out and prove a point and be able to help the team."
Narveson was once a mainstay in the Brewers' rotation. With the team from 2009-13, he went 12-9 as a starter in 2010 before finishing 11-8 in '11. Riddled by injuries though, he then made just two starts in '12 before tossing only two innings in '13 and electing free agency following the season.
He spent the 2014 season in Japan, going 4-11 with a 4.53 ERA for the Tokyo Yakult Swallows. He then signed a Minor League contract with Miami in December and went 0-3 with a 5.19 ERA with New Orleans this season (10 appearances, four starts).
"Super stoked," Narveson said of returning to the big leagues. "It's always a battle, especially when you deal with injuries and little things. Sometimes the people and the public don't always see what you're going through and dealing with. So to get through those things and overcome those obstacles, it's definitely a good feeling. And now that you're here, you want to make sure you stay and help the team win games."
That will be a good possibility if he continues to throw like he did on Wednesday. It took Narveson just 44 pitches to cruise through his outing -- throwing 29 for strikes -- and there are certainly spots right now in the Marlins' makeshift bullpen for those types of outings.
"I thought Narveson did a heck of a job to come in and pick us up there," manager Dan Jennings said. "He went out there and did a great job of minimizing pitches and controlling bat speed. He really made some outstanding pitches against a team that came in here on fire."
With Narveson's addition, lefty Chris Reed was optioned to New Orleans. The 25-year-old rookie made two relief appearances in his first MLB stint, allowing two earned runs in four innings.
Steve Wilaj is an associate reporter for MLB.com. This story was not subject to the approval of Major League Baseball or its clubs.