Puig's homer sets tone as Dodgers drop Phils
PHILADELPHIA - Dodgers right fielder Yasiel Puig is showing some power these past couple of weeks.
He hit a three-run home run to left field in the first inning in Wednesday night's 4-3 victory over the Phillies at Citizens Bank Park. It was his fourth home run in his past 13 games. He went 2-for-4 with three RBIs to lead the Dodgers, who have won five of their last six games.
"He got us out of the gate," manager Don Mattingly said of Puig's home run. "We had a lot of chances after that and didn't do a lot, and they hung around and got back in the game."
The Phillies managed just four hits and one run in six innings against Dodgers left-hander Brett Anderson, but they made things interesting with Jeff Francoeur's two-run home run to left field in the eighth.
"They're a very disciplined team," Phillies right-hander Aaron Harang said about the Dodgers. "That's why they're in first place."
MOMENTS THAT MATTERED
Frenchy steps up: Francoeur remains an intriguing trade candidate in August. He showed his value offensively and defensively Wednesday. He threw out Joc Pederson at third base in the fourth inning. Then, he hit the two-run homer in the eighth against Jim Johnson to cut the Dodgers' lead to 4-3. More >
"There's got to be somebody that's interested in him, I would think," Phillies interim manager Pete Mackanin said. "He's come up big all year. We love him."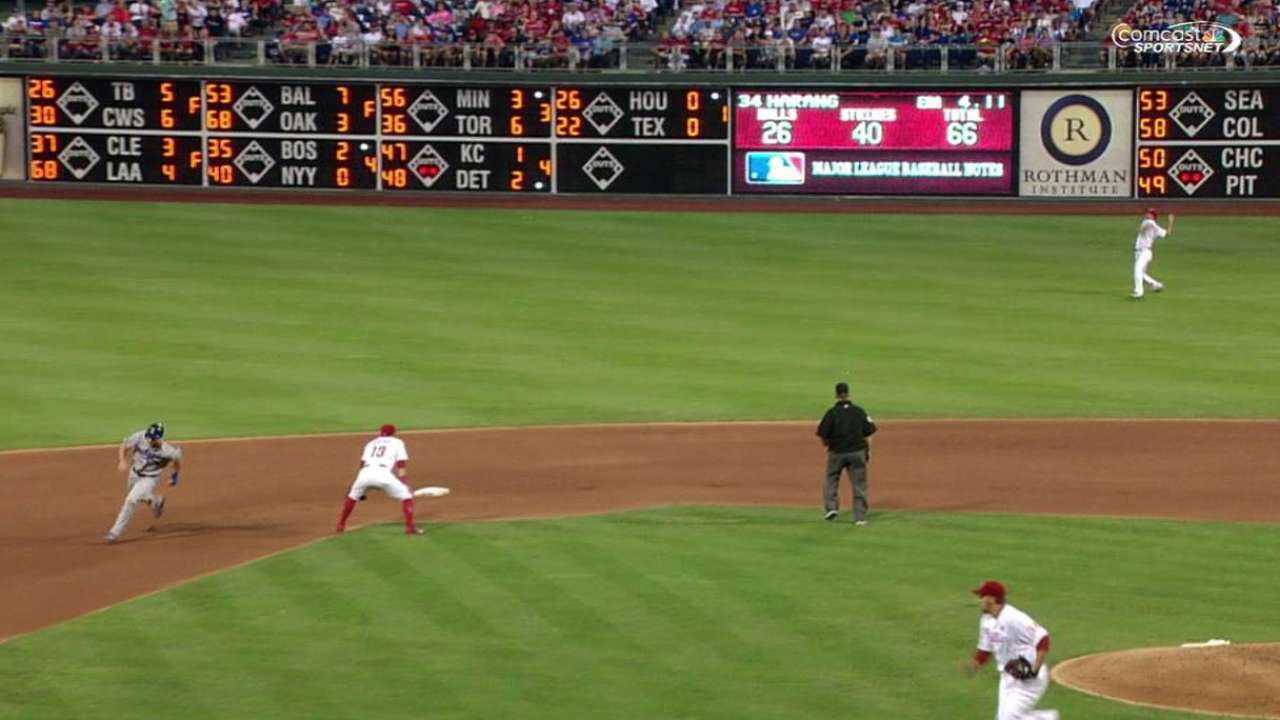 Joc the walk machine: Pederson added three walks in this game to three he had Tuesday night. He had only four walks the entire month of July.
"Obviously it's good to see him get on base," Mattingly said. "We hope it's a good sign."
Fundamental flaws: Poor execution undermined scoring opportunities for the Dodgers in the second, fourth and seventh innings. Anderson's sacrifice bunt attempt was turned into a double play in the second; Pederson was thrown out at third base by right fielder Francoeur, trying to go from first to third on Alberto Callaspo's no-out single in the fourth; and Puig was caught in a rundown after initially trying to score from third base on a pitch that didn't get far enough away from catcher Carlos Ruiz. More >
"You just hope those chances don't come back to haunt you," said Mattingly. "They did last night, but we got the W tonight and that's what it's all about at the end of the day."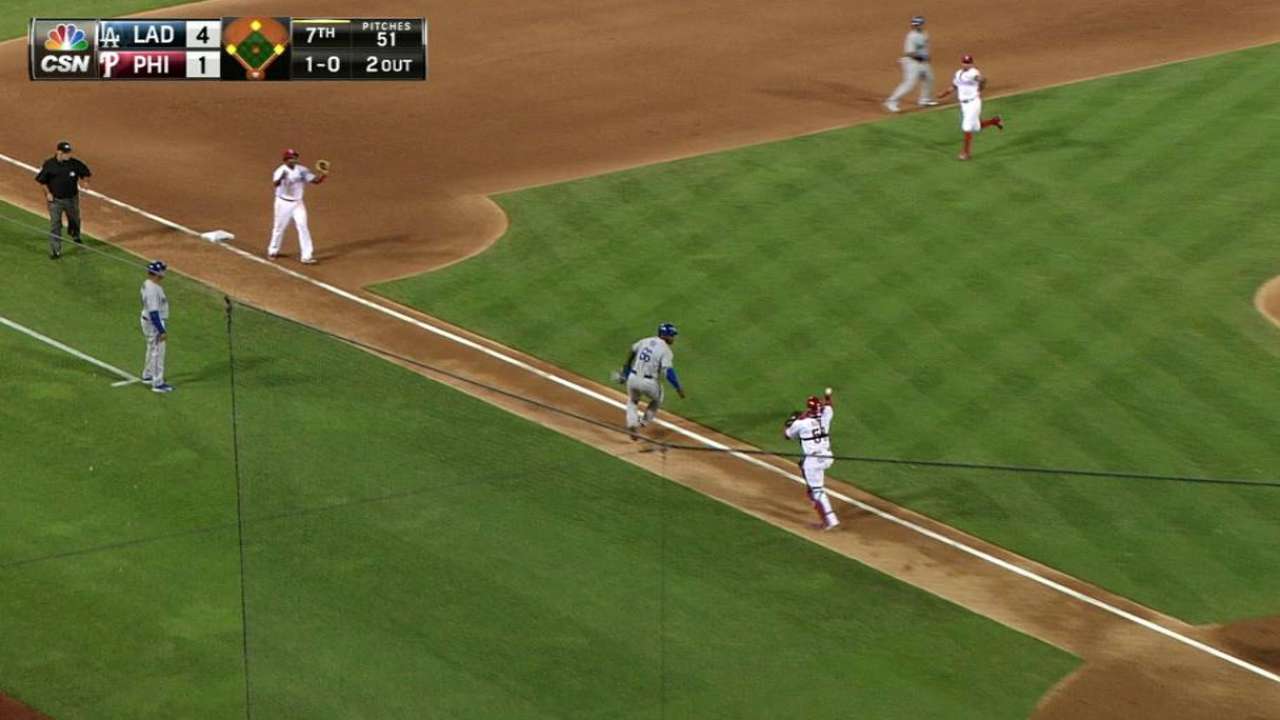 Harang digs an early hole: There is a small chance the Phillies can trade Harang before the Aug. 31 waiver Trade Deadline, but he did not help his cause against the Dodgers. He allowed seven hits, four runs, five walks, one home run and struck out just one in five innings.
"I can't worry about that," Harang said about the August waiver Trade Deadline. "I've got to worry about just executing out there right now. That's what I've got to focus on. I can't worry about the potential to go here or there. I've got to pitch like I know I can pitch and get myself back in a groove."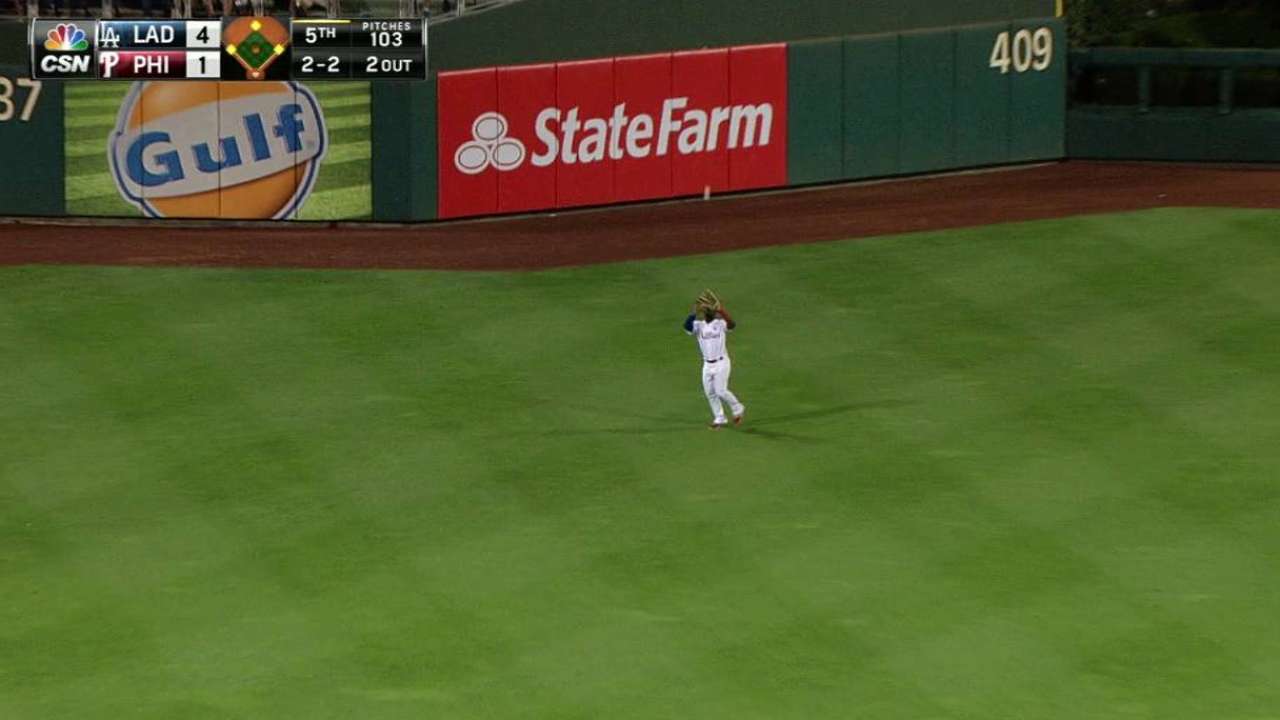 REPLAY REVIEW
The Phillies challenged a play at second base in the second inning. Second-base umpire Jeff Kellogg ruled A.J. Ellis safe at second on a sacrifice bunt, but replay showed Phillies shortstop Freddy Galvis tagged Ellis before he reached second. The call was overturned.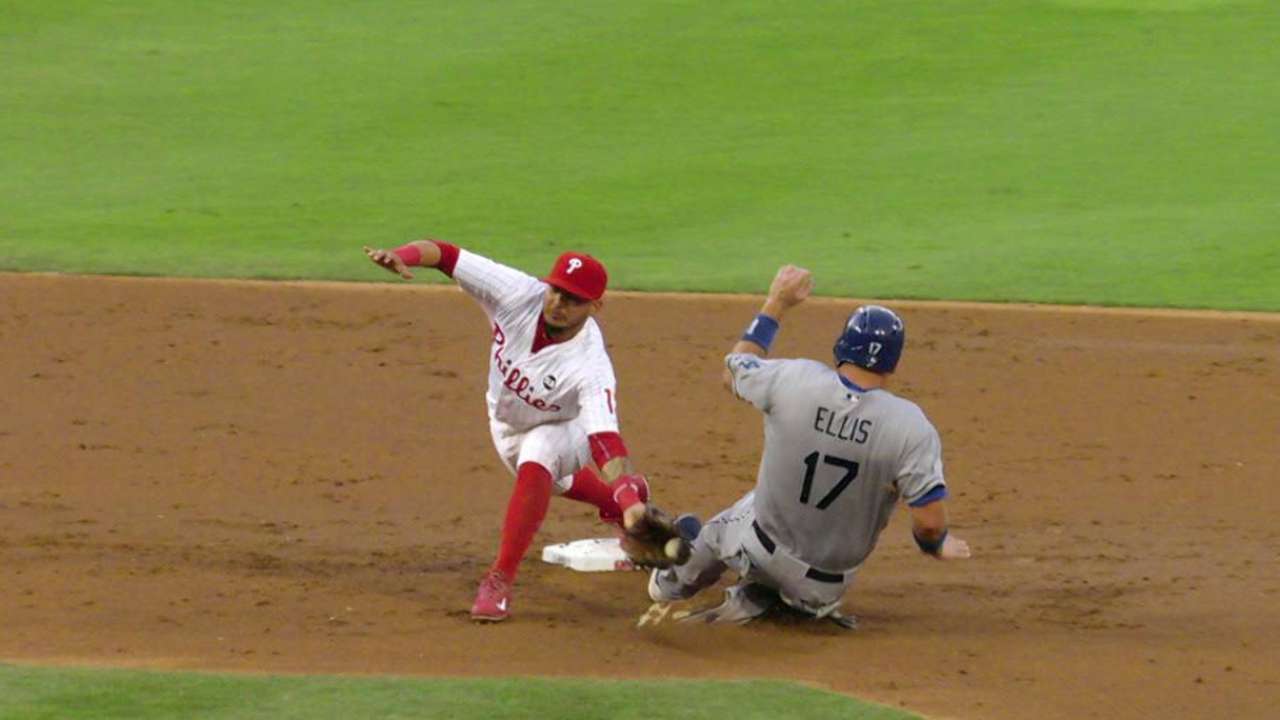 SOUND SMART WITH YOUR FRIENDS
Francoeur is hitting .322 (48-for-149) with a .340 on-base percentage and a .557 slugging percentage since May 4. His .897 OPS is seventh-best among National League outfielders with 150 or more plate appearances in that span.
WHAT'S NEXT
Dodgers: Zack Greinke, who threw a one-hit shutout for eight innings against the Phillies last month, starts for the Dodgers in the series finale, with first pitch at 10:05 a.m. PT on Thursday.
Phillies: Right-hander David Buchanan needs to bring his best to have a shot to beat Greinke. He is 2-6 with a 6.44 ERA in eight starts this season, but 2-0 with a 3.38 ERA in his last three. He allowed three runs in 7 1/3 innings Friday against the Braves.
Watch every out-of-market regular season game live on MLB.TV.
Ken Gurnick is a reporter for MLB.com. This story was not subject to the approval of Major League Baseball or its clubs.