In final Turner Field trip, Hudson reminisces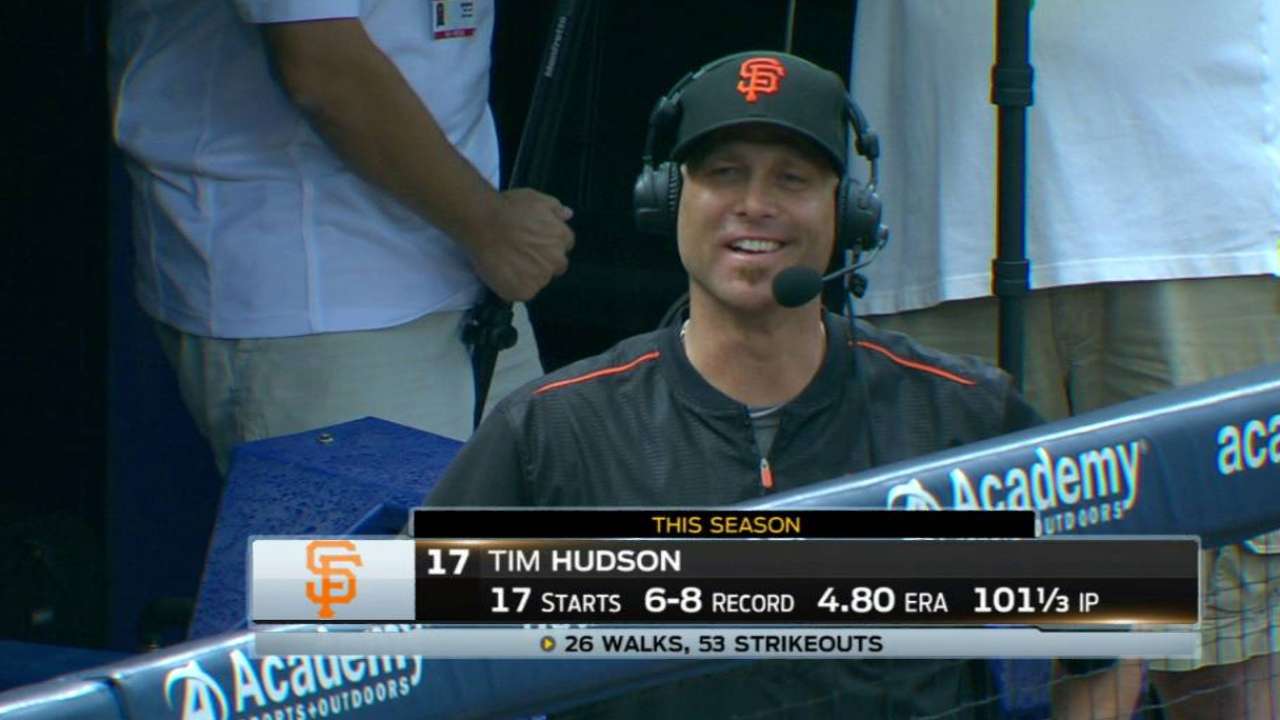 ATLANTA -- Tim Hudson understood the significance of his arrival to Turner Field on Wednesday afternoon. The Giants pitcher who will retire at the end of this season was essentially saying goodbye to the stadium, where he had played a majority of his career.
"It's a little strange and it's a little sad at the same time," Hudson said. "But I'll tell you, it will probably be more weird going to the new stadium [SunTrust Park] and seeing a game there. I'm glad I'll be able to watch a game here in the stands before they go to the new stadium."
As Hudson prepares to end a 17-season career that included nine seasons in Atlanta, he is already looking forward to the chance to renew the Braves fandom that he possessed throughout his childhood. The next few years will provide him a chance to bring his kids to games, much like his parents did as he was raised 90 minutes southwest of Atlanta in Phenix City, Ala.
Hudson had visions of ending his career with the Braves until he fractured his right ankle while nearing the completion of a gem against the Mets on July 24, 2013. As he endured a grueling rehab that provided no guarantees upon completion, he quickly learned the Braves were not going to match the two-year, $23 million contract he ended up signing with the Giants.
"If things would have worked out, I'd have been thrilled to stay here," said Hudson, who pitched for the Braves from 2005-13. "But honestly, I didn't even know if I would ever play again. Having a chance to come [to the Giants] and play in a World Series, it's all worked out."
Hudson beat the odds as he gained the last of his four All-Star selections and helped the Giants win the World Series last year. Unfortunately, this year has not been as memorable for the 40-year-old pitcher, who posted a 4.80 ERA in the 17 starts he made before losing his rotation spot and going on the disabled list last week.
While back in Georgia this week, Hudson has been able to visit with his 68-year-old mother, who was recently fortunate to undergo a successful liver transplant.
Though he understands he is limited from a physical perspective, Hudson is looking forward to the chance to spend the rest of this season doing whatever he can in the clubhouse or on the mound to help the Giants in their attempt to win yet another World Series.
"I just wish I was pitching better now and be able to a little something different with how I'm pitching," Hudson said. "This isn't exactly how I had the end pictured, bowing out and tapping out. But I'm OK with it. As long as I can be here for whatever the team needs, I feel like I can give us some competitive innings along the way if they need me."
Mark Bowman is a reporter for MLB.com. This story was not subject to the approval of Major League Baseball or its clubs.