Gordon progressing, trying to avoid setbacks
All-Star outfielder looks to take outdoor BP this weekend at The K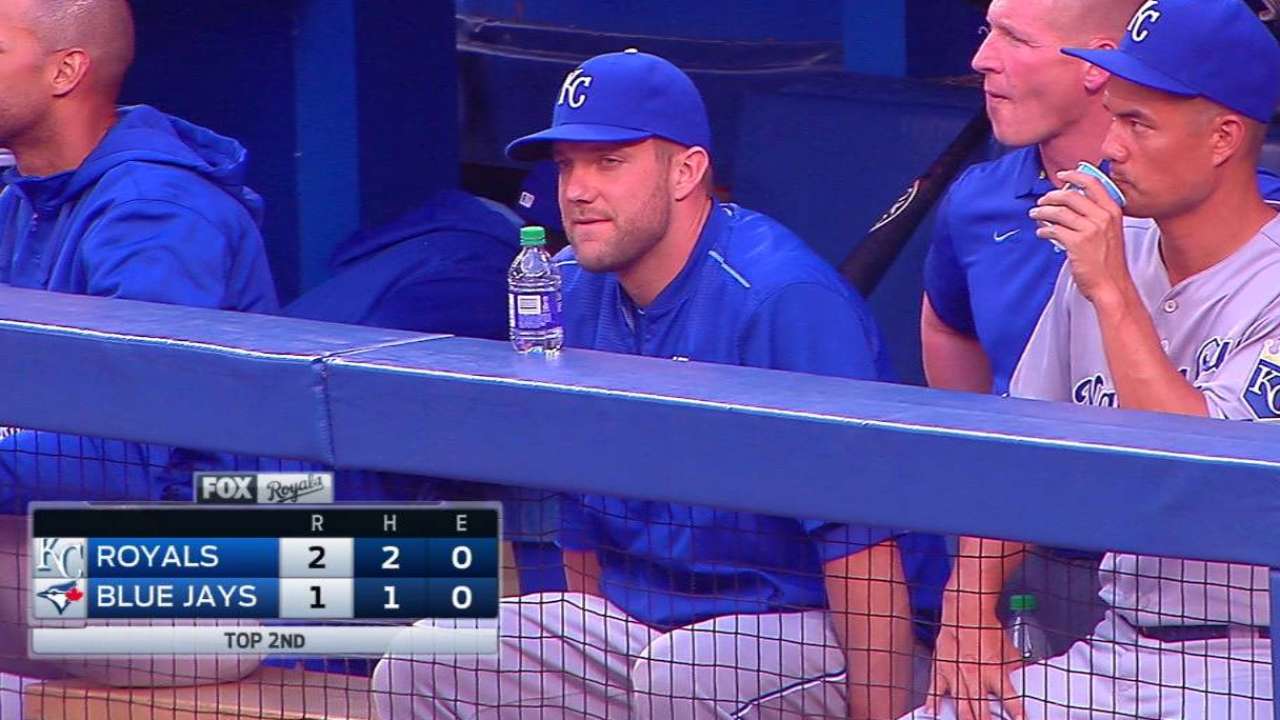 DETROIT -- Royals outfielder Alex Gordon had never sustained a Grade 2-plus groin strain, so when he went down with that injury on July 8, he wasn't sure what to expect of the recovery process.
So far, though, Gordon is pleased with his progress since landing on the 15-day disabled list. On Tuesday, the American League All-Star and Gold Glove Award winner completed indoor batting practice, and he took soft-toss swings outdoors on Wednesday at Comerica Park.
"The first five swings, it was a roll over to second base," Gordon said. "At first it didn't feel good, but eventually, I got back into it and was able to hit some good balls.
"It's been a while, but it's part of the game, being on the DL, and unfortunately I've been there for a little bit now."
Gordon said he has primarily been focusing on agility work and that he hopes to take outdoor batting practice and shag balls when the Royals return to Kauffman Stadium on Friday for a weekend series against the White Sox. The outfielder's goal, he explained, is ensuring that he doesn't suffer any setbacks over the coming weeks.
"It's not where I need to be as far as my leg, but even when I push it, I'm trying to listen to the trainers the best way I know," Gordon said. "I don't know how to deal with this injury; they do. It's about baby steps and not trying to get back all in one day."
In early July, manager Ned Yost forecasted Gordon's return at eight weeks, and the All-Star believes he's on track to be playing by the end of August.
"He's making good strides," Yost said. "It was a pretty big injury -- we knew that he'd probably be out six weeks to two months. He's healing up nice; he's starting to ramp up a little bit more."
In addition to being one of baseball's premier defensive outfielders, Gordon is hitting .279 with 11 home runs this season. The Royals, though, haven't faltered without their leader. Entering Wednesday, they were 15-9 since July 8 and had increased their lead in the AL Central from 4 1/2 to 9 1/2 games.
But as Kansas City makes a push for its first AL Central crown, Gordon's return couldn't hurt.
"Any time you get Alex Gordon back, it's going to be a big boost," Yost said, "but I think, as everybody's noticed, we've done OK without him."
Alejandro Zúñiga is an associate reporter for MLB.com. This story was not subject to the approval of Major League Baseball or its clubs.