Blue Jays' Stroman set to return to the mound
Sidelined since spring by ACL injury, righty scheduled to begin Minors rehab Aug. 21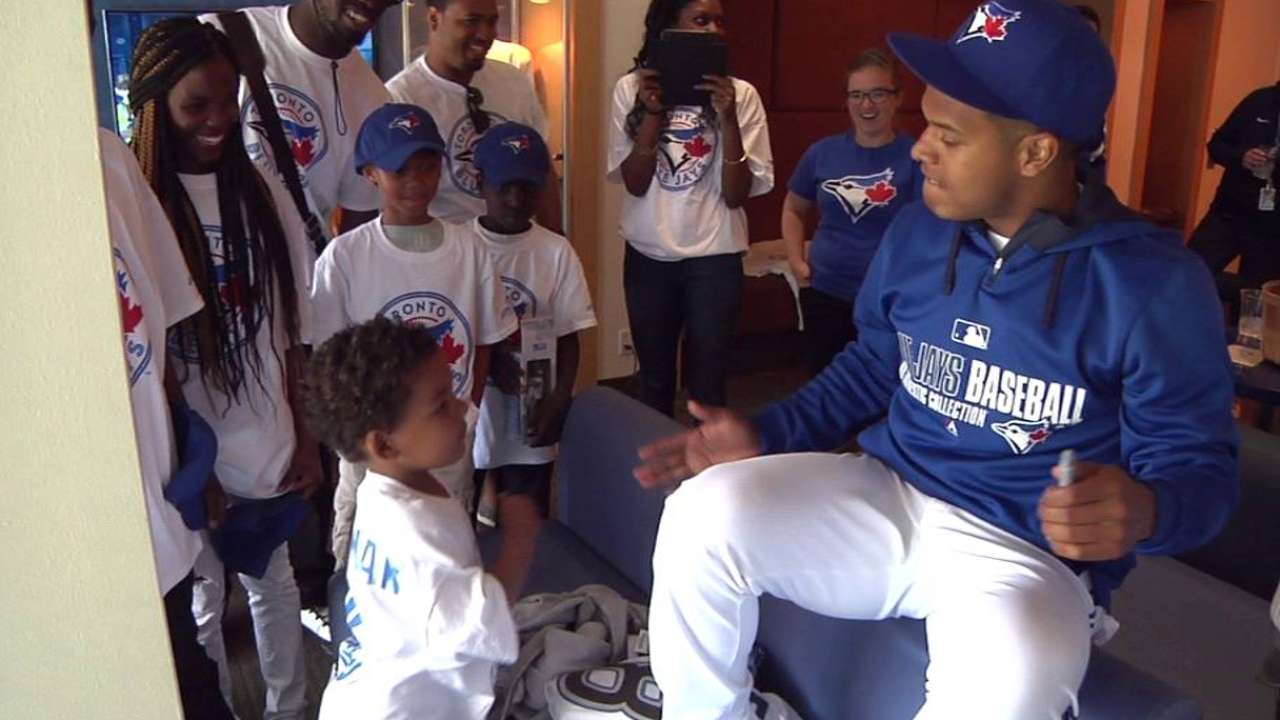 TORONTO -- Marcus Stroman's season might not be over after all. The injured Blue Jays right-hander was originally supposed to miss the entire 2015 campaign after he tore his left ACL in Spring Training, but he appears to be on the mend more quickly than first expected.
Stroman, who was scheduled to partake in a light throwing session on Wednesday, is tentatively slated to begin a rehab assignment on Aug. 21, according to the club. Where he'll pitch has not yet been determined.
Blue Jays manager John Gibbons said it's still "far-fetched" to expect Stroman to return to the big leagues this season. But if the pitcher was to make his way back to the Majors in 2015, it would likely be in a relief role.
"It's been a while, it's gonna take some time," Gibbons said. "In a fantasy world, if he somehow pulled it off, he'd probably pitch out of the bullpen."
Gibbons stressed that the team isn't going to rush Stroman back.
"He'd still have to get clearance from the doctors and everything, too," said Gibbons. "[We're] thinking about his future. But when you're young like that, [with] good genes, you heal faster."
Getting Stroman into rehab games before the Minor League seasons conclude on Sept. 7 would be pivotal for any realistic prospect of a return to the Blue Jays this season. Stroman has maintained all along that he would return this season, but the original outlook from the club was that he'd miss all of 2015.
"We don't look at it like he's gonna come to the rescue, save the day," Gibbons said. "It's his goal [to return in 2015]. We're on board if he can pull it off, but we're not gonna do anything stupid either."
Worth noting
• Devon Travis, who went on the disabled list with a left shoulder strain on July 31 (retroactive to July 29), "is feeling better," according to Gibbons, but a timetable for the second baseman's return hasn't yet been set. The team is likely playing it safe with Travis after the same injury sidelined him for almost six weeks earlier this season.
• Michael Saunders, who had surgery following a meniscus tear in his left knee in Spring Training, could rejoin the Blue Jays in September, Gibbons said.
"You're not gonna see him in a starting-type role, but you might see him come off the bench," he said. "[To] get him back with the team, I think, would be important."
Saunders is on the DL with left knee inflammation.
Jamie Ross is an associate reporter for MLB.com. This story was not subject to the approval of Major League Baseball or its clubs.