MLB.com Columnist
Bernie Pleskoff
Scouting profile: Gary Sanchez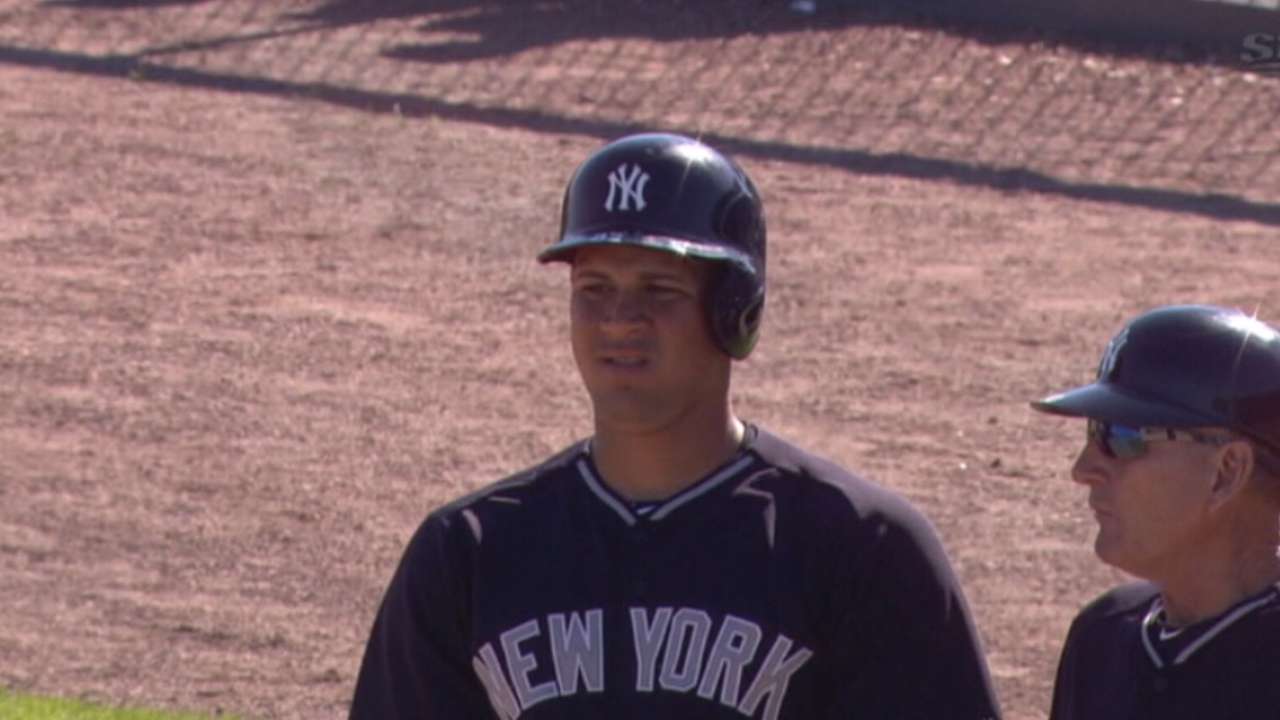 Background
Yankees fans have been hearing about catcher Gary Sanchez since the moment he signed as an international free agent from the Dominican Republic in 2009. He made his debut at the age of 17 and had the type of rookie season that certainly got the attention of the baseball world.
Sanchez hit a combined .329 playing for the Yanks' Rooke-level Gulf Coast League team and the Class A Short-Season Staten Island club. He also hit 13 doubles and had eight home runs. Sanchez's career was off and running.
The Yankees also had catching prospect Jesus Montero in the organization. He and Sanchez formed a dynamic duo of solid hitting future catchers.
At 6-foot-2, 230 pounds, Sanchez is solid and stocky. He has an especially strong lower body, and at age 22, he still may have growth potential. Sanchez's legs do a great deal of the work in his swing mechanics.
Montero was traded to Seattle, where he has struggled to make the 25-man roster. Sanchez remains with the Yanks and was recently promoted to Triple-A Scranton/Wilkes-Barre for the first time in his six-season career.
I've scouted Sanchez on several occasions, but most recently at the SiriusXM All-Star Futures Game in Cincinnati. He started for the World Team and got a double in two plate appearances.
Hitting
A right-handed hitter, Sanchez is an offense-first catcher. He has always been touted as a prospect with emerging power. In fact, Sanchez homered in his first Triple-A at-bat. His bat speed is the foundation of solid offensive mechanics.
Sanchez uses an easy approach at the plate, keeping things simple and not being overly aggressive. He can feast on fastballs.
Sanchez has shown power to all fields.
For all the hype and talk about Sanchez's hitting ability, he really hasn't had a recent breakout season. He's a good hitter, but he isn't putting up the eye-popping numbers that were expected when he signed.
To his credit, Sanchez has good pitch recognition and quickly identifies pitches he can drive.
Currently No. 7 on the Yankees' Top 30 Prospects list, he can still be the type of good hitting catcher the team has made a staple in its lineups.
Defense
Sanchez has made progress as a receiver. He is blocking balls in the dirt better than in the past. Sanchez's arm is extremely strong, but his footwork and game calling have been issues.
Strengths
To his credit, Sanchez has the type of power that can hit the gaps to all fields. He's still a very young prospect with upside.
Sanchez should be a source of power in the middle of the Yanks' lineup. His presence should make those around him better.
Sanchez uses an easy swing. He doesn't use extraneous energy to try to hit every ball out of the park. Sanchez's strength and slight uppercut provide loft on the ball.
Weaknesses
Sanchez's approach to the game has been questioned by many. There are times when he hasn't shown the type of energy and work ethic of a prospect trying to advance and learn everything possible during his development.
Some scouts wonder if Sanchez can ever meet the high offensive expectations placed upon him in his early years. Will he be an impactful hitter or simply mediocre? Sanchez's history and track record have been spotty.
Sanchez is slow. He won't generate many stolen bases and may clog the bases.
I find this interesting
Sanchez was on fire for the first four seasons of his career. He was the top-ranked Yankees prospect. But then Sanchez seemed to decline. The recent past has not been overly bright.
The future of Sanchez
Sanchez has to improve his game approach, defense and offensive consistency. He will have more time in development as the team still has average bats in Brian McCann and J.R. Murphy at the Major League level. Sanchez still has time to prove he belongs.
Sanchez in a word
Perplexing
Bernie Pleskoff has served as a professional scout for the Houston Astros and Seattle Mariners. Follow @BerniePleskoff on Twitter. This story was not subject to the approval of Major League Baseball or its clubs.