Valencia eager to contribute to A's in any role
Crisp (neck stiffness), Reddick (lower back tightness) come off bench in finale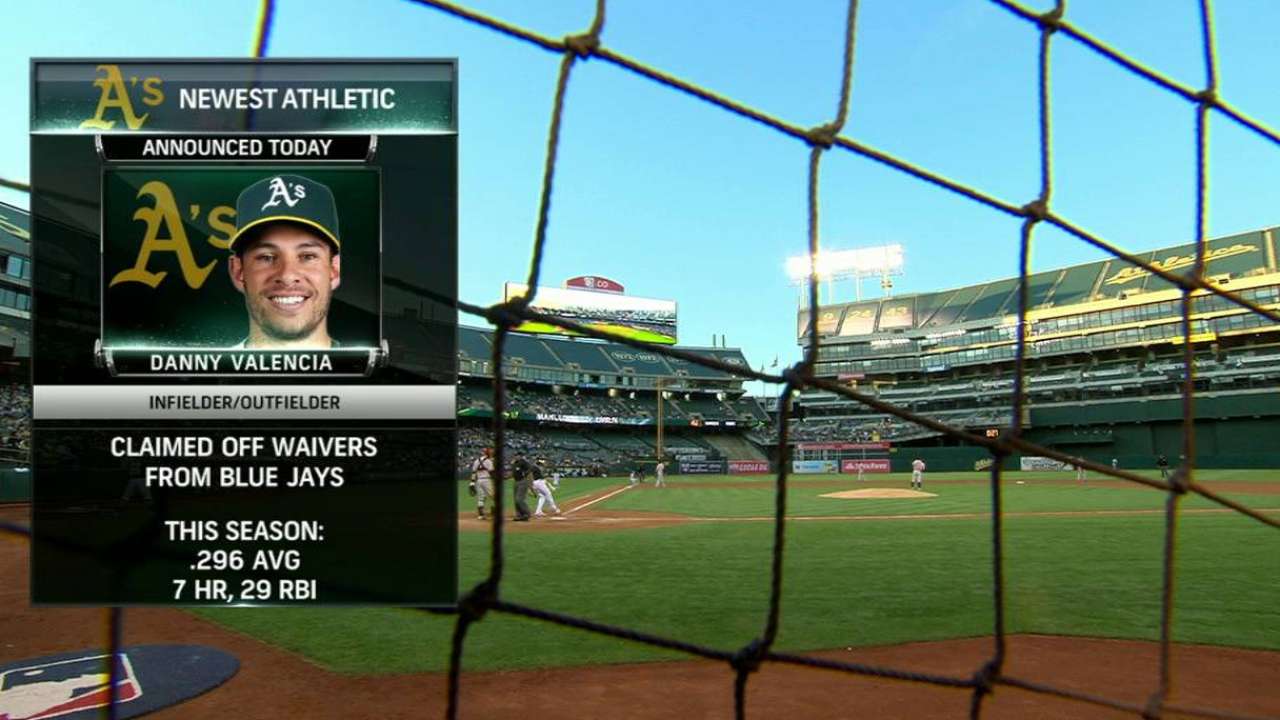 OAKLAND -- Danny Valencia couldn't believe it when the Blue Jays designated him for assignment on Saturday.
"Never saw that coming," Valencia said.
But now he's in Oakland and he's eager to start a new chapter with the A's. Valencia was in the starting lineup against O's left-hander Wei-Yin Chen on Wednesday, going 1-for-5 while playing third base in the A's 7-3 loss in 10 innings.
Manager Bob Melvin said Valencia will typically be used when the opponent starts a lefty -- he entered Wednesday hitting .316 against left-handers this year. He'll usually play third base, but Valencia said he's also comfortable playing outfield and second base.
Melvin said he talked with Valencia before the game Wednesday and told him the A's do things a little differently than most clubs.
"I know he wants to play every day, and the opportunities are always there based on how you do and how you respond to certain situations, " Melvin said, "but if you don't start, it doesn't mean you won't have an impact on the game."
Valencia could be used as a pinch-hitter and a late defensive specialist. Brett Lawrie played second base for the A's on Wednesday, and it's clear Melvin is more comfortable with Lawrie -- who came up as a second baseman -- there than Valencia.
"I feel all right over there," Valencia said of second. "I wouldn't say that would be a position I'd want to play on a regular basis. I'm a bigger guy -- I'm not as fast as your typical middle infielder -- but if you needed me to hold the position down for a day or two I think I could do it."
He also feels as though he can contribute in the outfield.
"I've been learning it on the fly," Valencia said. "It's a different position, but I kind of like the challenge. By no means am I a Gold Glove left fielder right now."
Valencia, who got to Oakland around 5 p.m. PT on Tuesday, said he's still getting used to the Bay Area traffic, but everyone made him feel welcome in the clubhouse right away.
"The guys are great," he said. "It seems like a good, fun clubhouse. It's a little bit different in here, but it's definitely going to be a good experience."
Worth noting
• Coco Crisp was scratched from Wednesday's lineup with neck stiffness before grounding out as a pinch-hitter in the ninth inning and playing left field in the 10th.
"Any time we get a little bit of stiffness in there, we're going to give him a day off," Melvin said before the game.
• Still recovering from lower back tightness, Josh Reddick was also out of the starting lineup, but he too came off the bench and went 0-for-1 with a walk while playing right field.
Trevor Hass is an associate reporter for MLB.com. This story was not subject to the approval of Major League Baseball or its clubs.