Mechanical tweak pays off for Carrasco
Righty pitches consecutive stellar nine-inning outings after adjusting delivery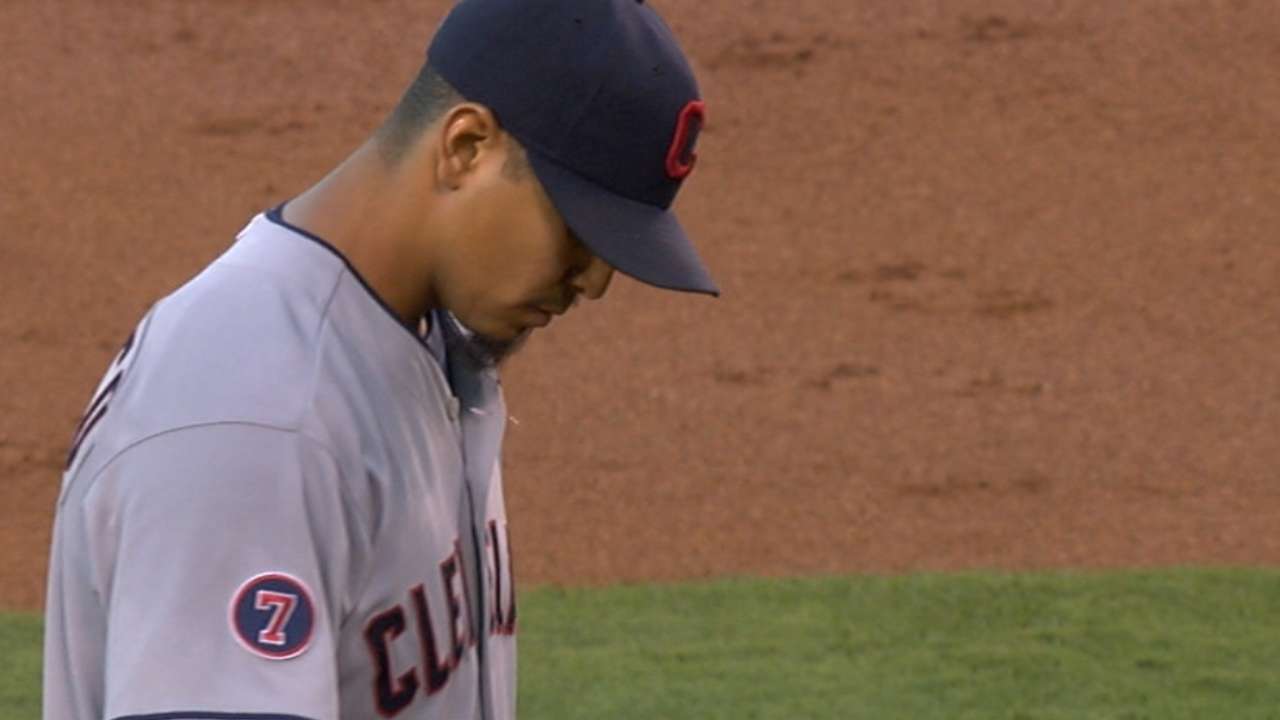 ANAHEIM -- It sounds simple enough. When Carlos Carrasco positions his lead arm higher in his throwing motion, the Indians starter has better tilt and downward trajectory on his pitches. It has been a key to success for the big right-hander, but it has been something that he has unknowingly strayed from at times.
In the days before and between his past two starts, Carrasco went to work with pitching coach Mickey Callaway on repeating that element of his delivery again, hoping to have it carry over into his outings. The work has paid off in the form of back-to-back nine-inning gems from the Cleveland starter.
"Everything that I've worked on, I just need to continue that," Carrasco said. "Now, we go home, and I'll put all the hard work that I'm doing right now into my next start."
During Tuesday's 2-0, 12-inning win over the Angels, Carrasco allowed just one hit over nine innings, ending with seven strikeouts and one walk. He posted a near-identical line in his previous outing on Thursday in Oakland, where he held the A's to one run on two hits with seven strikeouts and one walk in nine frames. In both starts, Carrasco displayed a higher angle with his lead arm.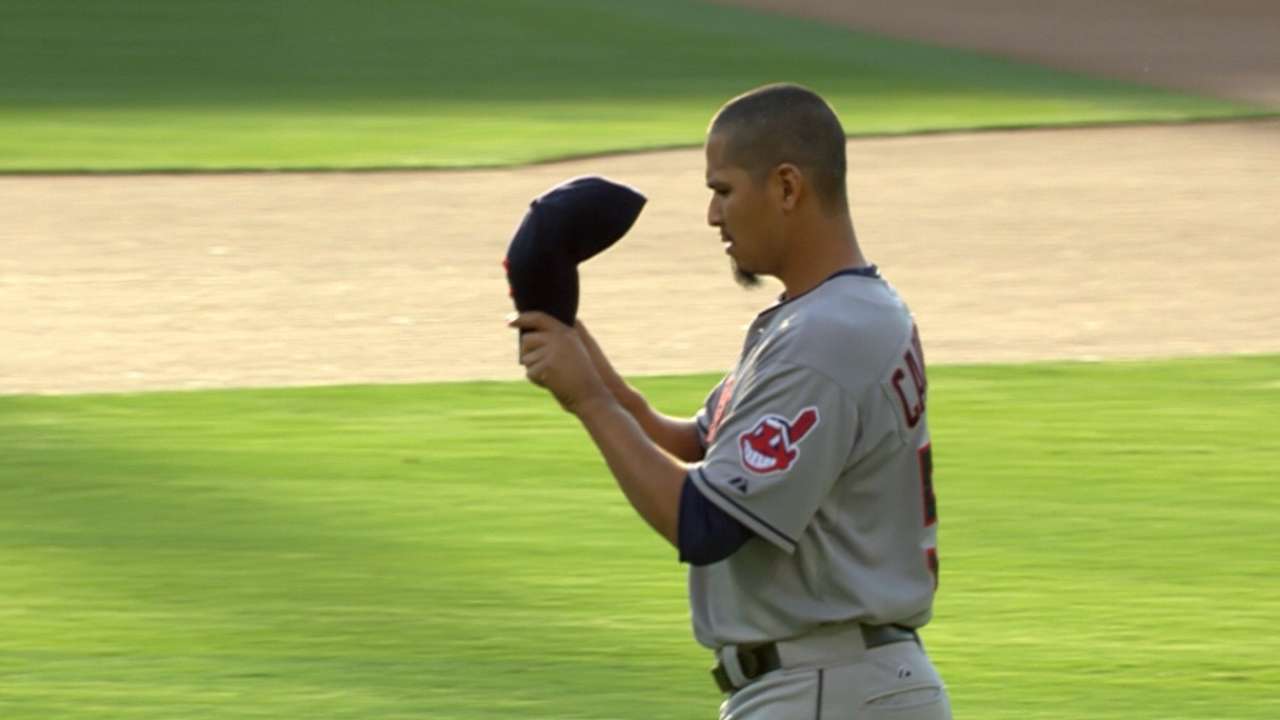 "What we've been working on mainly is getting his lead arm up again," Callaway explained, "trying to get it about the same height as it was last year. We noticed it was trending down for most of the season. The two games it was at its highest point were the almost no-hitter and his previous game [before] tonight. And it looked really good again [against the Angels]."
The near no-hitter that Callaway referenced was on July 1, when Carrasco allowed one hit (to the final batter he faced) over 8 2/3 innings against the Rays. As it happens, the right-hander's average fastball velocity -- both with his four-seamer and sinker -- in his past two outings was the highest it's been since that July 1 start, during which he averaged 97.2 mph with his four-seamer.
"He's able to drive the fastball down where he wants to," Callaway said. "He doesn't get that lazy, flat run across the zone that's a little more hitable. He cleaned some things up, and it probably adds some deception to his delivery."
Callaway said it has been encouraging to see Carrasco make such quick adjustments after identifying a flaw in his delivery.
"He's reaching those easy adjustments in the game, too," Callaway said. "He's recognizing what's working and what's not. He's turning into a really good pitcher. Obviously, he's still got some things to learn. I think his effort level and things like that had been inconsistent earlier in the season. Now, since the All-Star break, they've really gone up.
"It's just constant reminders for himself, and he's been doing a lot of just digging in between on other guys and what they do to help himself, like in between his starts to help himself. That's pretty impressive."
Waiver claim: During Wednesday's game against the Angels, the Indians claimed right-hander Deolis Guerra off waivers from the Pirates. Cleveland designated left-hander Michael Roth for assignment to clear a spot on the 40-man roster. Guerra, 26, posted a 6.48 ERA with 17 strikeouts and three walks in 10 relief outings (16 2/3 innings) for Pittsburgh this year. The righty posted a 1.23 ERA in 36 2/3 innings for Triple-A Indianapolis earlier this year.
Jordan Bastian is a reporter for MLB.com. Read his blog, Major League Bastian, follow him on Twitter @MLBastian and listen to his podcast. This story was not subject to the approval of Major League Baseball or its clubs.