Templeton to join Padres Hall on Saturday
Shortstop was a key member of 1984 NL pennant-winning team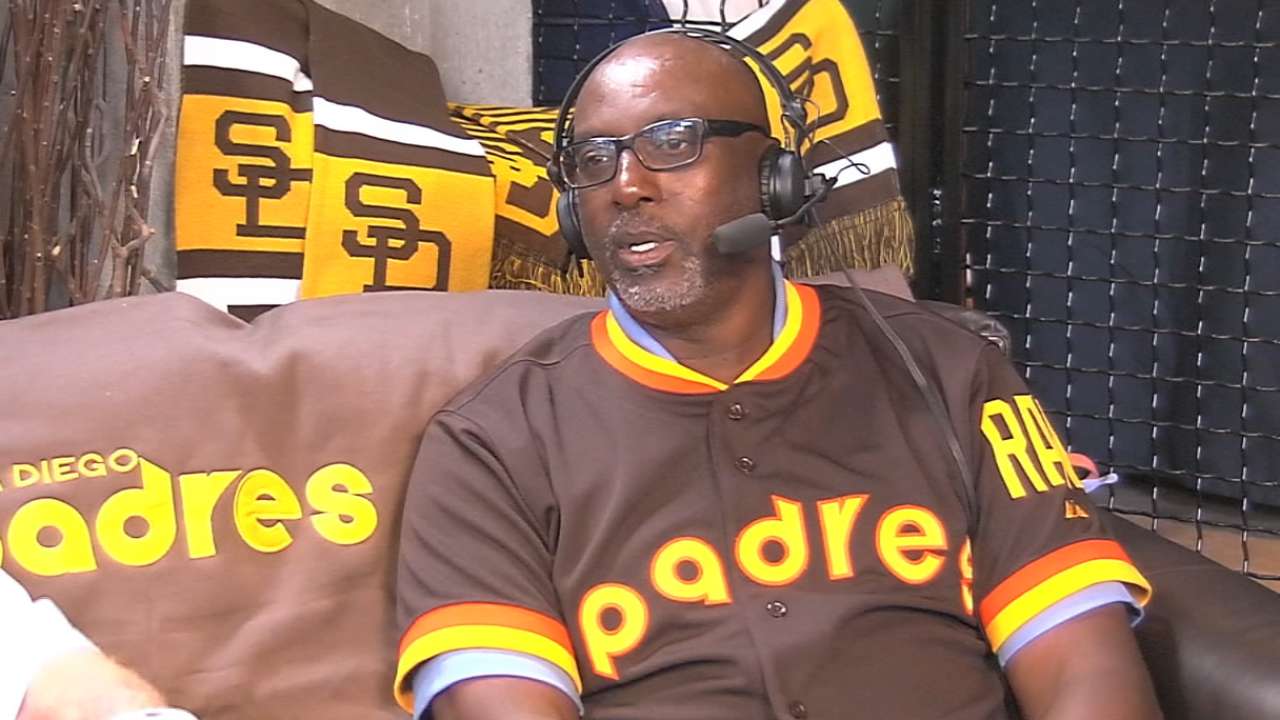 Bill Center, longtime sportswriter for U-T San Diego, is an employee of the Padres.
Over the years, through the opaque lens of revisionist history, many Padres fans have questioned the multiplayer, 1981 trade that sent future Hall of Fame shortstop Ozzie Smith to the St. Louis Cardinals in exchange for Garry Templeton.
But the bottom line of that trade was 1984.
Templeton became an integral part of the team that gave the Padres the first of their two National League pennants.
"Shortly after the trade, I had talks with [manager] Dick Williams and [general manager] Jack McKeon," Templeton recalled recently.
"Dick had just taken over as the Padres' manager. They were talking about how they were going to put a winner on the field and that they traded for me to bring some leadership over here.
"Dick told me I was one of the parts they needed for a championship team."
At the age of 28, Templeton was much more than the shortstop of the National League champions. He filled a key leadership role, bridging the gap between the nucleus of young players brought up through the Padres' farm system and veterans added to bolster the strength of the ball club.
The 1984 season was a great experience," said Templeton.
"We had this corps of really good young players -- Tony Gwynn, Kevin McReynolds, Alan Wiggins, Carmelo Martinez, Eric Show, Mark Thurmond, Andy Hawkins, Dave Dravecky, Craig Lefferts … great talent," said Templeton.
"Dick said he was going to let them play. But Dick added specific players to push the process along -- Steve Garvey, Graig Nettles and Goose Gossage. Every day in 1984, we talked about winning championships."
"I was the link between the veterans and the kids in 1984," said Templeton, who was the unofficial captain of those Padres. Templeton officially got the "captain" title when Larry Bowa became the manager in '87, and he remained the Padres' captain until he was traded to the New York Mets during the '91 season.
This Saturday, Templeton will add another title to his resume when he and catcher Benito Santiago are inducted into the Padres Hall of Fame during ceremonies before the Padres-Phillies game at Petco Park. The ceremonies are expected to start approximately a half-hour before the first pitch at 5:40 p.m. PT.
The induction of Templeton and Santiago will bring the total in the Padres Hall of Fame to 11.
They will be joining players Gwynn, Trevor Hoffman, Randy Jones, Dave Winfield and Nate Colbert; manager Williams; franchise-saving owner Ray Kroc; founding club president Buzzie Bavasi and broadcaster Jerry Coleman.
Gwynn, Williams, Winfield and Coleman are also in the Baseball Hall of Fame.
"This is quite an honor. And to be honest, I wasn't expecting it," said Templeton. "I knew the Padres had a Hall of Fame, but it seemed like they hadn't been adding players until Hoffy last year. That's when I started thinking about it.
"For me, it's a double honor to be going in with Benito, who broke in with the Padres (in 1986) when I was still there."
Templeton, who is now 59 and continues to reside in Poway, Calif., played almost a decade with the Padres from the start of the 1982 season through the first two months of '91.
He hit .252 with the Padres with 43 homers and 427 RBIs in 1,286 games. He was one of seven players who represented the Padres on the 1985 NL All-Star team managed by Williams.
Only Gwynn played more games for the Padres than Templeton, whose 1,135 hits also rank second to Gwynn's 3,141 on the Padres' all-time leaders list. Templeton is also ranked second in doubles (195) and at-bats (4,512), fifth in triples (36), seventh in RBIs, eighth in runs scored (430) and 10th in stolen bases (101). "I never thought Tempy got the credit he deserved as a Padres player," the late Gwynn said years ago. "He was like the glue. He had a great sense of humor. At the same time, he had the respect of the young players and the older veterans. He had the ability to demand better and still laugh when that's was what was called for.
"I always loved the way he played shortstop. He wasn't flashy. But he just gobbled up balls like a vacuum, set and made great throws. He was always where he needed to be. Heady. In my book, he was very under-rated. And he worked hard to do it right."
"People don't realize the respect I had from teammates and players around the league," said Templeton. "When word got out that I was going into the Padres Hall of Fame, I heard from players from all over."
Templeton was playing golf -- he has a one handicap -- when he got the call from Padres president and CEO Mike Dee earlier this season to tell him that he was a unanimous Hall of Fame selection by the Padres' two-tier selection committee.
"I'm going to be perfectly honest," said Templeton, a former manager in the independent leagues and the Angels' Minor League system. "I thought Dee was calling to give me a job to help the organization. When I learned I was going into the Hall of Fame, it kind of blew me away. I wasn't expecting that. I was kind of speechless. It totally caught me by surprise."
From the scorecard
-- Third baseman Yangervis Solarte was 1-for-4 Tuesday night to extend his hitting streak to a personal-record 10 straight games. Solarte is 17-for-42 during the streak with three doubles, two triples and two home runs for seven RBIs and seven runs scored. The streak equals the longest streak by a Padres player this season, matching Justin Upton's 10-game streak to open the season.
-- Shortstop Alexi Amarista was 2-for-4 with a double Tuesday night in Milwaukee and is 6-for-13 in his last three games with two doubles, two triples and a home run for five RBIs. Before that Amarista was 0-for-23.