Mariners to stick with Nuno in rotation for now
Left-hander allowed three runs over 3 2/3 innings in first start of season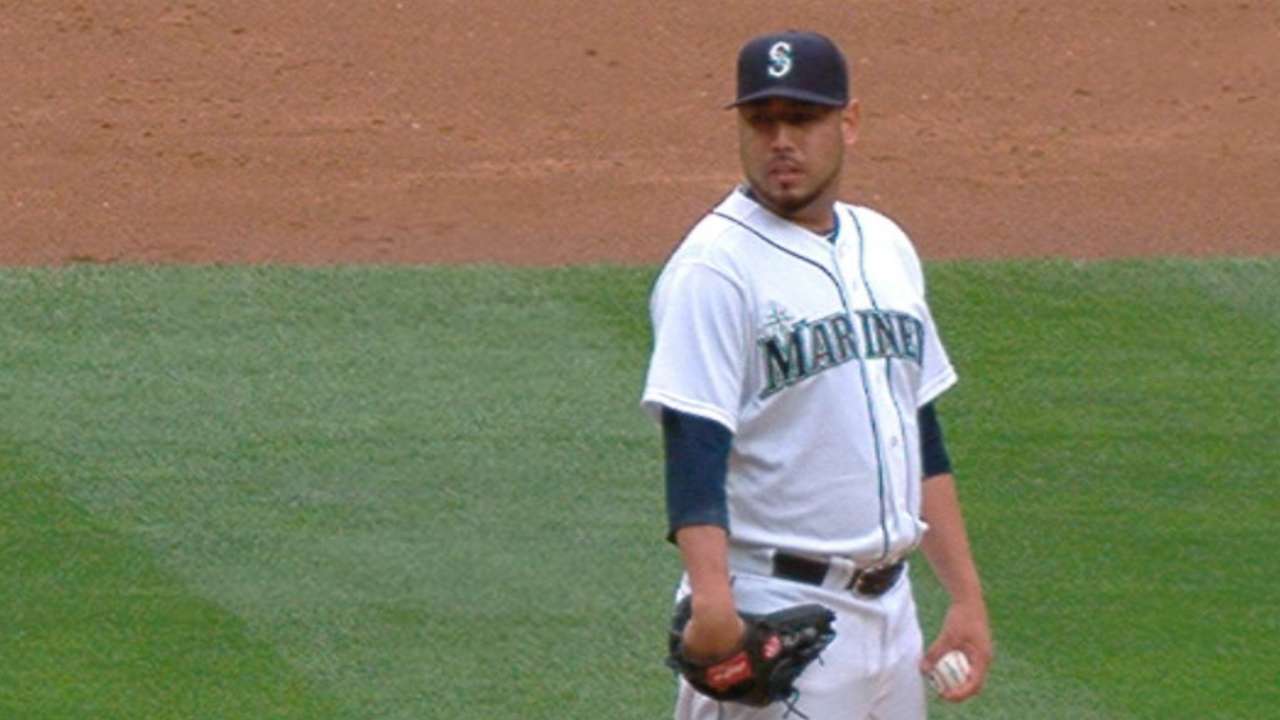 DENVER -- Though Vidal Nuno lasted only 3 2/3 innings in his first start with the Mariners on Tuesday, manager Lloyd McClendon said he was pleased with the effort at Coors Field and the 28-year-old will get another shot in the next turn through the rotation.
Nuno is lined up to face the Orioles on Monday at Safeco Field as he continues, for now at least, filling the void created by the trade of J.A. Happ to the Pirates on Friday.
"I think he'll be better in Seattle than when he was here," McClendon said prior to the start of Wednesday's series finale with the Rockies. "The altitude kind of got him, particularly when he had to run the bases. It's funny. When he came back in and I went over to shake his hand and tell him, 'Great job,' his chest was heaving. He was trying to catch air. He was out of gas."
Nuno singled in the fourth -- breaking an 0-for-52 drought by Mariners pitchers dating back to 2012 -- then slid hard into second on a fielder's choice grounder by Austin Jackson to end that inning.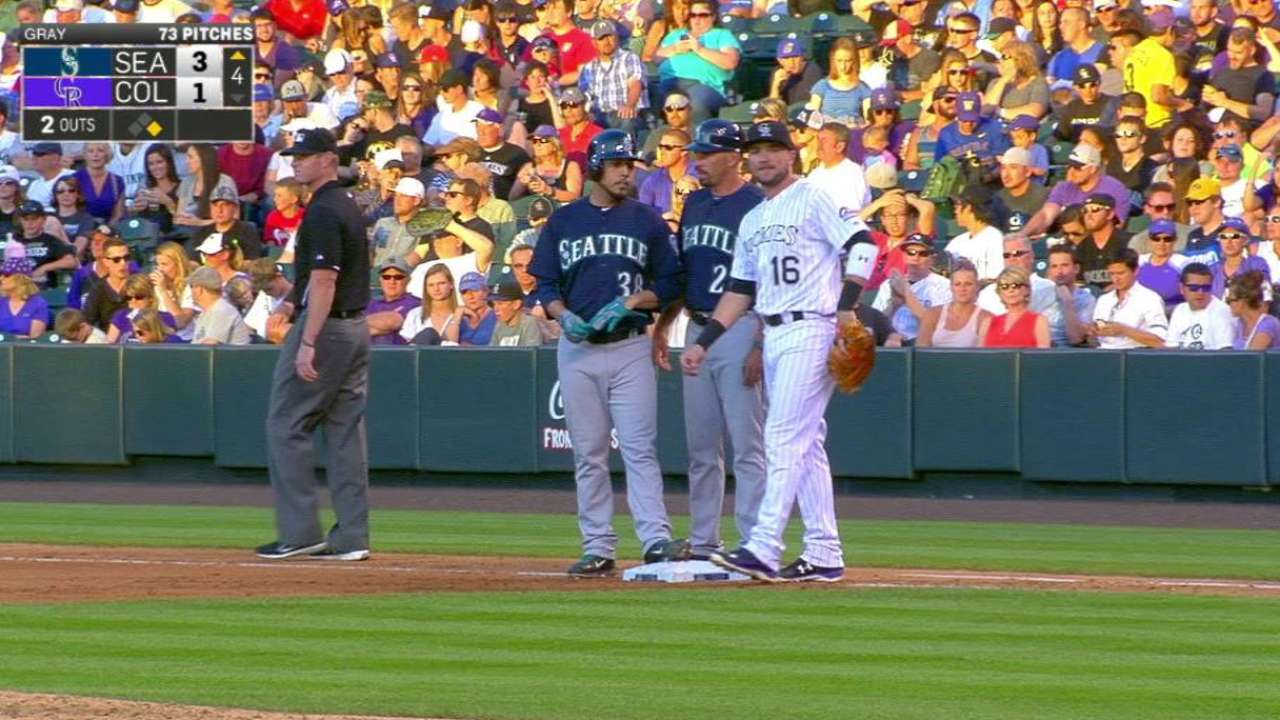 Moments later, he gave up a two-run homer to Nick Hundley and a two-out double to Drew Stubbs before McClendon pulled him after 62 pitches with the game tied at 3.
Nuno said he wasn't winded, but McClendon made the right call in going to reliever Rob Rasmussen for the final out of that frame as the bullpen came on for 5 1/3 innings of one-run ball in what turned into a 10-4 win.
"Lloyd was seeing that inning I was falling behind in the counts and balls weren't doing what they were supposed to do," Nuno said. "But sure enough, Rob came in and shut the door and got that crucial out. I thought it was good. Everybody contributed, it was a good win for us, the bullpen held its own and we came away with a victory."
Nuno has pitched well in relief for the Mariners since being acquired from the D-backs on June 3, and he has a 2.88 ERA in 19 appearances over 25 innings.
McClendon doesn't judge much from the two home runs he allowed Tuesday -- a leadoff shot by Charlie Blackmon and the two-run poke by Hundley -- which accounted for all three runs he allowed in the difficult Coors Field environment.
"I thought he was outstanding," McClendon said. "You have to keep in mind, breaking balls in this ballpark don't break like they should. If you make any type of solid contact and the ball is in the air, nine out of 10 it's going to be out of the ballpark. I thought he threw a real good changeup down and away to [Nolan] Arenado and it almost went out of the park. All in all, I thought he did a great job for us."
Still, McClendon isn't ready to commit to Nuno as a permanent part of the rotation. For now, he'll take it start to start and see what happens. And part of the equation figures to be how well Roenis Elias pitches at Triple-A Tacoma.
The Mariners would like to see Elias perform better before promoting him back to the Majors. The lefty allowed six runs in two-thirds of an inning in his last start, and he has posted a 7.81 ERA in six starts since being sent down a month ago.
James Paxton is another starting option, but he's yet to begin throwing off a mound as he continues rehabbing a strained tendon in his left middle finger that has sidelined him since late May. Paxton appears unlikely to be ready until the final weeks of the season.
Greg Johns is a reporter for MLB.com. Follow him on Twitter @GregJohnsMLB, read his Mariners Musings blog, and listen to his podcast. This story was not subject to the approval of Major League Baseball or its clubs.