Frazier reflects on LLWS, Majors success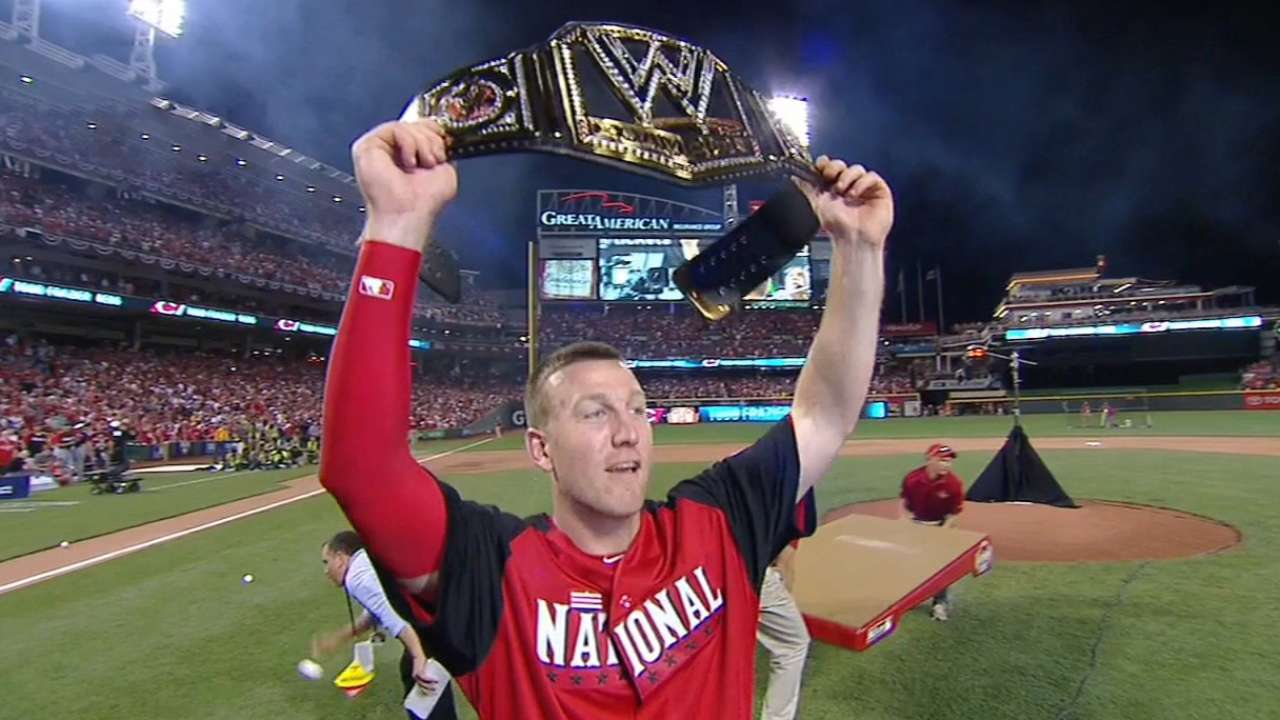 Even before he reached the Major Leagues, the spotlight was nothing new for Reds third baseman Todd Frazier. That's because he had already played big -- and won big -- as a 12-year-old shortstop for the 1998 Little League World Series champions from Toms River, N.J.
Now 29, Frazier broke into the Majors with the Reds in 2011, and he has since become a fixture in the lineup. In 2015, he was selected to the National League All-Star team for the second time in as many seasons, and he took home the Home Run Derby title in front of a hometown crowd in Cincinnati.
As the hits keep coming, Frazier continues to welcome the spotlight, and he recently spoke with MLB about his LLWS experience, his life as a professional ballplayer and his expectations for the future.
You're one of a handful of LLWS standouts who have made it to the Majors. What do you think your success teaches current Little Leaguers?
It gives hope to young kids; they can look at the Jason Variteks or Todd Fraziers of the world who made it. Just 45 [LLWS graduates] have made it to the Majors, and just a few of them have won the World Series. It goes to show you how hard it is not only to get drafted, but also to make it.
How does your current life in the Majors compare to what you thought your future would hold?
When I was 12, I thought, "[Being in the Majors] has to be the best life to live." I imagined the finest wines and cheeses, and all that corny stuff. It's lived up to the hype. The travel is great. At 12, you think the stadiums are meccas, and they are. I want to play until I can't anymore. I'm really lucky to be a part of something like this.
What's the best aspect of being a Major League ballplayer?
Putting on the uniform every day and knowing that it's your job. I like to be the first one on the field to hear the crowd roar and get the excitement going. I also think it's the greatest thing when a kid asks for an autograph. I remember being little and doing it all the time, and how, if I'd miss an autograph, I'd get really upset.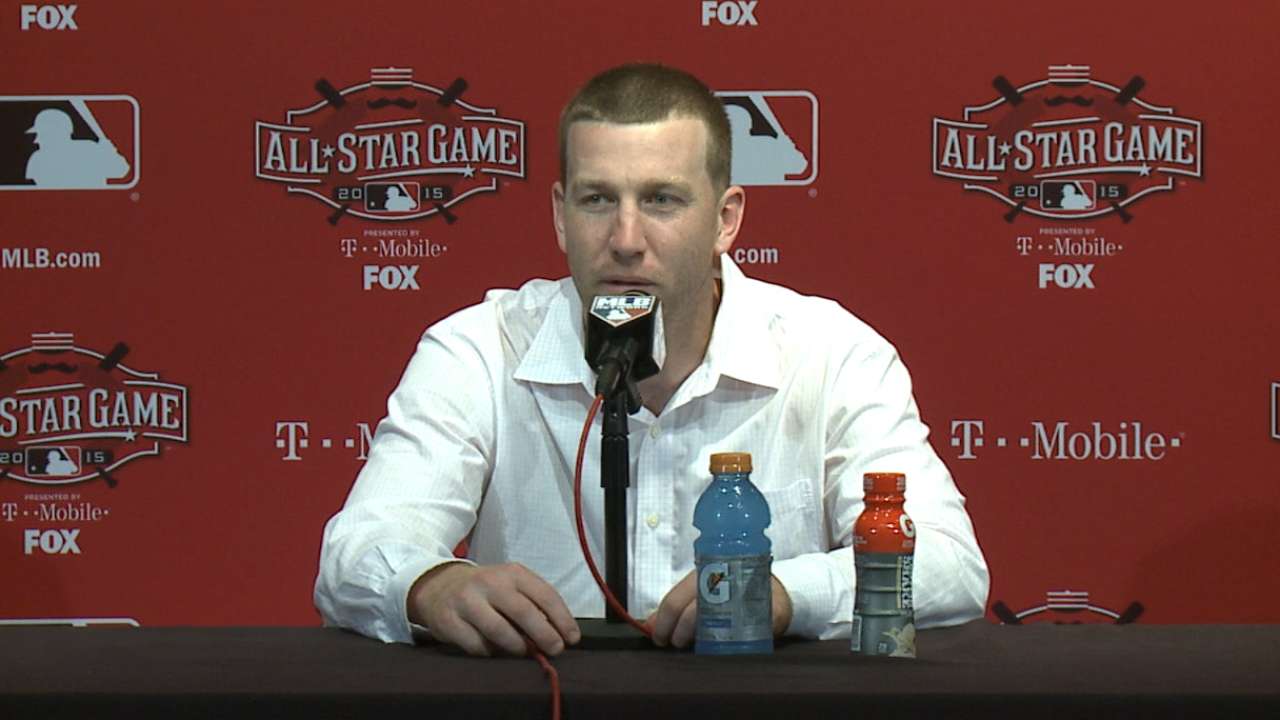 What advice do you have for kids who see you as a role model on and off the field?
On the field, watch how much fun I have. Hustle, bring a lot of energy and be intense, but not overly intense. Anything that you want to achieve in this world requires energy and enthusiasm. And root for your teammates no matter how well or how badly you're doing.
Off the field, hang out with the right crowd. You can go out and have a good time, but there's a limit to that. Always have a true friend with you to look out for you. Enjoy the time, though, because you're only young once.
After winning the LLWS, what was the coolest thing that you and your teammates got to do?
We met Vice President Al Gore. We went to Yankee Stadium and met Derek Jeter. One of the best things was the B.A.T. (Baseball Assistance Team) dinner. There were so many Hall of Famers there, from Cal Ripken Jr. to Reggie Jackson. I brought two dozen baseballs, and by the end of the night they were filled with autographs.
Speaking of Jeter, who's also a Little League grad, years later you met him again, this time as a fellow big leaguer. Can you compare those experiences?
It was surreal. I actually grew up a Red Sox fan, but Paul O'Neill was my favorite player. We met him and Jeter that day, and we saw them take batting practice. Later, I stood next to Derek, not knowing that I'd be at his last All-Star Game. So many things can happen when you play this game.
How did the attention that came from the LLWS prepare you for MLB fame? You appeared on television, at parades and at other public events.
It relaxes you. When you get interviewed, you know what to say. Situations like that really aren't pressure-filled anymore, because you've been there before at a young age. You know how to slow everything down and just enjoy the moment.
You're going to fail more than you will do well in this game, especially in key situations. When those times come, you know how to act and keep going.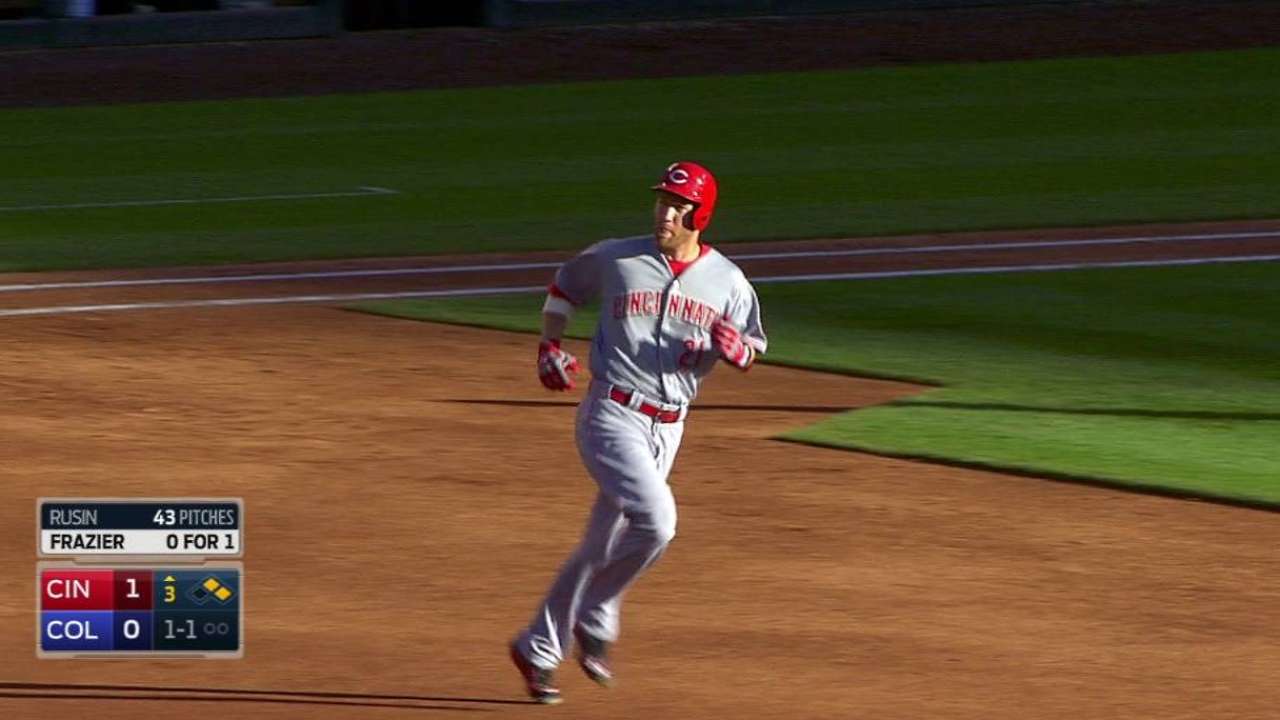 What did you learn from your Little League coaches that still applies today?
Always prepare and work hard. When I was younger, we often got to have home run competitions at practice, but only if we took practice seriously would there be a reward at the end.
Now that you have a son and another child on the way, how excited are you to get them out on the field?
I can't wait to have that first catch with them. It sounds cliche, but I can't wait to see them play.
In which part of your game do you take the most pride?
My defense. I've gotten better each year. I try to be as focused as I can, even if nothing is hit to me all day. I watch a lot of video of good third basemen like Nolan Arenado and David Wright. It's about honing your craft. We have a great coaching staff that will get on me if I'm not doing things the right way.
What part of your game do you work on the most?
Hitting. It's a back-and-forth grind. I'm not a video guy in this aspect. I changed my stance last year, and I moved my hands down. I think my swing is ugly, but it gets the job done.
You've gotten the opportunity to mash the ball in two Home Run Derbies, an event that many young players dream of attending. What is your perspective on the Derby?
"I think it's a great opportunity to showcase your skills. I feel like a little kid out there in the backyard, swinging at everything. [They were] pretty cool. Bringing the hardware home was something I've always wanted to do, and it [was] just an unbelievable feeling."
Mark Sheldon covers the Reds for MLB.com. This story was not subject to the approval of Major League Baseball or its clubs.