White Sox walk off with 10-inning win over Rays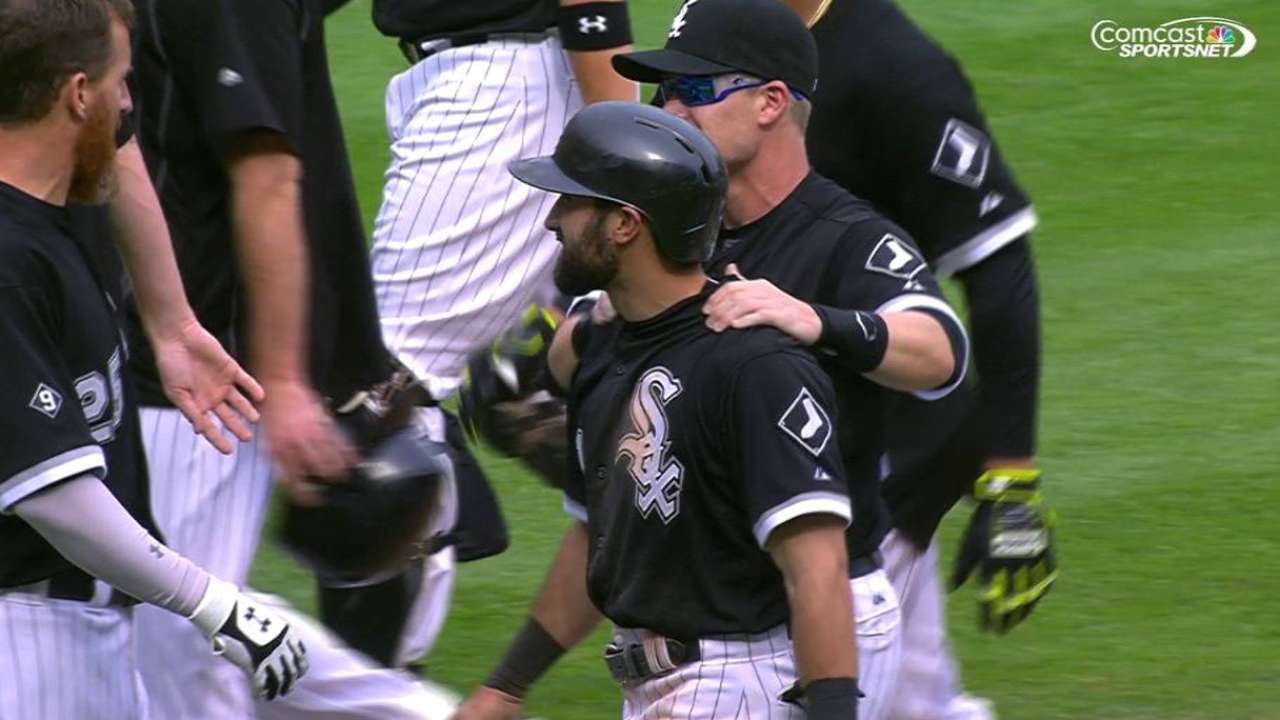 CHICAGO -- Adam Eaton scored on a bases-loaded walk to Avisail Garcia in the 10th inning as the White Sox defeated the Rays, 6-5, on Wednesday at U.S. Cellular Field.
Eaton singled and stole second, reaching third on Asdrubal Cabrera's error. Rays reliever Brad Boxberger then intentionally walked Jose Abreu and Melky Cabrera before losing Garcia on five pitches.
Chicago prevailed despite blowing a 5-0 lead it built in the first inning. Reliever Zach Duke surrendered a game-tying double in the eighth after starter Carlos Rodon allowed two runs in the third and two more in the fifth. David Robertson pitched two scoreless innings to earn the win for the White Sox.
"We needed the win," Robertson said. "We didn't play too well the last two days and when you don't play well you don't win games. We started out really hot today and just let this one slip into a really tough game."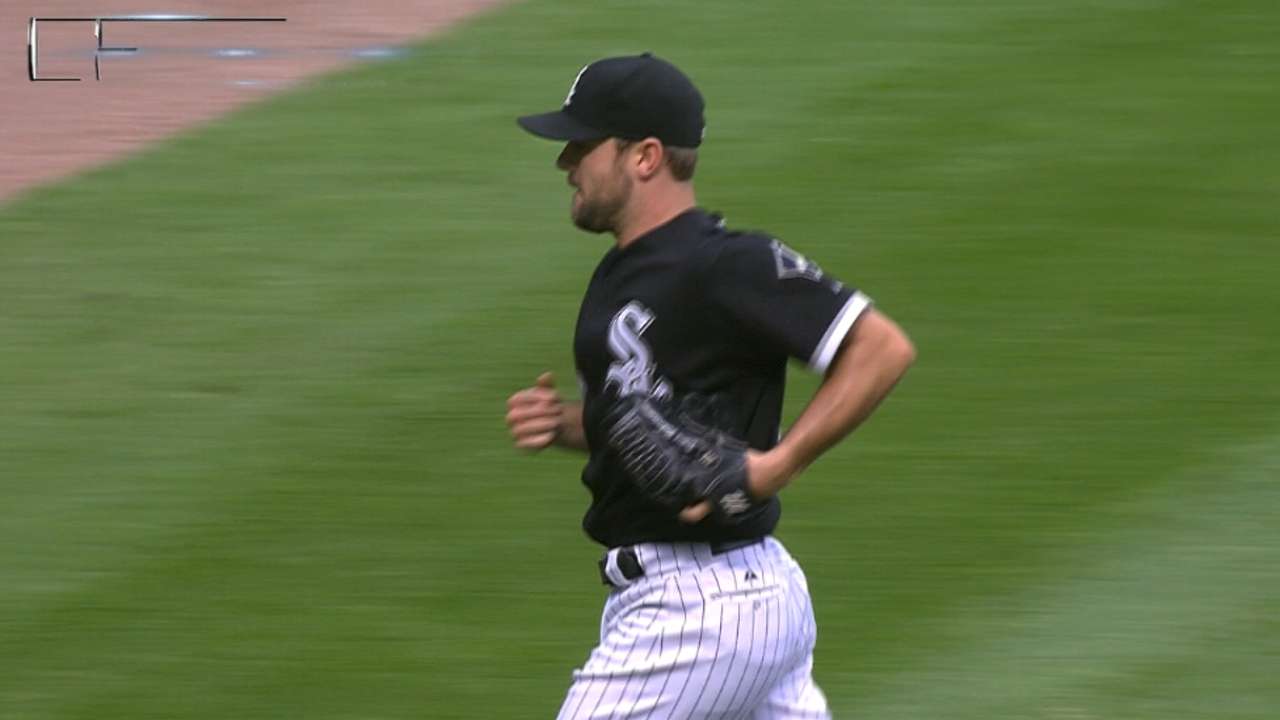 Evan Longoria and Cabrera finished a combined 7-for-10 with three RBIs and three extra-base hits for the Rays, who finished 5-1 against the White Sox this season.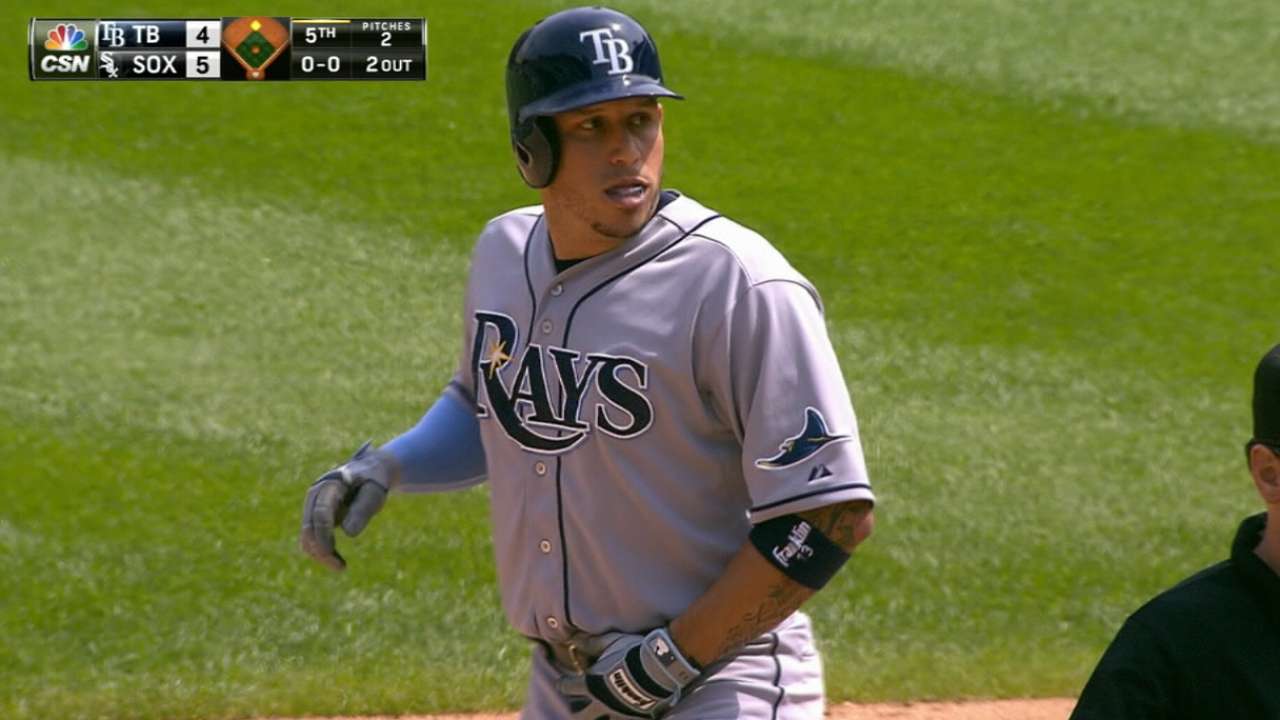 MOMENTS THAT MATTERED
Ready to roll: The White Sox wasted little time jumping on the board, as the first five batters in the lineup scored in the first inning. Abreu hit an RBI single, Cabrera reached on a ground-rule double before both scored on Garcia's three-run homer. It was a rare burst to begin the game for Chicago, which is still being outscored, 80-51, in the first frame.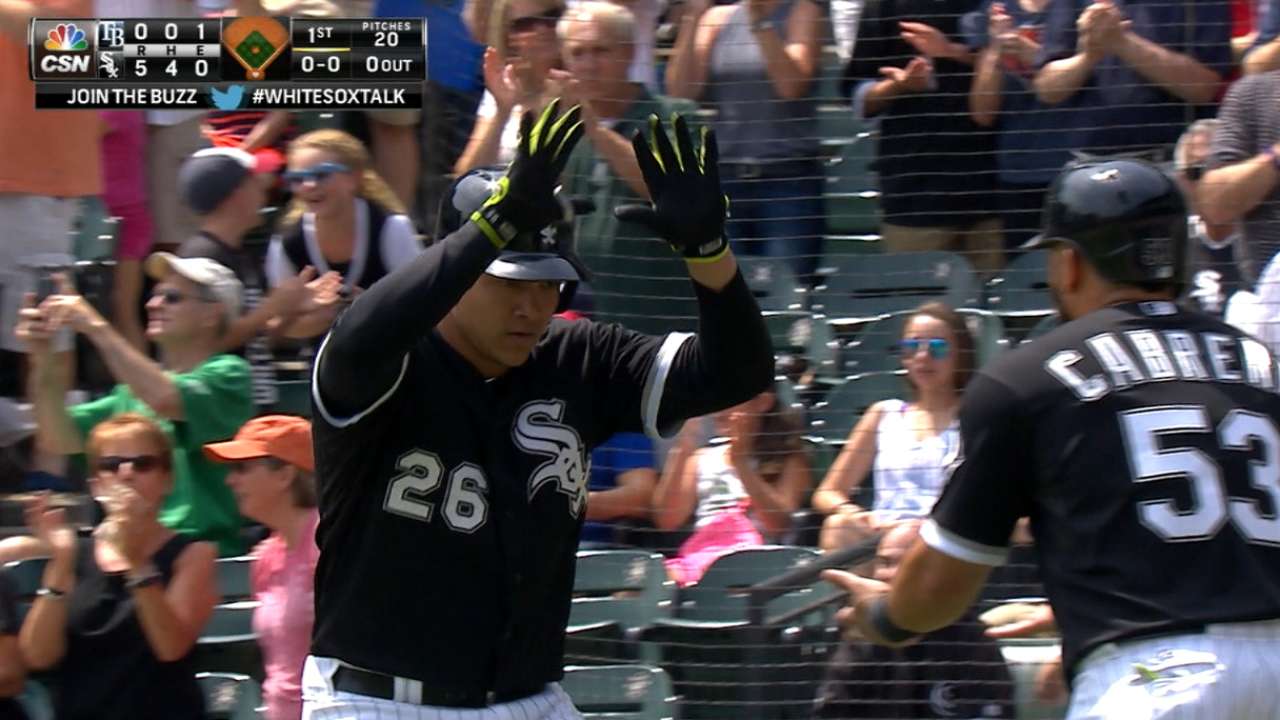 Short session: Rodon tested the patience of manager Robin Ventura, who pulled the rookie after he allowed four runs on six hits over 4 2/3 innings. The left-hander was roughed up for eight runs across three innings in his last outing, and Ventura pulled him before he could earn the win. Even in the second inning, when Rodon had allowed two runners to reach base, Ventura began to warm up Matt Albers in the bullpen. Rodon has lasted fewer than seven innings in each of his starts this season, earning the victory only once in his last seven games.
"It's a decision that the manager has to make, and you go with that and what's best for the team," said Rodon, on his early exit. "I totally understand the circumstances and the outcome, and I agree with it. That's all you can do." More >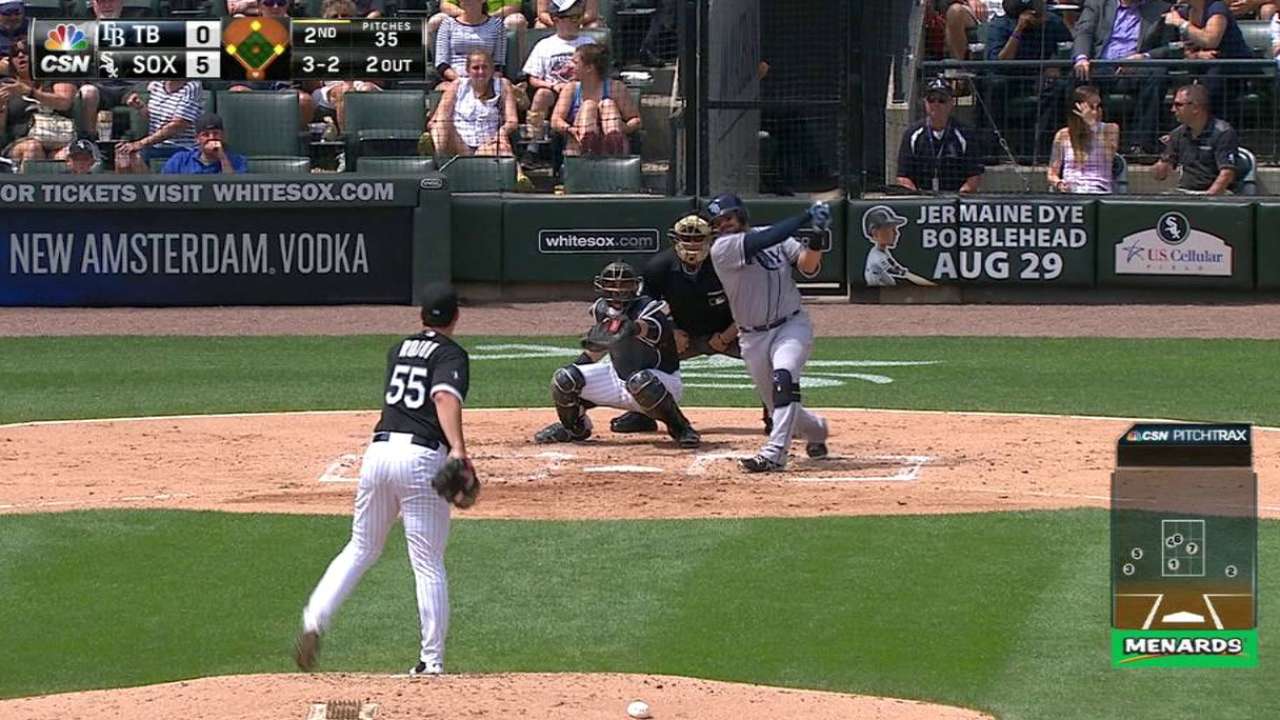 Unflappable Erasmo: Erasmo Ramirez has been solid all season. Entering Wednesday's start, he had allowed one earned run or fewer in seven of his previous eight starts. But the White Sox ambushed the right-hander for five runs in the first to take a 5-0 lead. Despite being down, Ramirez continued to grind, adding five scoreless frames to his line before leaving the game prior to the seventh inning with the White Sox ahead, 5-4. He came away with a no-decision.
QUOTABLE
"If only the first inning didn't count. Erasmo, I don't think he was that sharp throughout the entire game. But he did a good job of honing it in enough to limit them. They just came out in attack mode early on and we couldn't stop them that first inning. I guess that's just the way it goes sometimes." -- Rays manager Kevin Cash, on the first inning
"Hopefully, we're going in the right way, and hopefully, we can start streaking for about a month or two. We've definitely been Jeckyl and Hyde, where it's been one or the other. Hopefully, we can get on the good side of things and roll a little bit here." -- Eaton, after his team won seven straight games, then dropped five of its next seven
SOUND SMART WITH YOUR FRIENDS
The Rays endured their eighth walk-off loss, tied for the Major League lead and tops in the American League. More >
UNDER FURTHER REVIEW
Asdrubal Cabrera got caught in a rundown between first and second when he rounded the base too far after he singled in the seventh. He ended up in a foot race with shortstop Alexei Ramirez, who dove to tag him out. After 1 minute 50 seconds, a decision was made that the call on the field stood.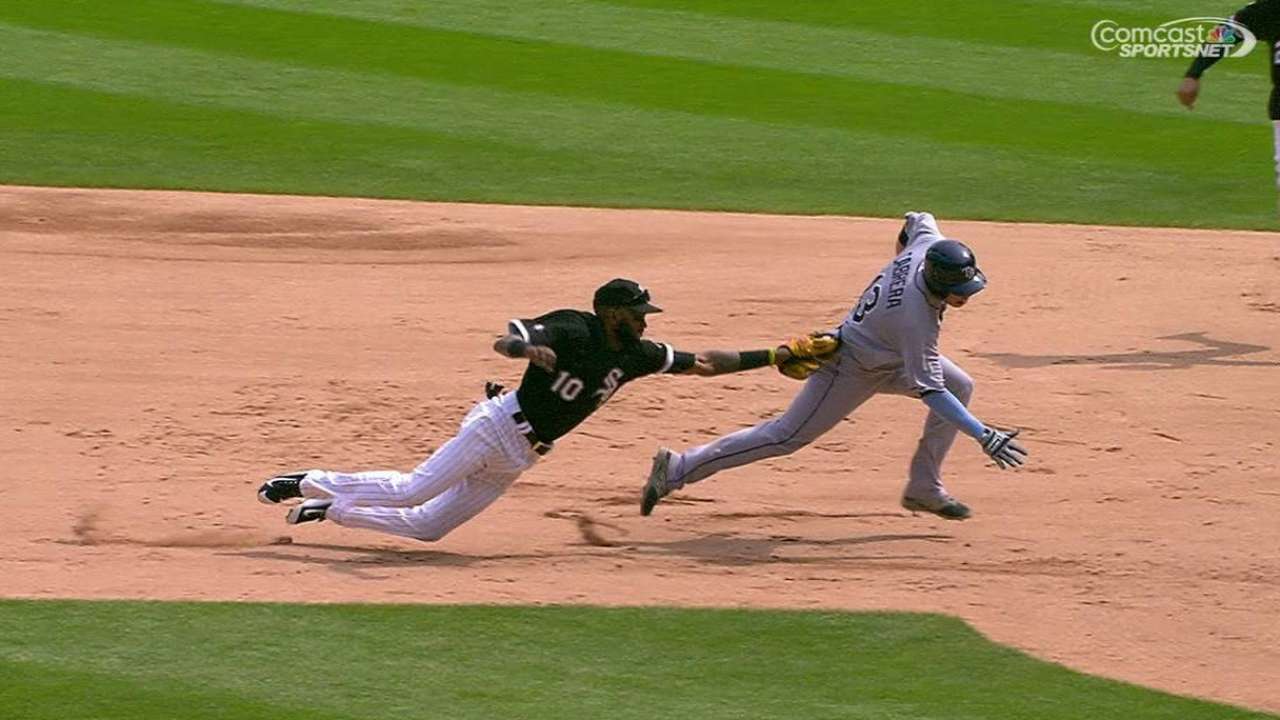 WHAT'S NEXT
Rays: Jake Odorizzi will make his 18th start of the season and his first career start, or appearance, against the Mets on Friday. He is 3-3 with a 3.52 ERA in eight career Interleague appearances, but he is 0-2 with a 6.30 ERA in four career starts against National League East opponents. First pitch at Tropicana Field is set for 7:10 p.m. ET.
White Sox: After a day off Thursday, the White Sox travel to Kansas City for a three-game series against the American League Central Division leaders. John Danks takes the mound for the fourth time against the Royals this season, carrying a 2-1 record and 3.57 ERA in those outings. Friday's first pitch is scheduled for 7:10 p.m. CT.
Watch every out-of-market regular-season game live on MLB.TV.
Greg Garno is an associate reporter for MLB.com. Bill Chastain is a reporter for MLB.com. This story was not subject to the approval of Major League Baseball or its clubs.