Keener on positive influences of youth baseball
Little League CEO expresses excitement over Manfred's kid-centered initiatives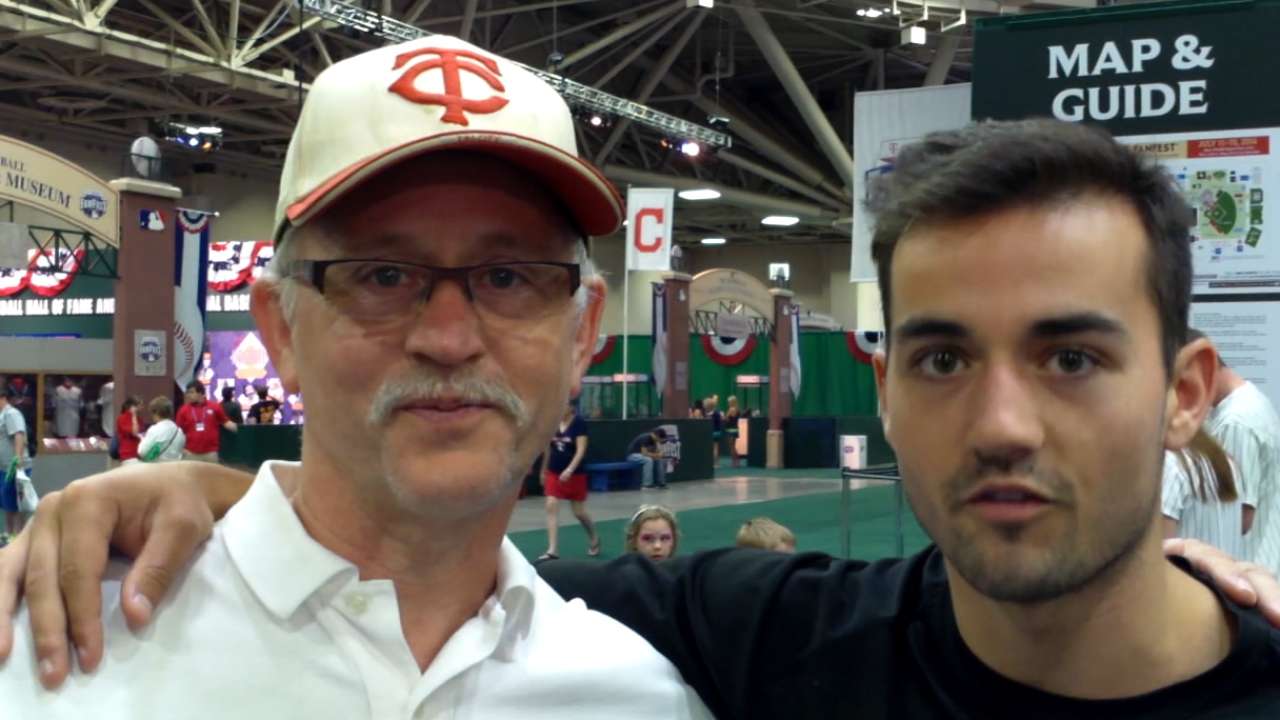 No matter what hometown they're from or what city is across their chests, all baseball players are linked by a common thread: They share a love of the game and a passion that was instilled in them when they were kids. For nearly every player, from Mike Trout to Felix Hernandez, as well as the average fan watching a game, that passion takes root in his formative years, and in Little League. MLB recently sat down with Steve Keener, the president and CEO of Little League International, the largest youth sports organization in the world, to discuss his views on the game.
How does it feel watching Little League graduates like Todd Frazier, Dustin Pedroia and Matt Harvey excel, knowing where they started?
Those guys are great examples of hard work paying off, but they are the rare exceptions. We have 2.5 million players, and the reality is that only a few will make it to the big leagues. But those players can inspire kids to be like them.
Which former baseball and softball players stand out as the best role models for kids today?
For softball, it would be Michele Smith. She's a broadcaster now, was a pitcher who won multiple Olympic gold medals for the USA, was a pre-med student, and she has all the attributes you want in a young lady. For baseball, it's Derek Jeter. He had an outstanding career on the field, but is just as highly regarded for his professionalism, demeanor and dignity off the field.
Was it music to your ears when MLB Commissioner Rob Manfred announced that one of his chief initiatives centered around kids?
Absolutely. Having a Little League graduate as Commissioner for the first time is amazing. He's the first Commissioner to really put an emphasis on youth baseball on a grassroots level.
We were able to find his Little League roster from Rome, N.Y., in the late 1960s. It's especially exciting for us when he talks about his own experience.
Little League has instituted the Pitch Smart program, which was developed by MLB in conjunction with USA Baseball. What do you like about it?
Most importantly, it has amplified the awareness of pitch counts. A few years ago, we decided to tighten our pitch count rules. Although we can restrict kids to 85 pitches in a game, we can't regulate if they throw 85 pitches in a Little League game and then 85 more the next day with a travel team. The Pitch Smart program makes parents, coaches and athletes aware of the damage that overthrowing can cause.
The Little League World Series becomes more popular on TV each year. How does that affect the next generation?
The LLWS showcases what our community-based leagues can do: give anyone the opportunity to play. There's a lot of interest in the Little League World Series; the players are motivated to be on television, and people want to watch them compete. What fans don't see, though, because the cameras are only on the field, is how two teams from opposite sides of the world can walk off the diamond, and minutes later they can be playing in the swimming pool or the recreation center together, and eating pizza in each other's dorm rooms at the International Grove.
What does Mo'ne Davis and her performance at the 2014 LLWS do for females in the sport?
Mo'ne is a terrific young lady. She was the 18th girl to play in the LLWS. What I admire most about Mo'ne is that every time I've heard her talk to the media, she never let the occasion go by without saying, "I couldn't do what I did without my teammates." There's a kid who understands the importance and power of a team. She represents the thousands, and maybe millions, of little girls watching and saying, "I can do that."
The Little League Museum features quite a collection of artifacts from over the years. Are there any pieces of memorabilia that stand out to you?
My favorite item is from Mike Mussina. When he was playing Little League, he drew his own baseball card, depicting him pitching in uniform, and he autographed it. It reminds us every day of kids' dreams of playing at the Major League level, and that Little League is where those dreams begin.
If you had to give Commissioner Manfred advice on ways to get kids involved in baseball, what would it be?
Little League is more valuable to MLB as a farm system for fan development than as a pipeline of player development. The likelihood of kids making it to the Majors is slim, but the likelihood of a player playing into his or her teens and becoming a fan for life is exponential. Using social media to get Major League players to interact with youth players is something we need to do as much as possible.
And, finally, the simple game of catch is what connects generations and introduces most kids to the game. I remember my father teaching me how to catch and throw a ball. I couldn't wait for dinner to be over so that we could go out in the backyard and play. If we can reignite that spark, it will not only build interest in the game, but the time spent with each other will also build relationships.
Mike McCormick is the editorial director for Major League Baseball. This story was not subject to the approval of Major League Baseball or its clubs.