Finch, Mendoza still going for gold
Softball Olympians share about their playing days, favorite moments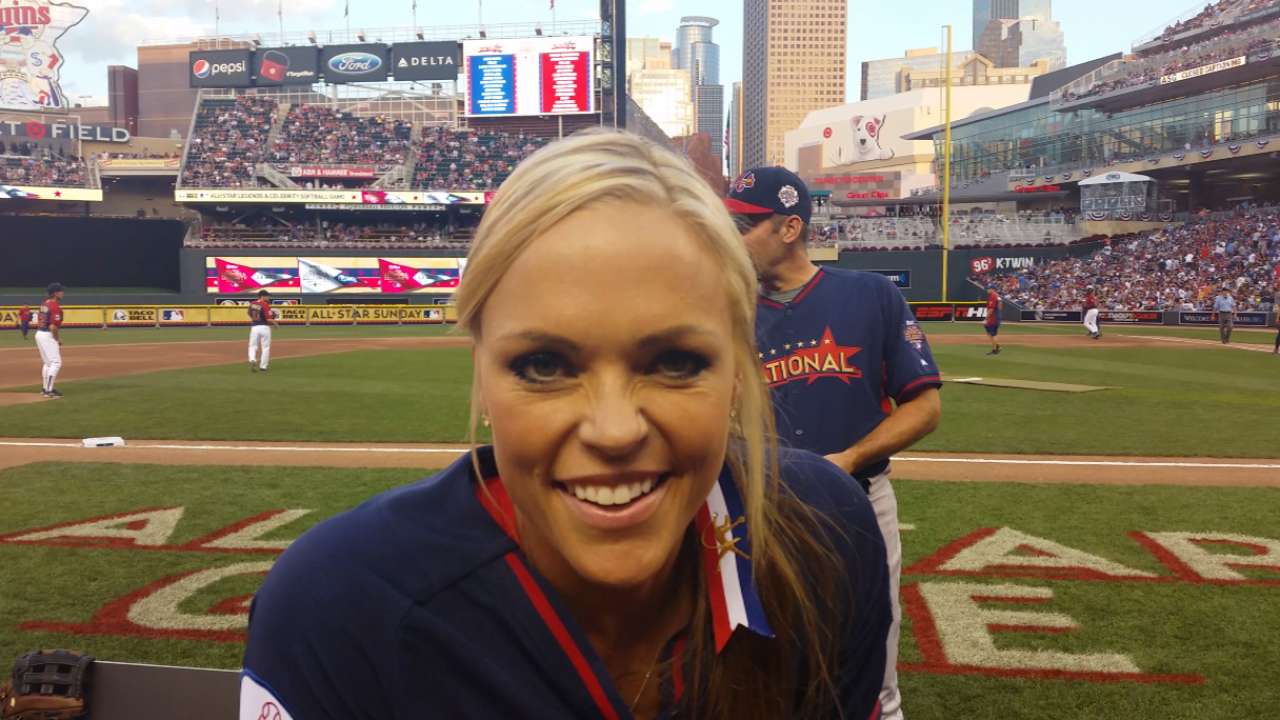 In the softball world, Jennie Finch and Jessica Mendoza are about as big-time as they come. The pitcher and outfielder starred for Team USA in the mid-2000s, and they both own gold and a silver medals from the 2004 and '08 Olympic Games, respectively. Since then, they've taken their skills into the broadcast booth, covering both baseball and softball. Mendoza was even in the booth for Jake Arrieta's no-hitter with the Cubs this season, and on Oct. 6, she became the first in-booth female broadcaster to call a Major League playoff game. The former teammates reunited to discuss the role of sports in their lives.
How did you get your start on the diamond?
Finch: My parents signed me up for softball when I was a little girl, and after watching my older brothers play baseball for so many years, I was excited. I thought, "Here's something like what my brothers have been playing, but it's for girls, so it's even cooler!"
What's changed since you started playing?
Mendoza: When I was growing up, if you were a female athlete, you were a tomboy. Now, we are consistently seeing successful female athletes from all sports in the limelight. It's really cool to be a female athlete now.
What can baseball and softball players learn from one another?
Finch: I grew up playing baseball with my brothers. There are more similarities than differences. Glove and body positioning, throwing mechanics -- the basic fundamentals are the same.
Why is it important to give back to youth softball players today?
Finch: I was once in their cleats. All of the values that you learn while playing softball -- discipline, sacrifice, competition -- will transfer beyond the field.
What is your favorite softball memory?
Mendoza: Winning gold at the 2004 Summer Olympic Games in Athens, Greece. There's no feeling like passion for the sport you play, combined with love for the country that is across your chest.
Finch: Traveling at a young age and spending time with my parents will always be my favorite. And there was no greater honor than wearing USA across my chest. The gold medal and national championships are treasured, of course, but so is the long journey it took to get there.
Jennie, you have played in the MLB All-Star Legends and Celebrity Softball game a few times, including at this summer's All-Star Game in Cincinnati. What's that like?
Finch: It's my favorite event of the year. The hoopla, the excitement and the fans just make everything incredible. Being able to play with Hall of Famers is an amazing experience. Ozzie Smith hasn't lost a step, Rickey Henderson's bat speed is the same as it was when he was playing, and Andre Dawson once went deep off me.
What advice do you have for young female athletes?
Mendoza: Stand out! Don't be what you see on TV or what is posted on Instagram; be the real, unique you. Be stronger, smarter and more successful than everyone around you.