Rasmussen's 1st MLB win highlights 'pen's big night
Seattle relievers combine to allow 1 run over 5 1/3 innings Tuesday vs. Rockies
DENVER -- Rob Rasmussen may be new to the Mariners, but it didn't take the former Blue Jays reliever long to find himself enjoying his Seattle squad as the 26-year-old celebrated his first Major League victory in Tuesday's 10-4 win over the Rockies at Coors Field.
Rasmussen, a left-hander acquired in the Mark Lowe trade last Friday, pitched 1 1/3 perfect innings with two strikeouts and recorded the win in relief of spot starter Vidal Nuno.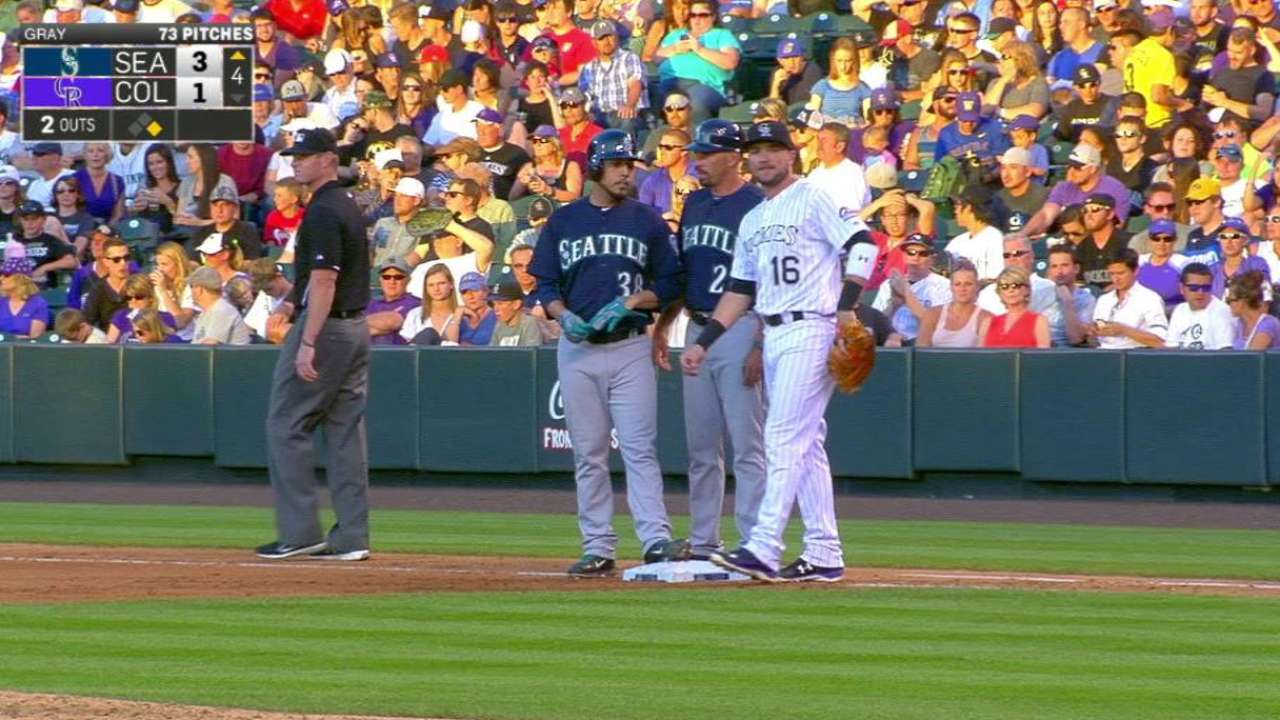 After being doused with beer in the shower in the traditional celebration for a first-time winner, Rasmussen cleaned himself off and acknowledged it was a big day in his young career.
"It's unbelievable," he said. "Like I said from Day One, we have a great group of guys here. I felt welcome from Day One. So to be able to go out there and show what I can do for these guys and kind of gain their respect is just the best thing for me, not only getting to know them as people but for them to get to know me as a player.
"Obviously, one game is not going to do that," Rasmussen said, "but it's a good start."
The former UCLA starter has spent most of this season in Triple-A with the Blue Jays, but did have 11 games of big-league experience in Toronto the past two years. He pitched to one batter in his Mariners debut on Monday, giving up a single, but manager Lloyd McClendon liked the way Rasmussen carried himself and didn't hesitate to call for him with a runner on second and the score tied at 3-3 when Nuno began tiring in his first start.
"He was in a tough situation last night as well," McClendon said. "I kind of figured this kid has a little moxie about him. He wasn't afraid. He took the ball and competed. I had no trepidation at all about putting him in that ballgame tonight."
Rasmussen responded by striking out leadoff hitter Charlie Blackmon to end that threat, then retired the Rockies' 2-3-4 hitters in order before being pinch hit for in the top of the sixth.
"It helped [pitching to a batter the night before]," he said. "Even just being in a new place, not just a new team, but having never been in Coors Field, getting used to the mound and the altitude, what the ball is doing as you're delivering it, it always helps."
A bullpen that has struggled this season wound up delivering 5 1/3 innings of one-run ball to secure the win with Rasmussen, Mayckol Guaipe, Joe Beimel and Fernando Rodney doing the work.
"They did a great job. The little lefty was nice," McClendon said of Rasmussen. "Beimel came up big. Guaipe made some great pitches and Rodney closed it out. They did a superb job in a very tough place to pitch."
And when it was over, Rasmussen had just one thing left to do, make a phone call to let some folks know he'd recorded his first big-league win.
"I love my mom to death. She'll probably be in tears, just out of joy," he said. "So that's probably when it'll hit me, when I call my parents. But for right now it's just business as usual."
Greg Johns is a reporter for MLB.com. Follow him on Twitter @GregJohnsMLB, read his Mariners Musings blog, and listen to his podcast. This story was not subject to the approval of Major League Baseball or its clubs.