Angels' offensive woes taxing relievers
Club burns through bullpen for second time in three games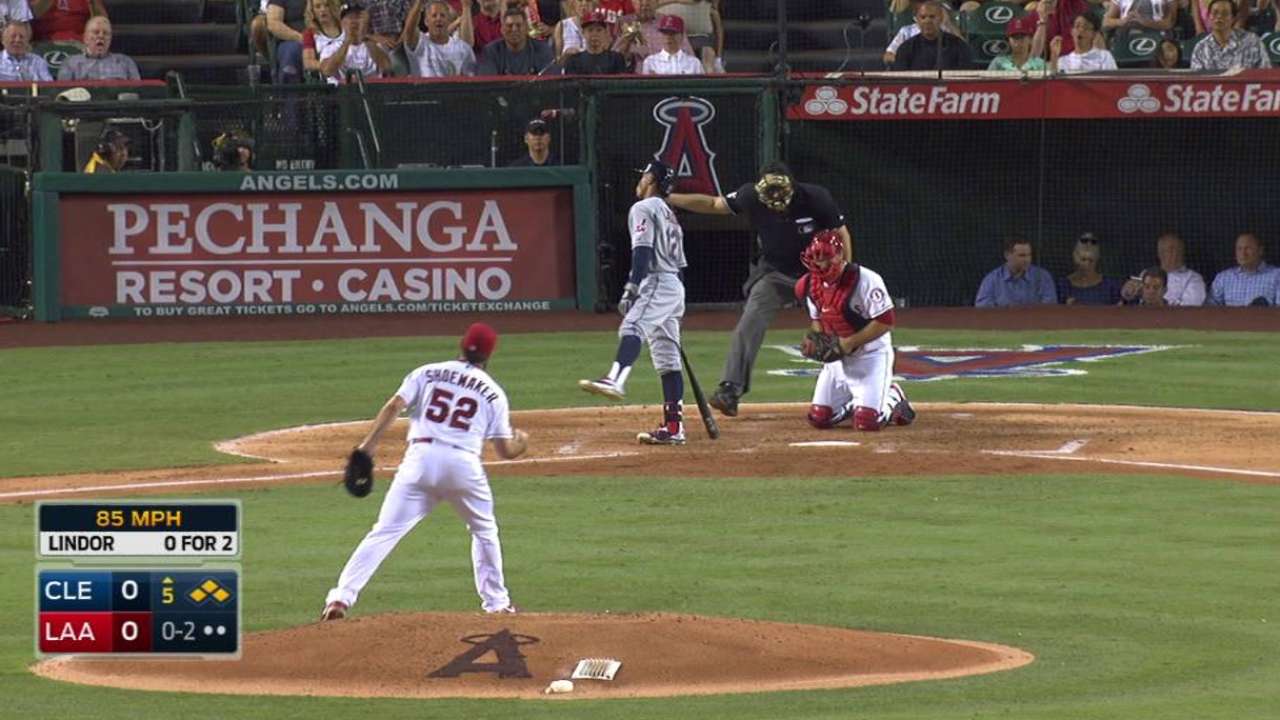 ANAHEIM -- If your offense can only come up with two hits and four baserunners in 12 innings, eventually something's probably going to give on the pitching side, and on Tuesday that's what happened to Angels reliever Cam Bedrosian.
Bedrosian served up a two-run homer to the Indians' No. 9 hitter, Giovanny Urshela, in the 12th inning of the Angels' 2-0 loss, their 10th in 12 games.
"It can happen any time, these guys are big league hitters," Bedrosian said.
So are the Angels, but their bats have been far quieter than a playoff contender would like during that stretch. On Tuesday, it was Carlos Carrasco who silenced them for nine innings, allowing only one hit -- after yielding just one run in a complete-game two-hitter in his last start.
Still, even facing a slew of star pitchers -- the Angels have been shut down by the likes of Scott Kazmir, Zack Greinke and Clayton Kershaw over the last couple of weeks -- isn't completely an excuse.
"There have been times this year when we've beat some really good pitchers," manager Mike Scioscia said. "You have to find a way when you're facing tough pitchers or guys throwing the ball as well as Carrasco is."
They didn't Tuesday, even though their pitchers gave them plenty of time to do so, keeping the game scoreless for 11 innings. The lack of offense, though, forced them to burn through most of their bullpen for the second time in three games. Matt Shoemaker tossed six shutout innings, but the Angels needed five relievers just two days after they used six in a 10-inning loss to the Dodgers.
"What hurt us tonight was we used four pitchers to get to the same spot that Carrasco did," Scioscia said. "We needed to get a run and we weren't able to do that."
The Angels made several deals before the July 31 Trade Deadline in a targeted effort to boost the offense, specifically its weakest point, left field. But the offense has struggled since.
"Just basically from what I've seen in the week since I've been here, I know that we're a better offense than this," said David Murphy, one of the three left fielders the Angels acquired before the Deadline -- from the Indians. Murphy had the Angels' only hit off Carrasco.
"We've faced some pretty decent arms this week. Not to say that this isn't the type of offense that can score runs against those guys, but I don't know," Murphy continued. "I don't know if I can give a complete analysis because I haven't been here all year, so I don't really have a whole lot of games to compare this past week to. But I know what we're capable of, and we're definitely capable of more as an offense than we've done this week."
David Adler is an associate reporter for MLB.com. Follow him on Twitter @_dadler. This story was not subject to the approval of Major League Baseball or its clubs.