Winker, Blandino among 10 top prospect performers Tuesday
Reds No. 1 prospect hits roundtripper, No. 7 prospect rips his first Double-A homer for Pensacola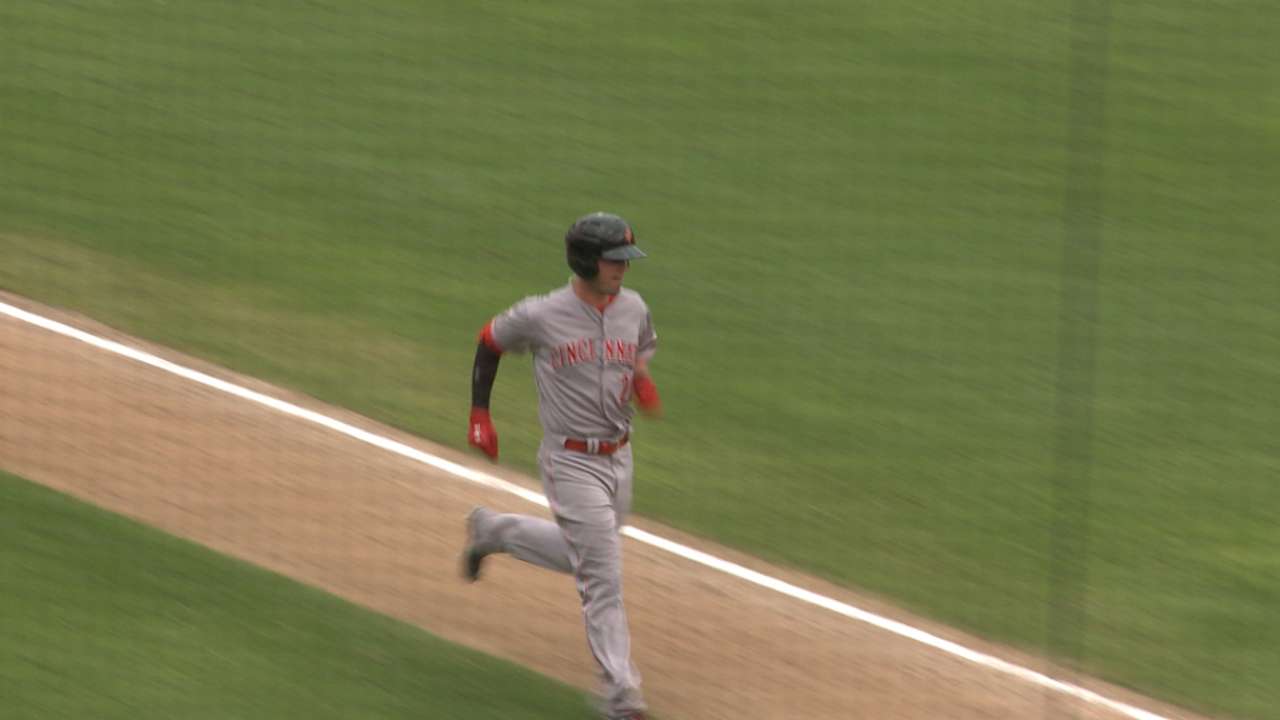 Double-A Pensacola's 12-1 win over Jacksonville had it all: A dominant game from a top prospect, a standout debut and a near no-hitter.
All of this took place in the span of roughly 24 hours, as the Blue Wahoos and Suns resumed Monday's suspended game. Beginning in the top of the third on Tuesday, Reds No. 1 prospect (No. 34 overall) Jesse Winker crushed the first pitch of the night over the wall in right field. He finished 3-for-4 with an RBI and has eight homers on the season.
The offensive charge also featured No. 7 prospect Alex Blandino, who went 2-for-5 with three runs and a two-run blast in his Wahoos debut. A year removed from Stanford University, he flashed a .294/.370/.438 line with seven homers and 35 RBIs for Class A Advanced Daytona before getting a promotion this weekend.
But both hitters nearly took a back seat to history, as Pensacola's pitching staff had a no-hitter going into the ninth inning.
It begin with Reds No. 27 prospect Sal Romano on Monday. The right-hander turned in two perfect innings of before rain suspended the contest. Jacob Johnson got the win by working five innings on Tuesday. He gave up four walks in the process, but handed off the no-no to Joel Bender, who in turn handed it off to Miguel Celestino in the ninth inning.
That's when Jacksonville finally broke through. Leadoff hitter Kenny Wilson hit an infield single to end the drama and the Blue Wahoos had to settle for a regular blowout win.
Pensacola also won the nightcap, 1-0, to move to 22-16 in the Southern League's second half.
The rest of the 10 best performances from top Minor Leaguers
• Athletics No. 7 prospect Chad Pinder cranked two solo homers for Double-A Midland as the RockHounds fell to Frisco, 8-5, on Tuesday night. He finished 3-for-4 with two RBIs and the pair of roundtrippers ensured he would extend his hitting streak to eight games. The shortstop has hit in 18 of his past 19 contests, during which time his average has jumped from .293 to .321 and Pinder has hit five of his 12 homers during that span. The 23-year-old also has 22 doubles and 64 RBIs this year for Midland, which has taken a three-game lead in the Texas League's second half.
• Cubs prospect Erick Leal tossed nine innings of no-hit ball for South Bend, which fell 1-0 to Kane County in 12 innings. The 20-year-old right-hander struck out four while walking one in nine frames. He was removed before the top of the 10th and reliever Corbin Hoffman allowed a two-out single to Marty Herum to end the team's no-hitter bid. Leal has not been particularly consistent this season, but he's had dominant stretches. He struck out eight in eight scoreless innings on July 21 and notched two scoreless five-inning efforts between May and June. It all came together against his former organization -- Arizona -- on Tuesday. Leal kept a perfect game going until his lone walk in the fifth inning and didn't allow another baserunner the rest of the way. "Man, I don't have the words to explain it today," Leal told MiLB.com. "Today is a big day. Today is my first time [going] nine innings too. My second baseman [David Bote] helped me a lot today too."
• Mariners No. 3 prospect Luiz Gohara helped lead the Northwest League over Brewers No. 27 prospect David Denson and the Pioneer League, 6-5, in the Class A Short Season All-Star Game. Gohara provided 2 1/3 innings of late-game pitching to earn the win. The southpaw allowed one hit and struck out two, giving the NWL time to tack on the tying run in the eighth and push through the winning run in the 10th. That's when Padres 12th-round pick Peter Van Gansen finally ended the game with two runners on and one out. Facing Dan Savas, the Northwest's MVP ripped a line-drive single to right field that brought home Yeyson Yrizarri for a 6-5 walkoff win.
Denson starred for the Pioneer League, taking home league MVP honors after going 2-for-3 with two runs, a solo homer and two RBIs. Twice he knocked in runs to tie or take the lead (in the sixth and the eighth innings), and even scored the run to go up 5-4. His performance was to no avail as Gohara quickly locked the Pioneer League's lineup down and the Northwest League stormed back for an extra-innings win.
• Phillies No. 3 prospect (No. 60 overall) Jake Thompson had a stellar debut for Double-A Reading. The 6-foot-4 right-hander went seven innings, giving up one run on six hits while striking out one batter. He picked up the 'W' as the Fightin Phils defeated Trenton, 7-1. Traded from Texas to Philadelphia last week, Thompson was 6-6 with a 4.72 ERA in 17 starts for Double-A Frisco.
• Tigers No. 5 prospect Michael Fulmer debuted for Double-A Erie on Tuesday night, tossing 6 2/3 scoreless innings as the SeaWolves took down the Portland SeaDogs, 3-0. His line also included two walks and two hits against six strikeouts. Fulmer ended up in Detroit's farm system after the Mets shipped him and Luis Cessa in a deal for Yoenis Cespedes on July 31. The 22-year-old right-hander went 6-2 with a 1.88 ERA in 15 starts for Double-A Binghamton this season. The Mets drafted him No. 44 overall in 2011 and he recorded 332 pro strikeouts against 118 walks in 351.1 career innings, rising as high as No. 7 in New York's prospect rankings.
• Tigers No. 10 prospect Kevin Ziomeck snapped a six-game winless streak by turning in a dominant performance for Class A Advanced Lakeland. The southpaw recorded a season-high 11 strikeouts over eight scoreless innings, giving up two hits. July was a rough month for Ziomeck, who went 0-4 in six starts and watched his season record fall to 5-9 with a 4.31 ERA. But he won his sixth game on Tuesday and lowered his earned run average to 4.01.
• Yankees No. 7 prospect Gary Sanchez went 3-for-4 with a two-run homer and three RBIs and Triple-A Scranton/Wilkes-Barre fell to Columbus, 6-4. The catcher has been on fire recently, hitting three home runs in four games for the RailRiders. He currently boasts a .327/.424/.633 line with four roundtrippers and 16 RBIs since a promotion on July 18.
Alex M. Smith is a reporter for MLB.com. This story was not subject to the approval of Major League Baseball or its clubs.