#TBT: Aug. 6 was a special date for Gwynn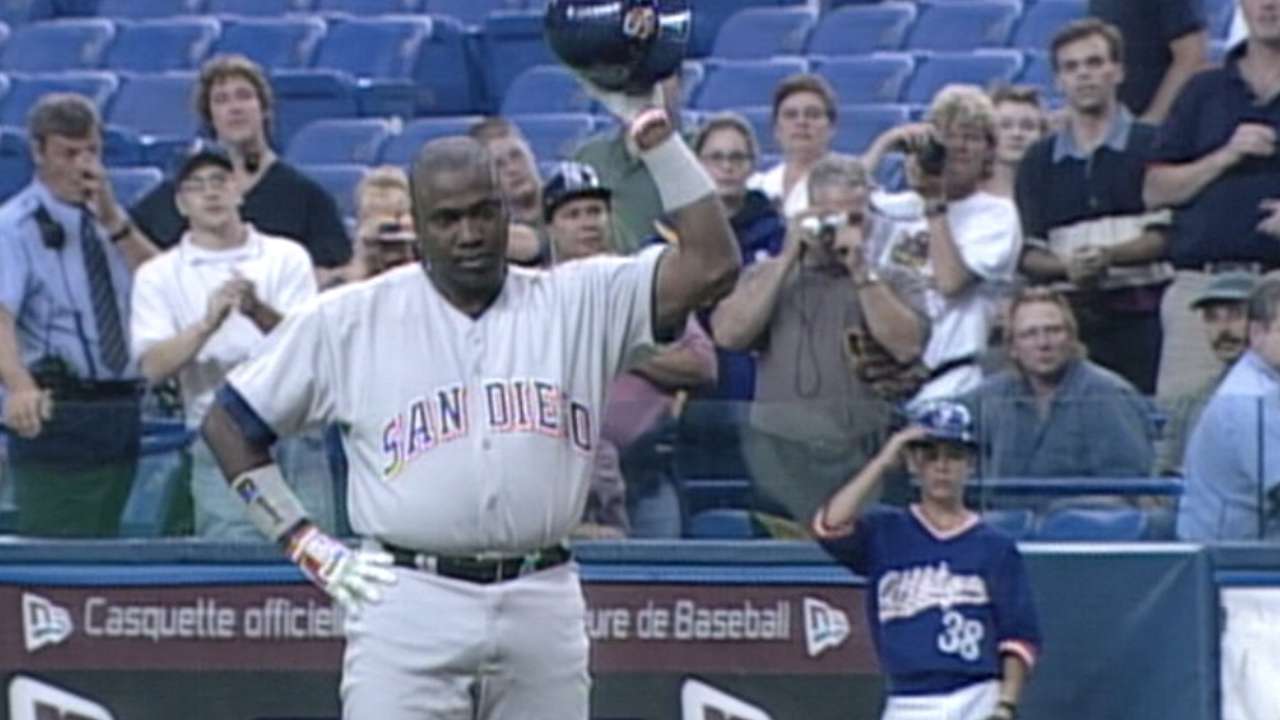 Fireworks were still exploding over Jack Murphy Stadium that summer evening in 1993. Padres fans were on their feet wildly cheering Tony Gwynn's 2,000th career hit, as longtime broadcaster Ted Leitner leaned over and whispered something to his partner, Jerry Coleman.
"I said, 'Just wait … this is just the tip of the iceberg,'" Leitner recently recalled. "'Tony's going to get 3,000 and probably blow past it.'"
Leitner was right, of course. However, he -- and, well, everyone else -- probably didn't think hit No. 3,000 would come six years to the day after No. 2,000, on Aug. 6, 1999.
"When 3,000 happened, I didn't revert back and make the connection that it was the same day -- Aug. 6 -- as when he got No. 2,000," said Leitner, who is now in his 36th season broadcasting for the team.
"That's pretty amazing."
To be sure, Gwynn's Hall of Fame career was something to marvel at. In 20 seasons, all with San Diego, he had 3,141 career hits, 15 All-Star Game selections and five seasons of 200 or more hits.
Gwynn, who died on June 16, 2014, after battling salivary gland cancer, had one other reason to cherish the date of Aug. 6 -- it was the birthday of his mother, Vandella.
And while Gwynn's milestone hits certainly resonated with him deeply, he got a bigger kick out of getting those hits on his mother's birthday.
"He always considered it a gift to his mother -- getting 2,000 and 3,000 on her birthday," said Tony Gwynn Jr., who is currently playing for Syracuse, the Nationals' Triple-A affiliate.
"I don't know if he was trying to line it up that way. In fact, I know he wasn't. He was trying to get it the day before when I was there [in St. Louis]. But I had to fly back for the Area Code Games [a high school showcase]."
To know Gwynn Sr. was to know how much his family meant to him. And when his father, Charles, passed away, Gwynn grew much closer to his mother.
"My dad lost his father right about the same age [31] I lost my dad. He wasn't able to share in moments like that," Gwynn Jr. said. "After my grandpa passed away, [the] bond [between Gwynn Sr. and Vandella] grew even stronger."
Hit No. 2,000 came during the second game of a doubleheader. In the first game, the Padres legend went 3-for-3. In the second game, Gwynn was hitless in three at-bats before stepping in against lefty reliever Bruce Ruffin in the sixth inning. Gwynn stayed on a slider, lining it up the middle, sending the crowd of 41,085 into a tizzy.
Six years later, Gwynn got No. 3,000 in Montreal. The hope was that he would get that milestone hit during the previous series while the team was in St. Louis.
"I think everyone wanted Tony to get 3,000 in St. Louis -- the sold-out crowds and that being such a great baseball city," Leitner said.
Instead, Gwynn got it at Olympic Stadium in front of an announced crowd of 13,540 -- though many contend that the actual crowd was less than 10,000.
Gwynn didn't have to wait long, as he got his 3,000th hit on a single in the first inning off Expos pitcher Dan Smith. For his part, Smith didn't spend much time bemoaning that fact that he allowed the milestone hit.
In fact, Smith embraced it.
"I'm absolutely proud to have been a part of it," said Smith, who is now the COO for Watco Companies, a transportation-based company in Kansas. "Just to be associated with Tony Gwynn is an honor.
"The day after he got his 3,000th hit, he came out during BP and said to me, 'Well, you're part of this now.' He said, 'I'd love to give you some things to remember it by.' He gave me a signed jersey, a game-used bat and two dozen [signed] balls. I thought, 'What a classy move that was.' He was a tremendous human being."
Corey Brock is a reporter for MLB.com. Keep track of @FollowThePadres on Twitter and listen to his podcast. This story was not subject to the approval of Major League Baseball or its clubs.