Slider, clear mind give Gray boost in debut
Rockies' No. 2 prospect fans four over four innings Tuesday vs. Mariners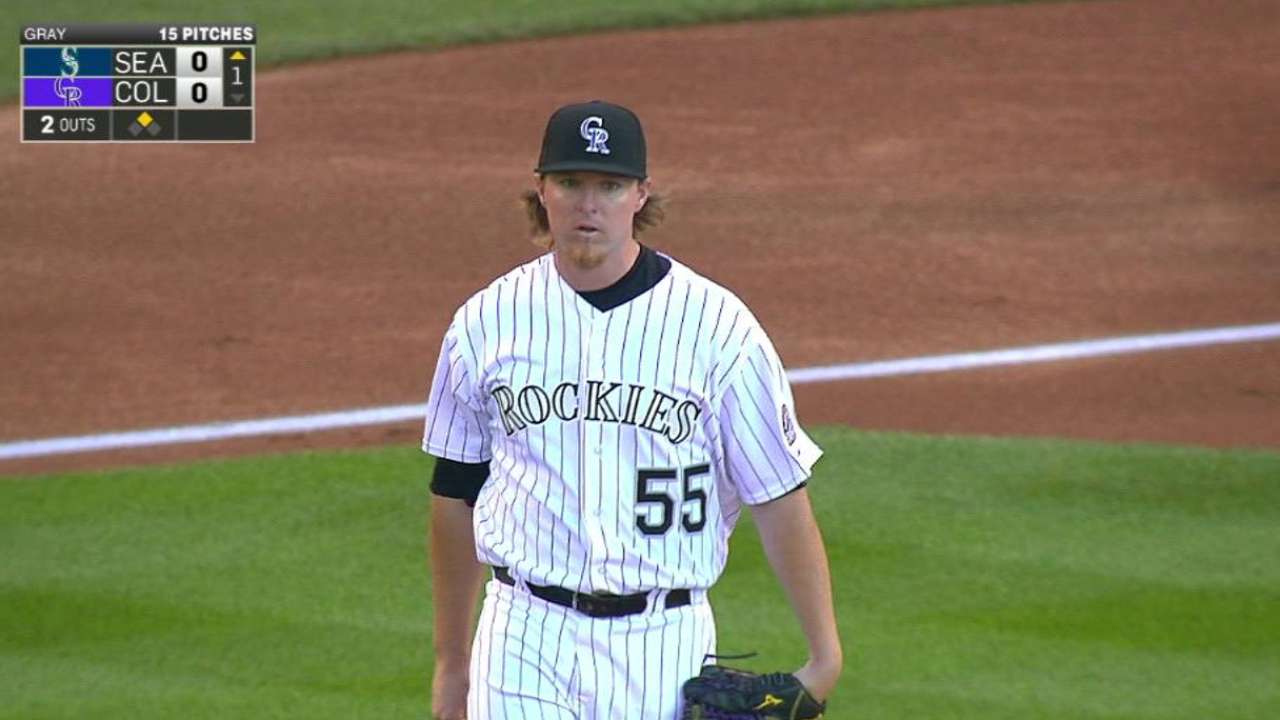 DENVER -- Too many thoughts led to too many pitches in the first inning for the Rockies' prized righty Jon Gray on Tuesday night against the Mariners in his Major League debut. But once his mind cleared, Gray flashed some of the power that has the club excited about his future.
In a four-inning baby step, Gray gave up two first-inning runs and an unearned run in the third, and didn't receive the decision in the Rockies' 10-4 loss at Coors Field.
"It took me a while to settle down -- I was a little disappointed in the first inning -- but proud of the way I bounced back from that," Gray said. "From there, I really settled in."
Two of the Mariners' five hits, and one of the two walks, against Gray came in the first, when he threw 33 pitches. Nearly out of the frame, Gray watched Robinson Cano lash a slightly elevated 96-mph, 3-1 fastball for an RBI double and Jesus Montero singled the opposite way to right with the count full. The inning also featured two of Gray's four strikeouts, of Nelson Cruz and Mark Trumbo.
Gray, the Rockies' second-ranked prospect according to MLB.com, threw a spotless second inning against the bottom of the Mariners' order. The third was in many ways his best inning. Facing the top of the order again, he fanned Austin Jackson and forced a Kyle Seager groundout. The inning took a shaky look on Cruz's infield single and Gray's walk of Cano. But Gray forced a grounder from Montero.
"Maybe I was thinking too much about their strengths, and it made me pick around the zone too much in the first inning," Gray said. "I don't think I attacked them. But after the first couple of outs it was, 'Hey, it's baseball, the same game. Just make a pitch, keep executing.'"
Gray leaned mostly on his fastball, but seemed to find his groove after employing his slider in the strike zone.
"He did a good job," Rockies manager Walt Weiss said. "He got extended in the first inning, and that prevented him from going a little bit deeper. He looked comfortable, relaxed."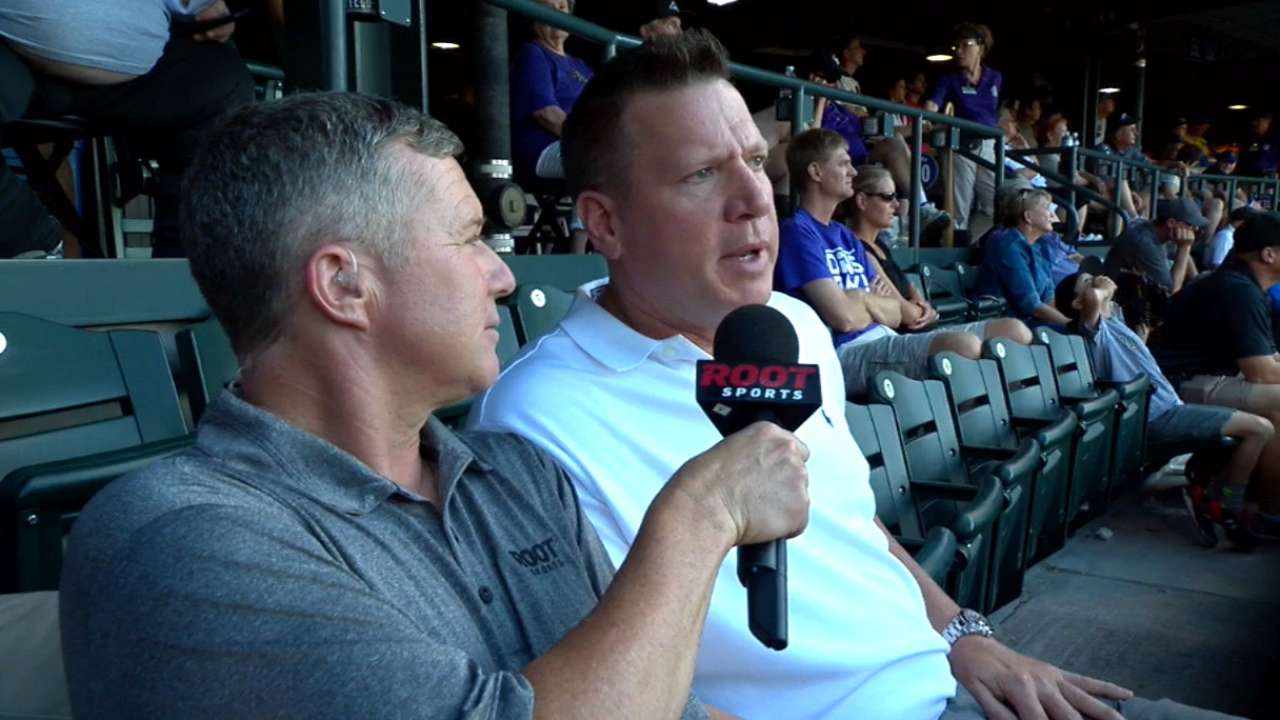 The Rockies aren't going to let Gray, 23, learn it all at once.
Selected third overall out of the University of Oklahoma in 2013, Gray threw 124 1/3 innings at Double-A Tulsa last year in his first professional season. However, the fatigue of pitching every five days over five months, as opposed to every seven days during a shorter college season, led to arm fatigue, and the Rockies shut him down for the Texas League playoffs.
Gray went 6-6 with a 4.33 ERA in 21 games at Triple-A Albuquerque before his call-up, and Tuesday ran his innings total to 118 1/3. The Rockies will be careful to control the bump to 20-25 percent, so expect him to throw no more than 35 innings in the Majors.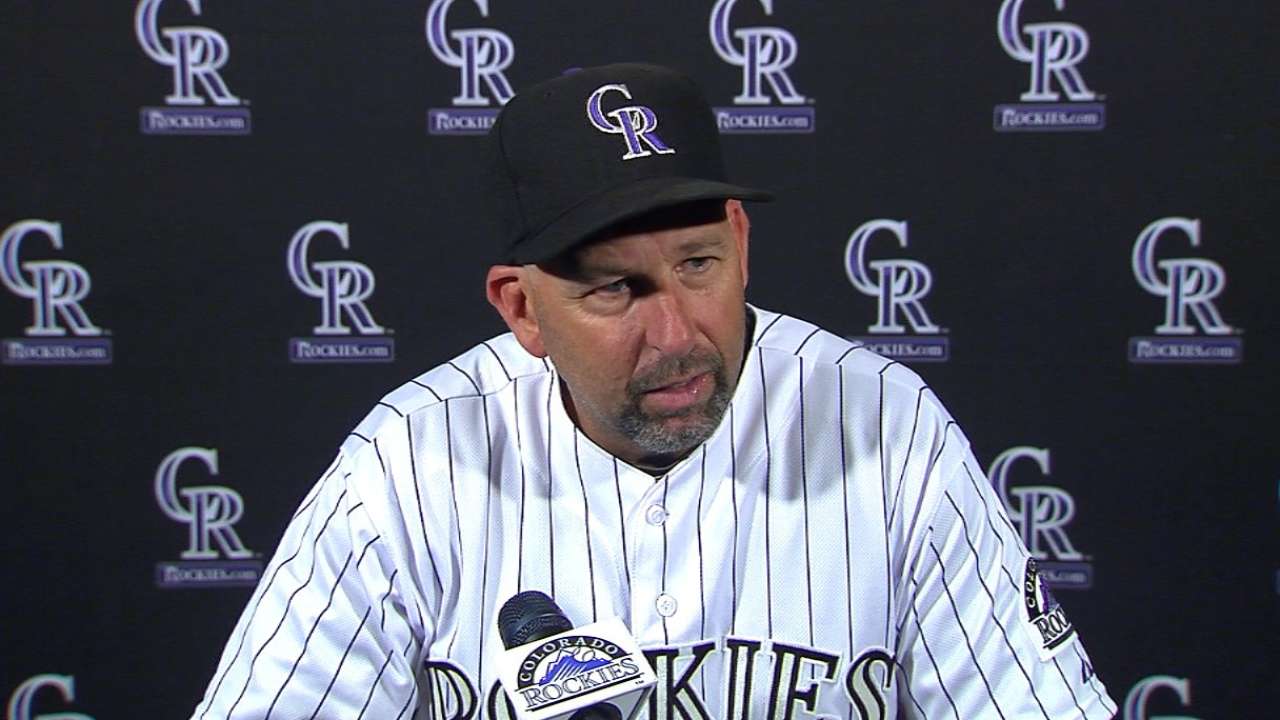 The attention to the innings, and the usual attention to high-stress innings like the first, meant the Rockies weren't going to send him back for the fifth even though the score was tied at 3 and a win was possible. With the Rockies at 44-61, Weiss saw no reason to tax Gray for a single August game when they hope he'll be vying for big wins for years to come.
"We've got the big picture in mind," Weiss said.
Gray said he felt he had plenty left one he settled into the game.
"There's always a competitive side, but you've got to trust your coaches," he said. "They definitely know what they're doing. But the fighting side of me wants to go back out."
Thomas Harding is a reporter for MLB.com. Follow him on Twitter @harding_at_mlb, and like his Facebook page. This story was not subject to the approval of Major League Baseball or its clubs.