Carrasco limits Halos to one hit in nine frames
Indians starter tosses second consecutive gem in no-decision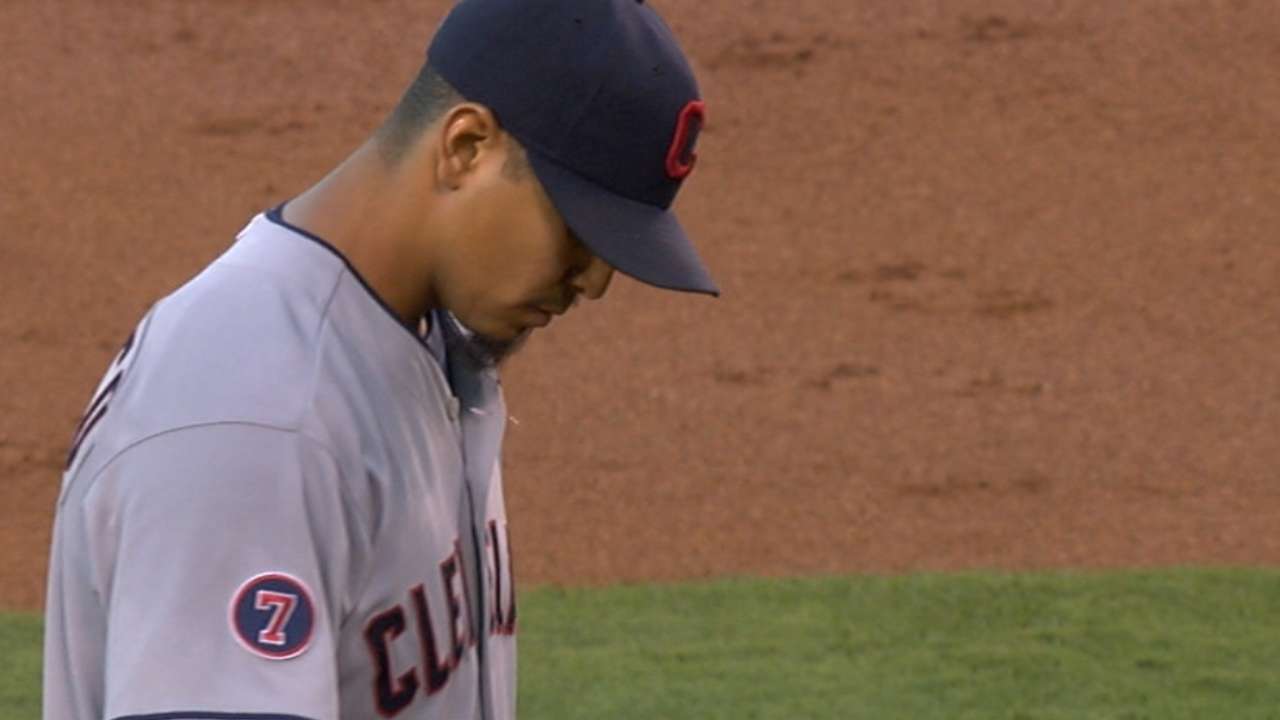 ANAHEIM -- Carlos Carrasco knew who was standing in the on-deck circle for the Angels and the pitcher knew what he had to do. In the ninth inning of a scoreless deadlock, and with the winning run on second base, the Indians starter needed to get Angels outfielder Kole Calhoun out right then and there.
Carrasco could not let Mike Trout step up to the plate next.
"You don't want to face Trout in that situation," Carrasco said after Cleveland's 2-0, 12-inning win on Tuesday night.
Carrasco fired a curveball in a 2-2 count and watched Calhoun swing through the pitch for an inning-ending strikeout. The big Tribe right-hander bounded off the mound, punched the inside of his glove with his right fist and returned to the dugout to the buzz of a disappointed Angel Stadium audience.
"I got it done," Carrasco said.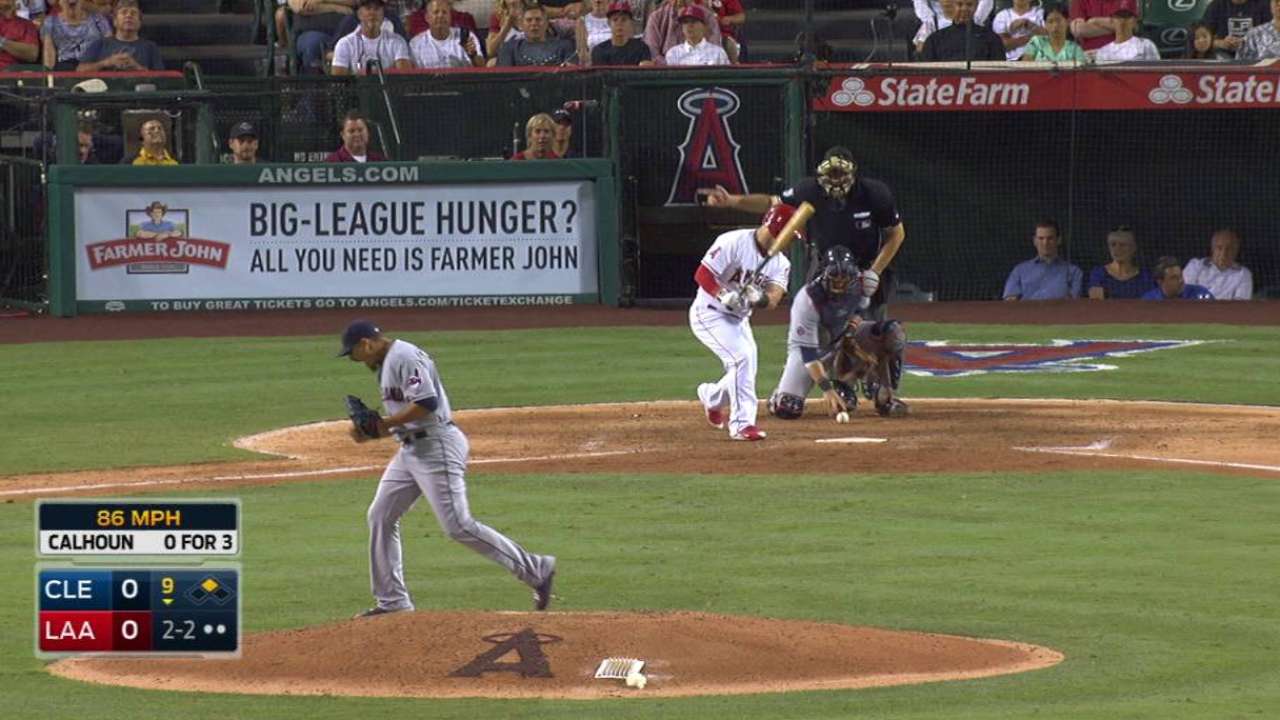 Following an overpowering nine-inning performance, the Indians' bullpen and rookie third baseman Giovanny Urshela got it done, too. Three more shutout frames from the relief corps, combined with Urshela's two-run home run in the 12th, could not make a winner out of Carrasco, but it did result in a victory for Cleveland. The Tribe would not have been in that position without Carrasco's effort.
Carrasco exited after allowing only one hit -- a sliced single to left-center field by former Indian David Murphy in the fifth inning -- and ended with seven strikeouts and one walk. Murphy's hit snapped a no-hit streak for Carrasco that spanned 12 innings, dating back to the first inning of his previous start in Oakland on Thursday. Opposing batters had gone 0-for-38 off the righty before Murphy eked out a hit.
"He established a real good fastball early," Indians manager Terry Francona said. "Off of that, his breaking balls had really good depth to them. He pitched ahead. He pitched his tail off. It was fun to watch."
Prior to Trout's walk in the fourth inning, Carrasco had achieved the equivalent of a perfect game, retiring 27 consecutive hitters.
"Wow," Indians pitching coach Mickey Callaway said. "That's pretty cool."
Callaway and Carrasco have worked hard in recent weeks to raise the pitcher's lead arm during his throwing motion. It was a mechanical element that led to success last season, but one that Carrasco had strayed from at points this year. With the issue corrected, Carrasco has turned in consecutive nine-inning outings, allowing three hits total with 14 strikeouts and only two walks.
"What it does is it gets more depth on his offspeed pitches," Callaway said of the adjustment. "He's able to drive the fastball down where he wants to. He doesn't get that lazy, flat run across the zone that's a little more hittable. He cleaned some things up and it probably adds some deception to his delivery."
The Angels' batters noticed.
"I knew what he had," said Murphy, who was traded to the Angels by the Indians last week. "But, after facing him tonight, I can't believe he has [an ERA around 4.00]. I remember when I faced him before, seeing his fastball a little bit longer. I feel like his fastball kind of jumped out of nowhere."
With his performance on Tuesday, Carrasco (11-8, 3.76 ERA) became the first American League pitcher to have back-to-back starts with at least seven strikeouts and no more than two hits allowed in at least nine innings since 1987, when Teddy Higuera achieved the feat for the Brewers. Max Scherzer accomplished the same dominant line in consecutive outings last month for the Nationals.
Carrasco tied a club record with two straight outings consisting of at least nine innings and no more than two hits allowed. Sam McDowell did it three times (once each in the 1965, '66 and '70 seasons) and Early Wynn was the first to do so in 1954.
"That was a lot of fun," Carrasco said. "If they get a base hit or something like that, that's fine. That's normal with pitching. I just tried to do my job."
That, Carrasco did.
Jordan Bastian is a reporter for MLB.com. Read his blog, Major League Bastian, follow him on Twitter @MLBastian and listen to his podcast. This story was not subject to the approval of Major League Baseball or its clubs.