Efficient Archer picks up first win since June
Rays' ace holds White Sox to two runs over seven innings, outpitches Sale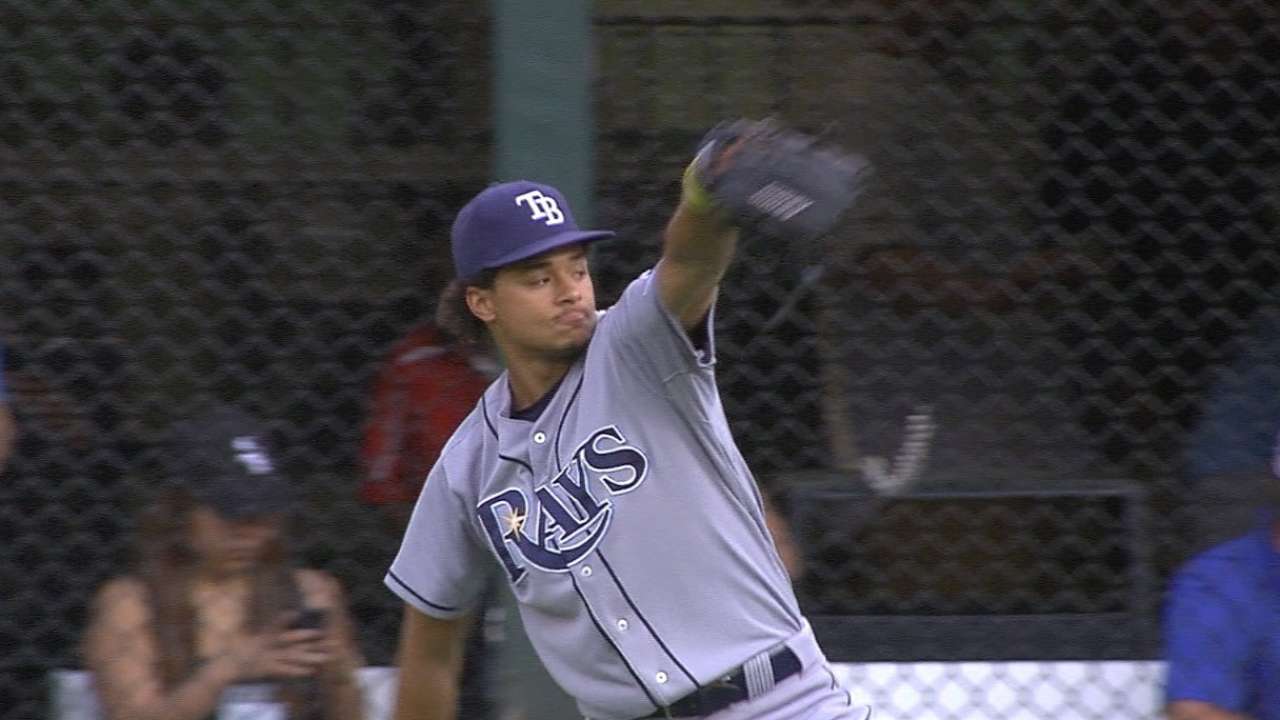 CHICAGO -- Chris Archer didn't win the strikeout competition Tuesday night against White Sox ace Chris Sale, but the Rays' ace wasn't disappointed.
Archer pitched up to his potential -- notching his 15th quality start of the season -- and he got plenty of run support in an 11-3 Rays win.
Archer, who had been 0-4 in his previous six starts, picked up his first win since June 23. He allowed six hits and walked one while striking out seven in his outing, giving up a run in the third and seventh innings.
"Fastball command," said Archer when asked what was working Tuesday night. "Again, everybody talks about my slider and stuff. But it all stems from fastball command. Honestly, I didn't feel like I had my best slider. But I was able to use it in situations. I relied heavily on my fastball."
Sale struck out nine batters in 5 1/3 innings, his most since he struck out 10 on July 11. Although the lefty also allowed seven runs to take the loss. Sale has an American League-leading 186 strikeouts to Archer's 180.
Archer entered Tuesday night's game having received just 2.45 runs of support per start. So the right-hander had to feel as though he had entered strange territory when the offense came through with 10 runs while he was in the game.
"Archer was just tremendous," Rays manager Kevin Cash said. "No, he was outstanding. It was nice to get him some run support. Let him get in that cruise mode."
Archer smiled about his manager saying he was in cruise mode.
"It may appear to be that way, but you can ask any of us, when you're on that mound you're never cruising," said Archer, noting that the White Sox were similar offensively to the teams from the AL East. "You're never relaxed.
"...You've got Avisail Garcia hitting seventh. Someone who can leave the yard. We saw that. Somebody if you don't make a pitch, he'll bang you. ... He's hitting in the seventh hole. ... It's a good lineup so I'm never going to take my foot off the gas and hit cruise, because that's not the way I'm successful and I don't think anybody else is either."
Bill Chastain is a reporter for MLB.com. This story was not subject to the approval of Major League Baseball or its clubs.