Counsell: Nelson continues to 'take next step'
Brewers righty has not allowed earned run in last 20 2/3 innings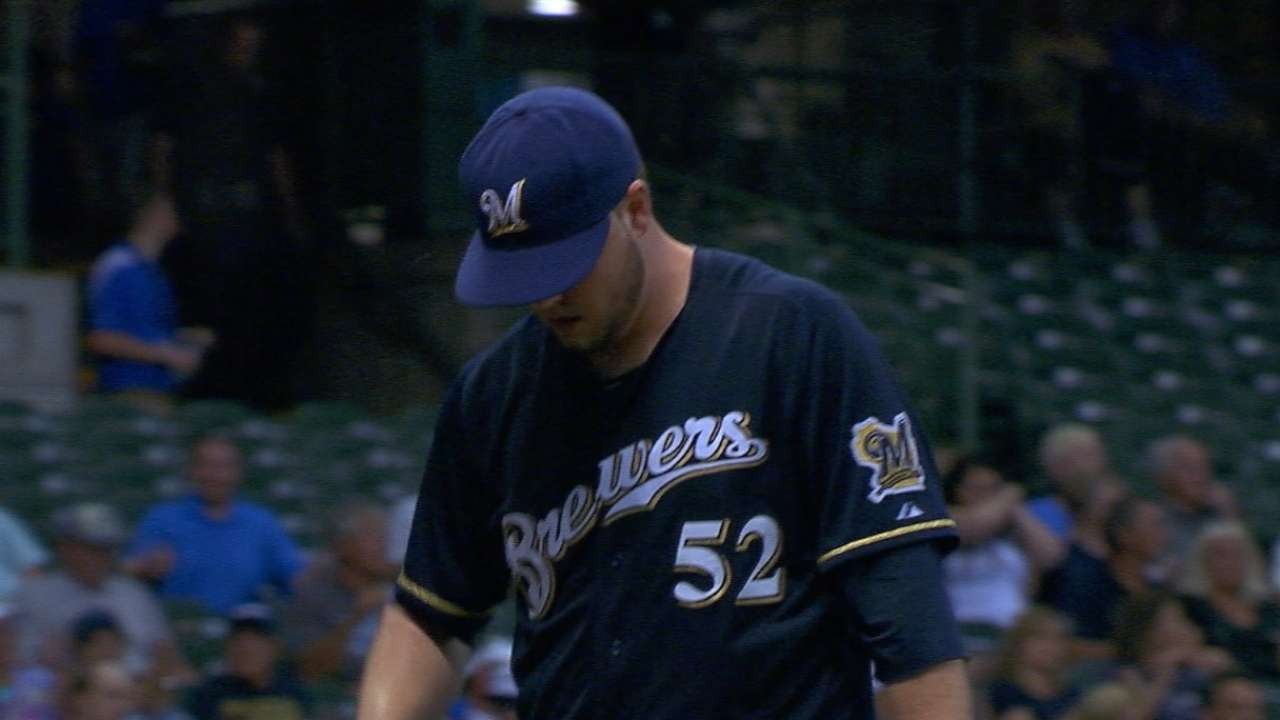 MILWAUKEE -- It's time to stop calling Jimmy Nelson's recent success on the mound a "mini run," according to Brewers manager Craig Counsell.
Nelson delivered yet again on Tuesday night, scattering three hits over 6 2/3 innings, upping his streak of consecutive innings without giving up an earned run to 20 2/3 in Milwaukee's 4-1 win over the Padres.
"I think we have to get past saying it is just a mini run," Counsell said. "He's having a good season. He just continues to take the next step."
That next step involved Nelson leading the charge of snapping a six-game losing streak for the Brewers. He threw a career-high 112 pitches, and the only run the Padres were able to plate against Nelson was unearned, as Matt Kemp reached on a two-base error in the fourth and scored on Yonder Alonso's sacrifice fly after a wild pitch from Nelson.
Nelson has dropped his ERA from 4.21 to 3.57 over his last three starts and carries an impressive 0.79 ERA over his last five starts.
"It's really nice to throw a run together," Nelson said. "It's good for your mentality, too, not having all the ups and downs like a rollercoaster ride. Consistency gives everybody confidence."
Kemp in the fourth and a wild pitch from Nelson in the third that moved Alexi Amarista up a base were the only times a runner reached second base against Nelson.
Nelson's night ended in the seventh after walking Derek Norris with two outs.
"For sure I wanted to finish [the seventh]," Nelson said. "I don't think that walk was from fatigue or anything. I felt physically good. As a starter, you always want to finish your own inning."
Nelson's progression this season is a bright spot for a Brewers organization set on a rebuild with eyes on the future. Nelson, along with other young pitchers Taylor Jungmann and Wily Peralta, can make the transition smoother. Nelson's performance in Tuesday night's win was yet another example.
"I liked how when we sent him out for the seventh inning, he got the first two guys out," Counsell said. "We've had a couple of experiences now [of Nelson] going out for the seventh. You like to be able to feel like you can send him out there for that next inning when his pitches are a little up there."
Brandon Curry is an associate reporter for MLB.com. This story was not subject to the approval of Major League Baseball or its clubs.