Duffy, Pence make noise in Giants' victory
Rookie notches four hits; right fielder smacks go-ahead homer vs. Braves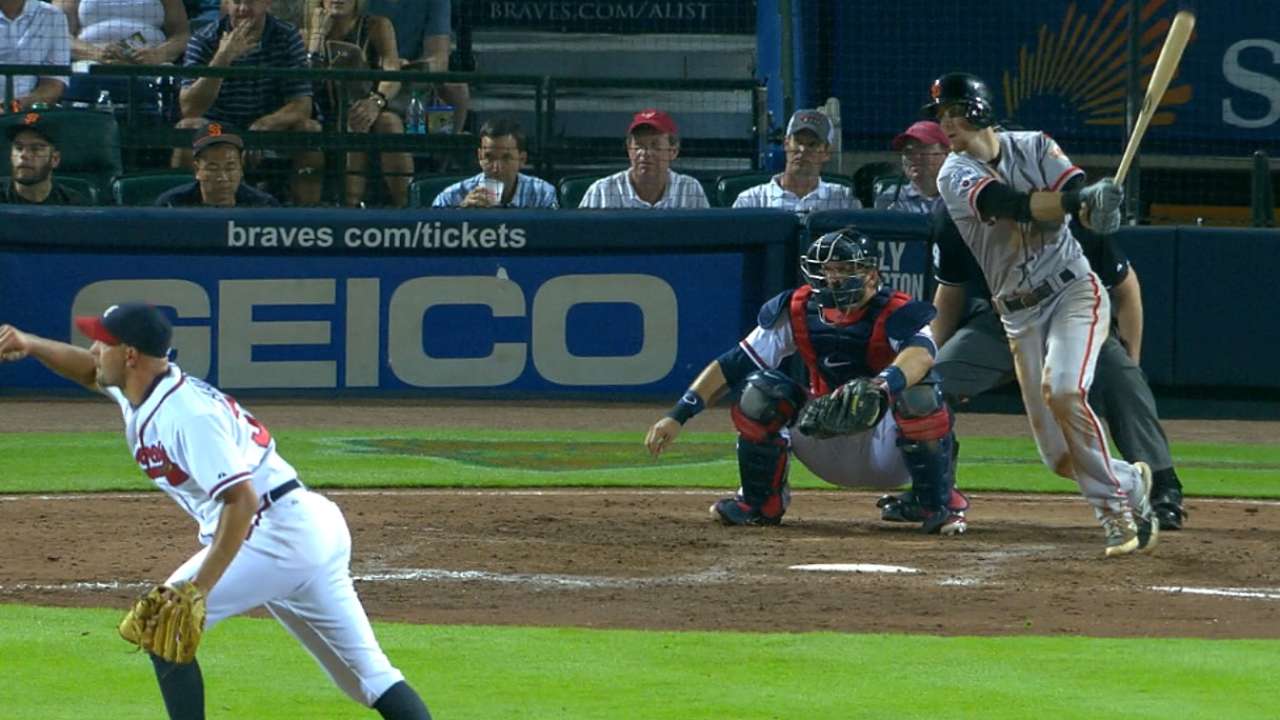 ATLANTA -- Trying to coax Hunter Pence or Matt Duffy into talking exhaustively about themselves is as easy as throwing a fastball by them. Good luck.
However, ask Pence or Duffy to praise each other, and the verbiage will flow just as the Giants' offense did in their 8-3 victory Tuesday night over the Atlanta Braves.
Pence occupied center stage in the eighth inning, shortly after Duffy doubled home Gregor Blanco with his third of four hits to tie the score, 3-3. The Braves intentionally walked Buster Posey, who was batting .431 in his last 18 games, to face Pence.
"It's kind of like pick your poison," Duffy said. Indeed, no antidote existed for this situation as Pence broke the game open by homering off ex-Giant David Aardsma.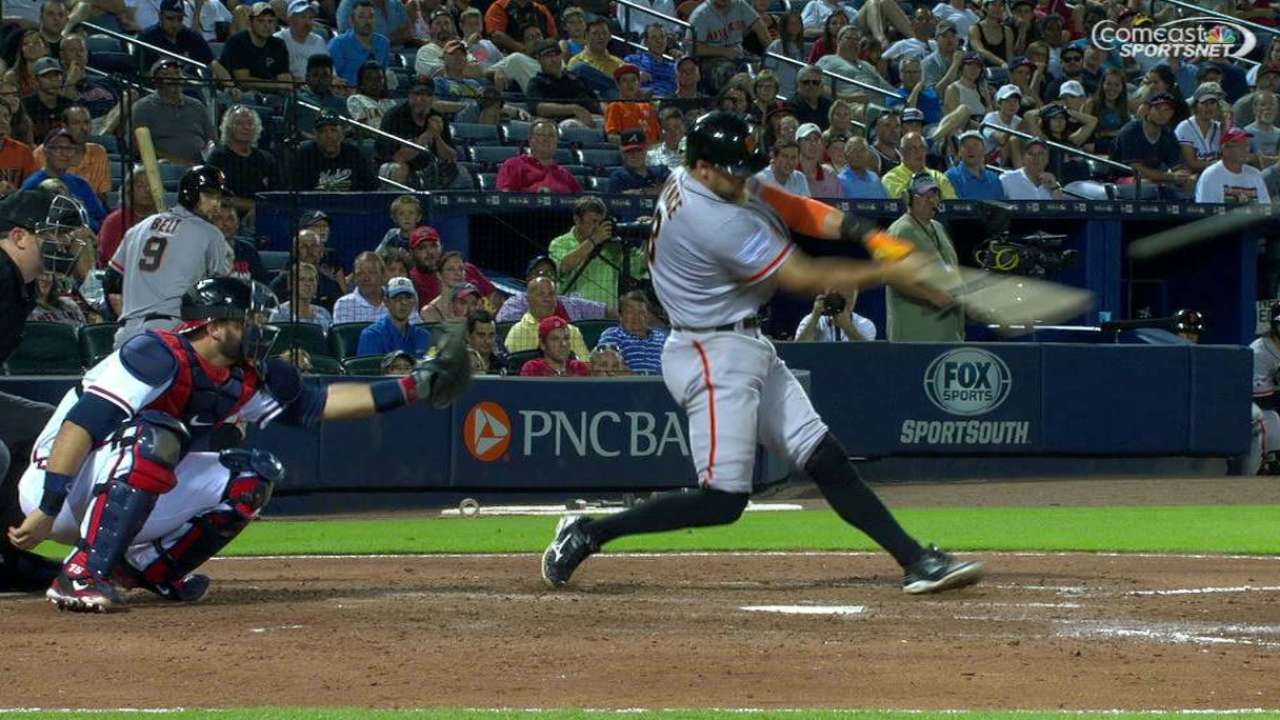 Pence drove in four runs, Blanco scored four times and Posey contributed two RBIs. Meanwhile, Duffy's influence was steady and constant. He amassed a career-high four hits for the second time this season. Each hit contributed to a run scoring. Batting .382 in his last 20 games, Duffy tops all National League rookies in average (.309) and hits (105).
Said Atlanta manager Fredi Gonzalez, "He's underrated because you don't see him, really. We saw him in San Francisco for three games and now we see him here for three games and he's pretty darn good."
"There ought to be some loud noise in the Rookie of the Year department," Pence said, stating clearly which candidate he backs.
Pence generated the biggest bang. Locked in another taut struggle after losing their previous two games by one run, the Giants needed a decisive act that would shatter the suspense, ease the tension and remind them why they're the reigning World Series champions. Pence provided that all-encompassing boost with his seventh homer overall and his fifth that either tied the score or put San Francisco ahead.
"Pence is such a competitor," Duffy said.
Many players would have gloated, spewing false outrage over being pitched to following an intentional pass. Not Pence. He actually mentioned, "I'm working on getting better focus at all times," implying that he was sufficiently locked in against Aardsma.
By now, Duffy's hitting mantra has become familiar: Take a good, short swing. Just put the ball in play. Keep it simple.
Duffy recalled with amusement that Pence essentially endorsed the same approach during a batting-practice chat but used even simpler language. As Duffy related, Pence said, "Everybody talks about trying to do too much. Just relax."
That was a loose-looking bunch of Giants who scored six runs in the final two innings to pull away.
Chris Haft is a reporter for MLB.com. Read his blog, Haft-Baked Ideas, follow him on Twitter at @sfgiantsbeat and listen to his podcast. This story was not subject to the approval of Major League Baseball or its clubs.