Transition to left keeps Dietrich's bat in lineup
MIAMI -- Derek Dietrich can sense his opportunity to make an impression on the Marlins' organization. And he's willing to play whichever position to do so.
While the 26-year-old was Miami's 2014 Opening Day second baseman, he ended up switching to third base. More recently though, Dietrich has made a transition to left field, starting there for the ninth straight game -- as well as playing an inning of first base -- in the Marlins' 5-1 loss to the Mets on Tuesday night.
The position switches are all an effort to keep the left-handed hitter's bat in the lineup, as he went 2-for-3 with a hit-by-pitch on Tuesday to improve his batting average to .257 and his on-base percentage to .356.
"With the versatility, it gives me the ability to get my bat in the lineup every day," Dietrich said. "That's what I'm hoping for -- just playing good defense and trying to put quality at-bats together and keep finding myself in the lineup."
Dietrich -- who has six homers, nine RBIs and a team-high seven hit-by-pitches -- was recalled from Triple-A New Orleans on June 12. He made 20 starts at third base while Martin Prado was on the disabled list, committing four errors in 41 chances.
Upon Prado's return, Dietrich began his transition to the outfield with Giancarlo Stanton still on the DL and Marcell Ozuna in New Orleans. Dietrich made his first start in left field on July 26 in San Diego, and so far, he has committed one error in his new spot. Meanwhile, Tuesday's one inning at first base was just his second inning there all season.
"Keep the bat in the order," manager Dan Jennings said. "Versatility, the rest of the year, is going to be a key for a lot of these guys. A lot are working at different spots. ... If the bats stay hot, then they're gonna find a place to play wherever that will be. We do not have a plug-and-play lineup right now."
Since his move to left field, Dietrich is just 3-for-25. However, prior to the switch, he was hitting .303, and his power threat is a rare commodity in a Marlins lineup that is currently struggling and riddled by injuries.
In Friday's 8-3 extra-inning loss to San Diego, Dietrich hit a game-tying home run with two outs in the bottom of the ninth off Padres closer Craig Kimbrel. That production -- along with Tuesday's two-hit performance -- is more of what Dietrich is looking for as he continues to put in work all over the field while trying to make his mark.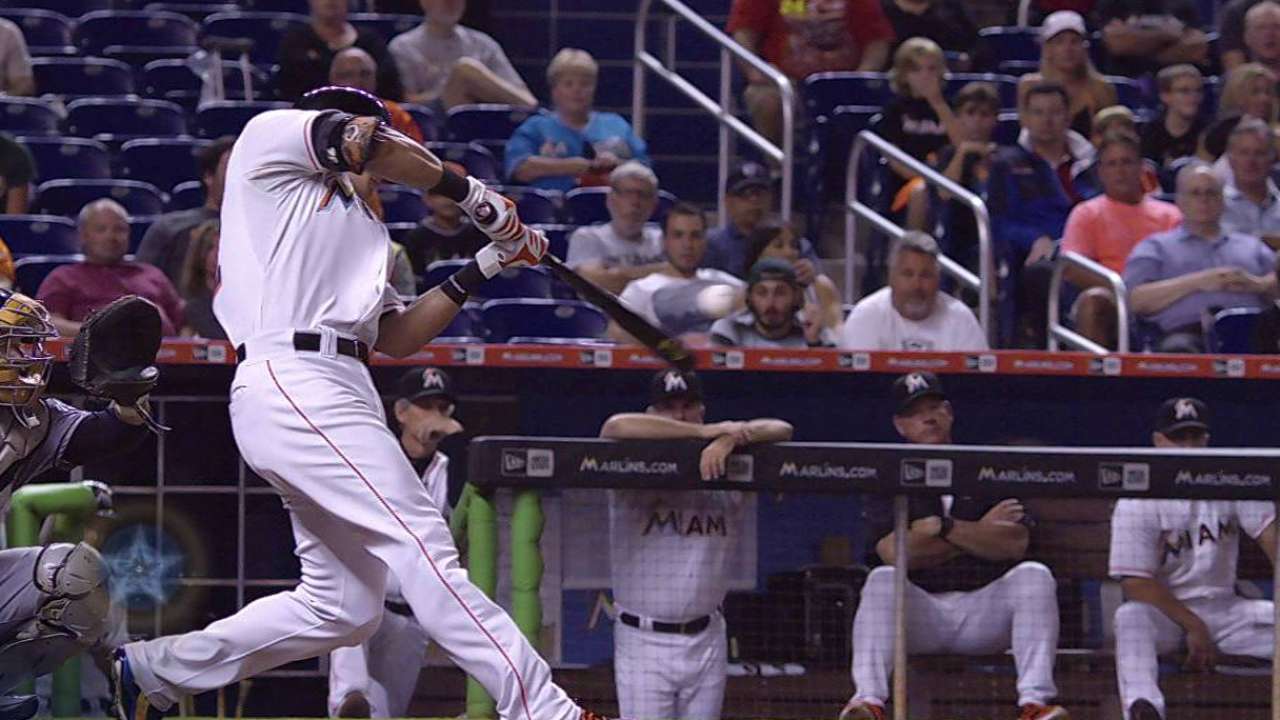 "Just like anything else, it's the consistency of getting the reps and practice as much as possible," he said. "And recreating what I might see in the outfield. That's the biggest thing for me. You can practice fly balls all day and the throws and the cuts, but it's the plays that happen in the game that you can't really mimic. So I'm just trying to be ready and listening to my coaches."
Steve Wilaj is an associate reporter for MLB.com. This story was not subject to the approval of Major League Baseball or its clubs.