Collmenter steps up after Corbin labors
Righty delivers 3 2/3 innings of 1-hit relief to save staff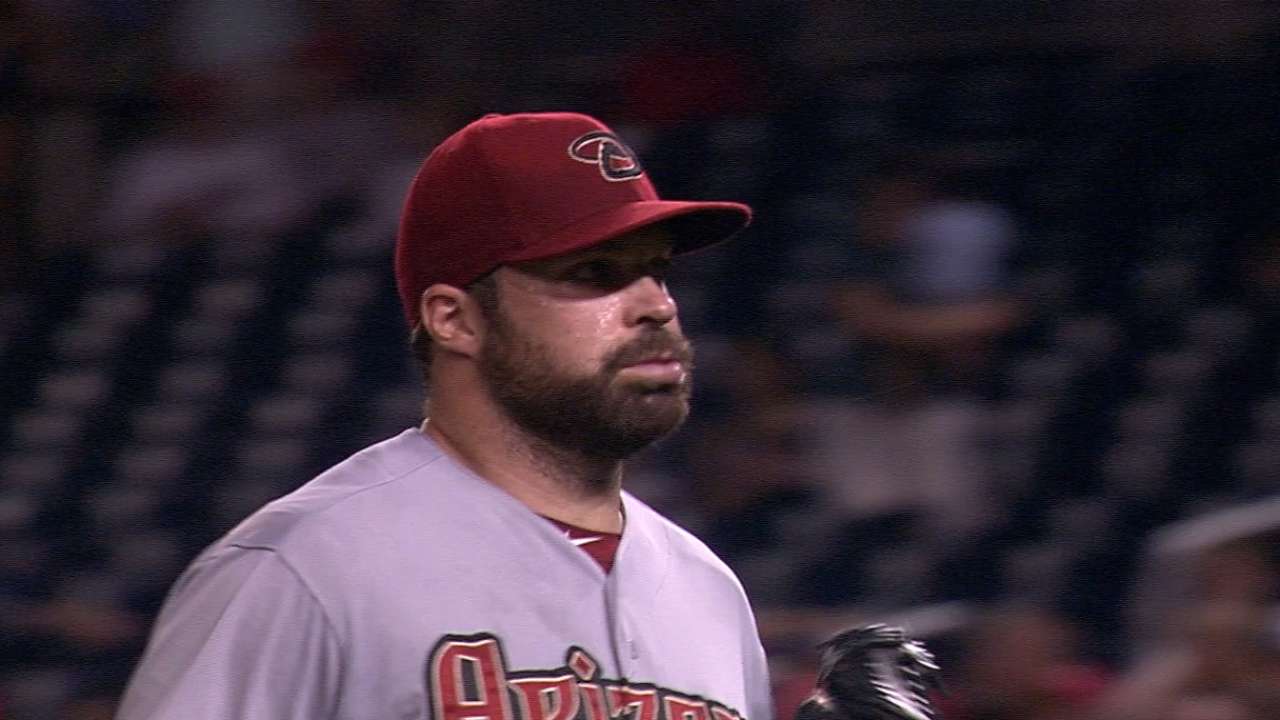 WASHINGTON -- There will not be a save in the box score next to Josh Collmenter's name after his outing Tuesday night, but the D-backs' right-hander has certainly saved his bullpen mates twice in the last four days.
After tossing 4 2/3 innings Saturday, Collmenter went 3 2/3 frames of one-hit ball Tuesday in the D-backs' 6-4 loss to the Nationals, and in both instances his extended work helped keep the bullpen from being blown out.
"I thought Colly did a great job again of settling it down and giving us a chance to win," D-backs manager Chip Hale said.
Patrick Corbin started for the D-backs, and it was clear from the outset that it was not going to be the left-hander's night, as the Nationals sent all nine men to the plate in the first inning, grabbing a 3-0 lead.
Hale doesn't like any of his pitchers to throw 35 pitches in an inning, and with Corbin just 17 months removed from Tommy John surgery, the manager was even more cautious. So after it took Corbin 36 pitches to get through the first, there was definite anxiety in the Arizona dugout.
"We almost didn't let him go out for the second," Hale said. "Felt like he had thrown so many pitches in the first that we were going to really make sure in the second, if he started to get up in pitches, we were going to get him out."
Three batters, which included a hit and a walk, and 18 pitches into the second inning Corbin's night was over, though, he did try to change Hale's mind in a discussion on the mound.
"Early on, a lot of first pitches right down the middle," Corbin said. "They came out swinging and it didn't seem like I was fooling them at all. They were squaring up balls. I thought I made some decent pitches and some mistakes. The more I was throwing the better my arm felt. I told him I wanted to stay in, but [Hale] said there's other [future] pitches that matter. He thought it was a good time to take me out."
Collmenter, who was the team's Opening Day starter before being moved to the bullpen after struggling, has seemed to hit his stride of late. He immediately got a double play to end the second inning and then kept the Nats off the scoreboard for the next three innings while the D-backs came back to tie the game.
"I was able to command my fastball, and if I can do that, it just gives me confidence in knowing that if I get behind I can make a good quality fastball pitch, and then it makes all my off-speed stuff a lot better as well," Collmenter said of the reason for his turnaround. "Just been focusing on keeping the ball down and being able to move it in and out. That's been my bread and butter, and if I can do that, then I can be successful more often than not."
Steve Gilbert is a reporter for MLB.com. Read his blog, Inside the D-backs, and follow him on Twitter @SteveGilbertMLB. This story was not subject to the approval of Major League Baseball or its clubs.