MLB.com Columnist
Barry M. Bloom
Yanks' rotation success depends on effective Tanaka
Despite injuries and other factors, Bombers continue postseason push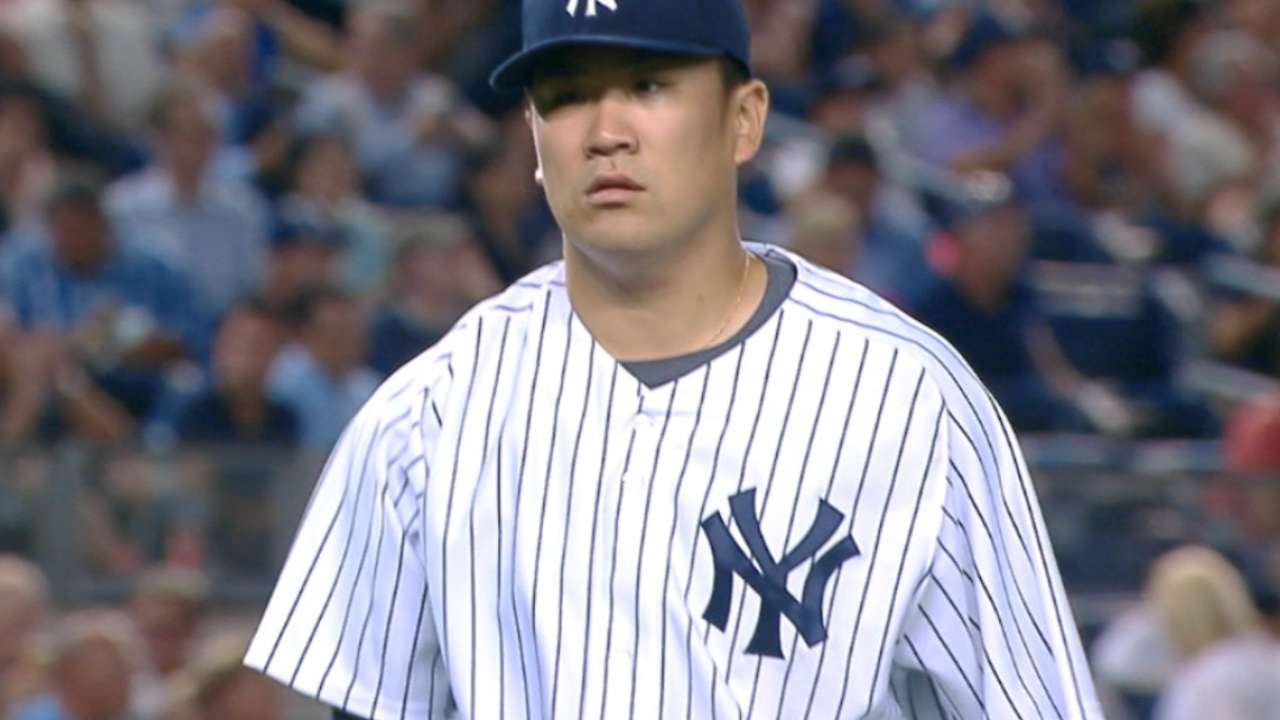 NEW YORK -- The Yankees will only go as far as their starting pitching will take them. But for the second season in a row, the rotation right now for a team leading the American League East is unsettled.
Once again, Michael Pineda is on the disabled list, this time with a muscle strain in his right forearm, and Yanks general manager Brian Cashman said on Tuesday night that that he is not expected back until September.
Masahiro Tanaka might be one overstressed pitch away from Tommy John surgery. On Tuesday night, the right-hander lasted one batter into the seventh inning as the Yankees drubbed the Red Sox, 13-3. Tanaka was pulled when Pablo Sandoval launched a homer halfway up the back end of the Yankee Stadium right-field bleachers. He threw only 88 pitches.
"That was it," manager Joe Girardi said about that quick decision. "The next hitter, [Mike] Napoli has had a ton of success off of him."
CC Sabathia, much like San Francisco's Tim Lincecum, appears to be on a serious downslide. Ivan Nova has only recently returned from his own Tommy John surgery. Nathan Eovaldi, obtained last winter in a trade with Miami, has proven to be the stud of the group with an 11-2 record, but a 4.30 ERA.
On Wednesday night, rookie right-hander Luis Severino will become the 29th pitcher to don a Yanks uniform this season. Severino will be the 50th player used this year, the 14th making his big league debut. And there's still 57 games to play.
"Well, it's not exactly what you want with Michael Pineda on the DL," Girardi said about his starting pitching. "We're making it work. When you have the rotation changing, people coming in and out and getting hurt, it's just the next man up. That's the bottom line. That's part of this game. No one's ever going to feel sorry for you. We tell our guys, 'Just go get the job done.'"
The Yankees' starting pitching situation is in stark contrast to what is going on a borough away with the rival Mets. Their rotation includes an embarrassment of riches, from the young in Noah Syndergaard, Matt Harvey and Jacob deGrom, to the old in Bartolo Colon, whom the Yanks once had and let get away.
When Steven Matz returns in September from a torn lat muscle, the Mets will have two pitchers -- Colon and Jonathon Niese -- at the back end of their rotation who would jump close to the front of the group in the Bronx.
And lest we forget the cast-aside Dillon Gee, who just pitched his second consecutive complete game for Triple-A Las Vegas. Gee, by the way, is no longer even on the Mets' 40-man roster.
To compare and contrast, the Yankees' rotation has a 4.37 ERA, 23rd in the Majors. The Mets, at 3.32, are fourth. The Cardinals lead all 30 teams at 2.84. Perhaps, not so coincidentally, the Cards lead the Majors with a 67-39 record entering Wednesday.
The Yankees came into Spring Training with numerous questions about the starting rotation. Tanaka, Pineda, Sabathia and Nova all missed sizeable portions of the 2014 season with various injuries, as the Yanks fell just four games short of the playoffs.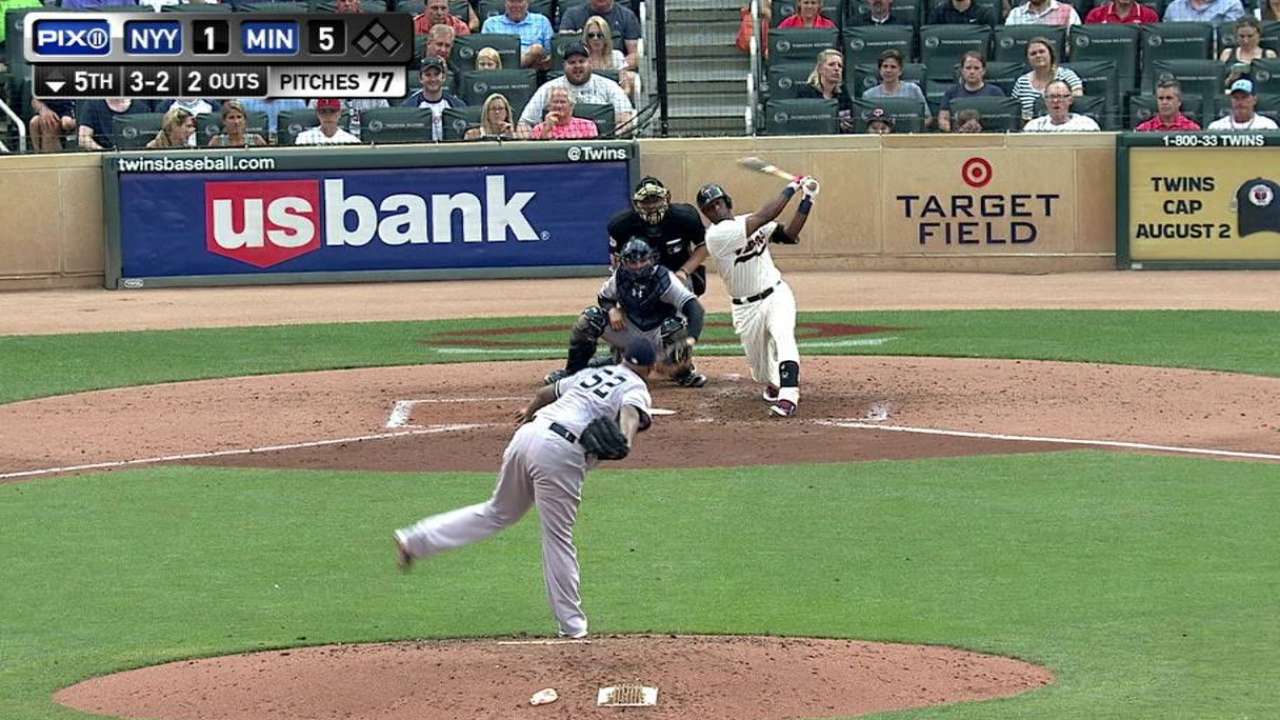 Now that the calendar has turned to August, those questions have been addressed and the answers have not been pretty. Even with Toronto having reloaded at the non-waiver Trade Deadline, by adding David Price and Troy Tulowitzki, the Yankees may certainly have enough to outdistance a pretty weak field in the East this season. But it is in the playoffs -- particularly in the best-of-five AL Division Series -- where starting pitching is at a premium.
Looking ahead, in a best-case scenario, the Yanks would have Tanaka, Pineda and Eovaldi to start the first three games. Cashman said on Tuesday that he'd be fine with that.
"If we're healthy, I'm very comfortable," Cashman said. "Our top two can match up with anybody's top two as long as their healthy. Obviously we're talking about Tanaka and Pineda. Those guys can match up with anybody as long as they are at full strength."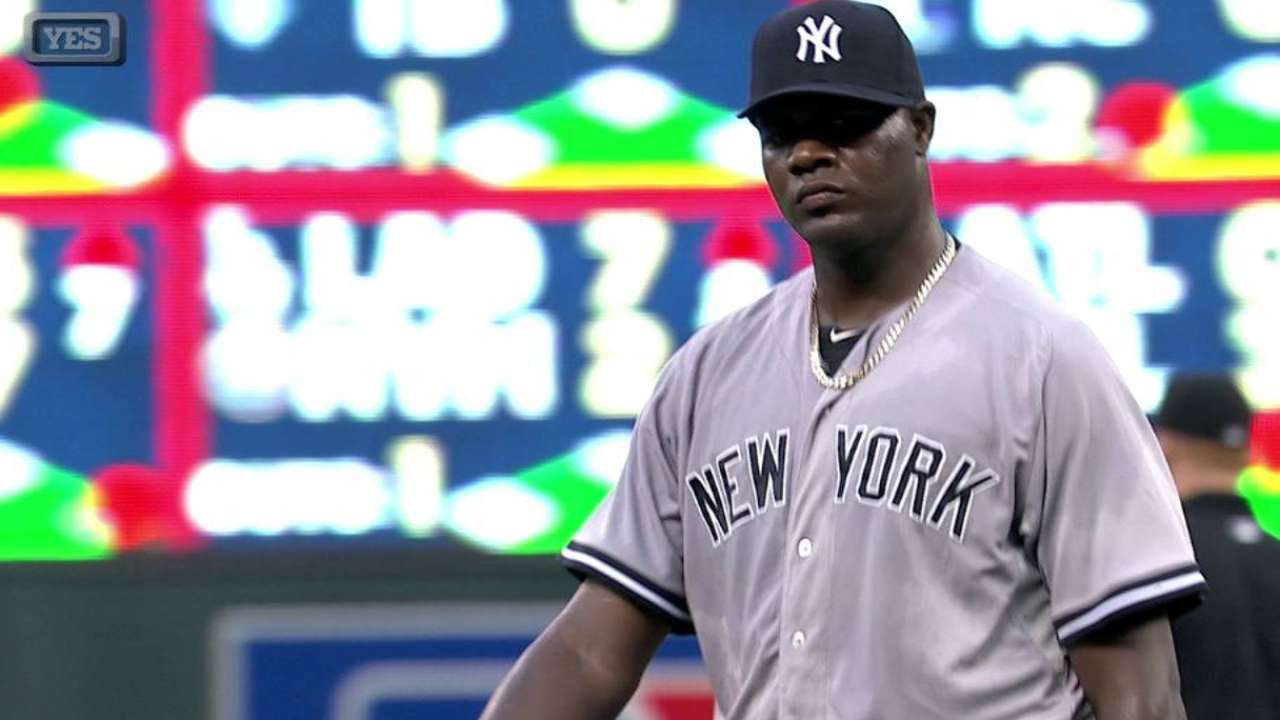 And if they're not?
"If they're not, we're just like anybody else," Cashman said. "Your No. 3 starter becomes your No. 2 starter, and so on and so forth. That's as true with us as anybody else."
So Tanaka, Eovaldi and Sabathia? Or Eovaldi, Sabathia and Nova? Perish the thought.
The matchups might look something like this: Potential Wild Card-winning Toronto could go with Price, Mark Buehrle and R.A. Dickey or Marco Estrada. Potential AL West-winning Houston would have Dallas Keuchel, Scott Kazmir and Collin McHugh.
Anyway, you get the picture.
"Hey, let's just get to October and we'll worry about that then," Girardi said.
Tanaka allowed three runs on five hits with a walk and three strikeouts on Tuesday. Despite Tanaka saying that he's close to where he was before the arm injuries, gone is the pitcher of early 2014 who dominated the league by going 11-1 in his first 14 starts. Last season, he injured his right elbow and missed nearly three months nursing it back into shape sans surgery. This season, Tanaka has already sat out the entire month of May because of a right forearm strain.
Tanaka is 8-4 with a 3.84 ERA in only 15 starts, but even Girardi admits that for the Yankees to ultimately succeed, Tanaka has to be more effective.
"It's important that he pitches well moving forward, that all our guys pitch well," Girardi said. "Obviously, we're in a race and our guys understand that. He has experience pitching in big games, even if [they were] not necessarily here. There were a lot of expectations on him in Japan, and he understands that so he needs to pitch well."
To be sure, the Yankees will go as far as Tanaka and his rotation mates take them.
Barry M. Bloom is a national reporter for MLB.com and writes an MLBlog, Boomskie on Baseball. Follow @boomskie on Twitter. This story was not subject to the approval of Major League Baseball or its clubs.