Miller's streak of hard-luck outings continues
Braves hurler winless in 14th straight start after bullpen blows lead
ATLANTA -- Shelby Miller's winless streak reached 14 games Tuesday night, as the Giants topped the Braves, 8-3, in the second of a three-game series at Turner Field -- the longest stretch by an Atlanta starter since Kenshin Kawakami in 2010.
But like every game through this period -- and especially after efforts like Tuesday's, when he allowed two runs over seven innings -- Miller remained calm and composed when fielding questions about his ever-extending stretch of misfortune.
"My job is to go out there and put zeros up," he said. "Whether I go five innings, seven innings, whether I have good games or bad games. It's all going to happen."
More often than not, though, when Miller has been on the mound, it seems like the bad things tend to happen. Like when Chris Johnson lost track of the number of the outs in the sixth inning, allowing Gregor Blanco to give the Giants a 2-1 lead.
Or the simple fact that the Braves have scored only 2.07 runs per game behind Miller through this stretch.
"I don't know, I can't explain it," Johnson said. "We know it, too, as an offense when he pitches. I think we just try to do too much.
"We would really, really like to bust out and get the guy a lead, but god, lately every time he pitches, we can't do it."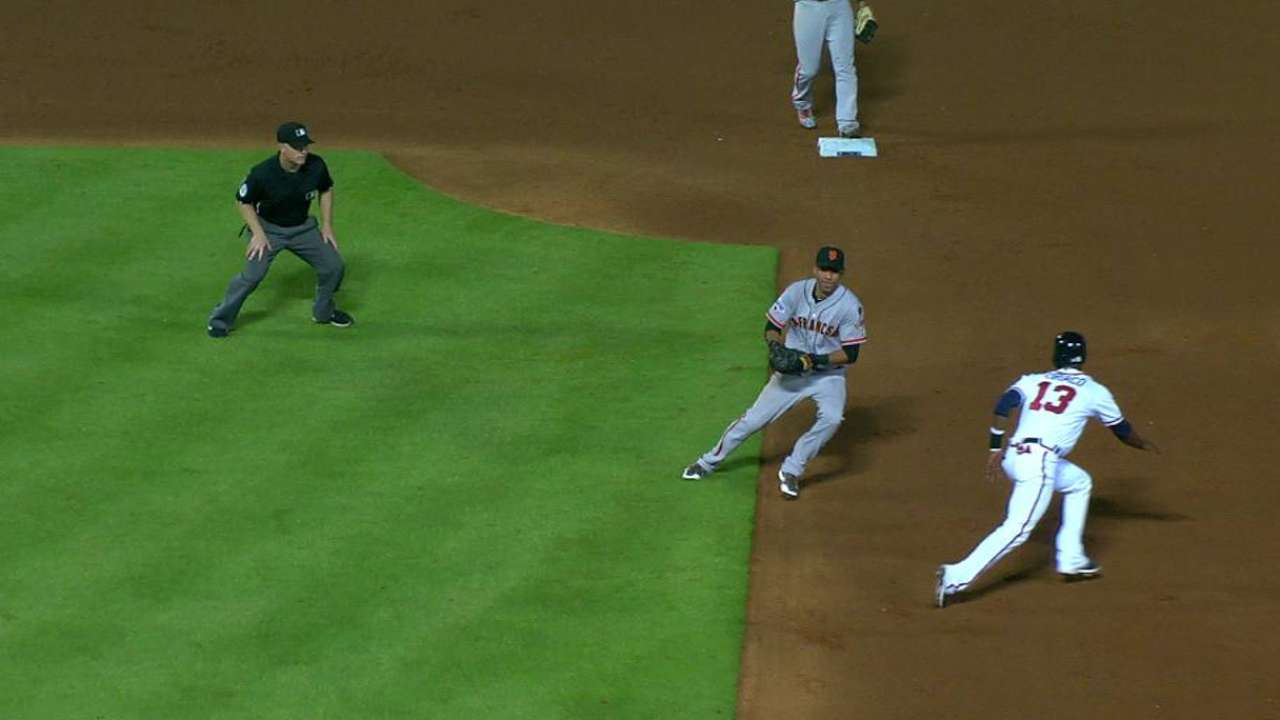 During this period, Miller has posted a 3.14 ERA. Tuesday, after allowing a run in the first inning thanks to a Buster Posey sacrifice fly, Miller settled in and retired 13 consecutive batters from the end of the first through the fifth inning.
"I felt good; I felt like my fastball command today was better than it was last start," Miller said after the game. "We're frustrated. Obviously we played a good game. This is kind of a game of momentum, and when you lose it, it goes quick."
Atlanta did have Miller in a position to end the streak, after taking a 3-2 lead in the bottom of the seventh inning, but the Giants responded with four runs in the top of the eighth against the Braves bullpen to remove the possibility.
"It kind of unraveled on us, and he doesn't get any decision," said Braves manager Fredi Gonzalez. "But he was great. He was dominant throughout the whole game. We can't ask for any more from him, really. We really can't."
And Miller's teammates know that as well -- whether it's a matter of thinking too much at this point, or just plain bad luck when Miller toes the rubber.
"He's been pitching great," Johnson said. "So for him to pitch as well as he has and not be able to come away with wins -- because that's what a lot of our pitchers on our team care about is just winning the game. A lot of people say, 'Oh, his ERA is good, so who cares?'
"That's not the way he thinks. He wants to win ballgames. And we're just not giving him the opportunity."
Carlos Collazo is an associate reporter for MLB.com. This story was not subject to the approval of Major League Baseball or its clubs.