Phillies' future on full display in stirring win
Franco connects on tiebreaking grand slam before Giles notches four-out save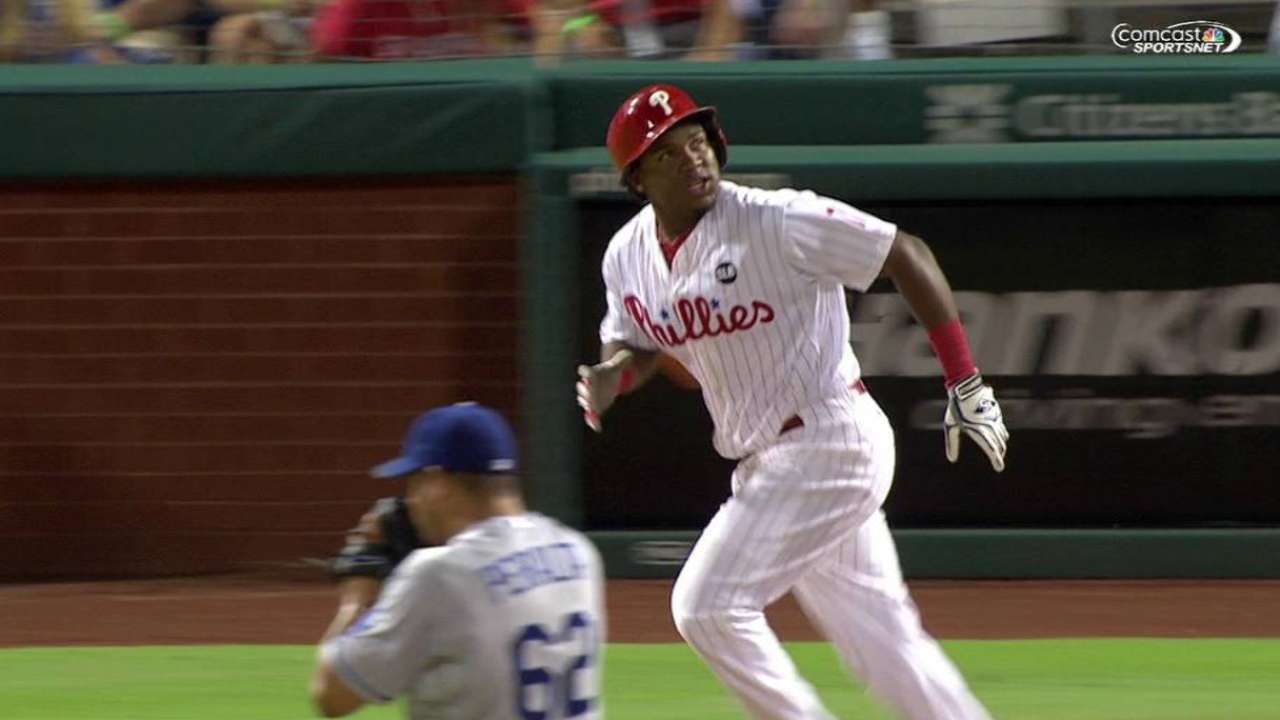 PHILADELPHIA -- On a night the Phillies and their fans remembered the past, two pieces of the future came up big.
Maikel Franco hit a grand slam and Ken Giles picked up a four-out save in Tuesday's 6-2 victory over the Dodgers at Citizens Bank Park. Franco became the first Phillies rookie to hit a grand slam since Ryan Howard, who hit one Sept. 21, 2005, in Atlanta. Giles struck out Jimmy Rollins looking on a 100-mph fastball to end a scoring threat in the eighth inning.
Rollins played in his first game in Philadelphia since the Phillies traded their franchise hits leader to the Dodgers in December. Fans gave him a long standing ovation in the top of the first inning. He tipped his cap twice.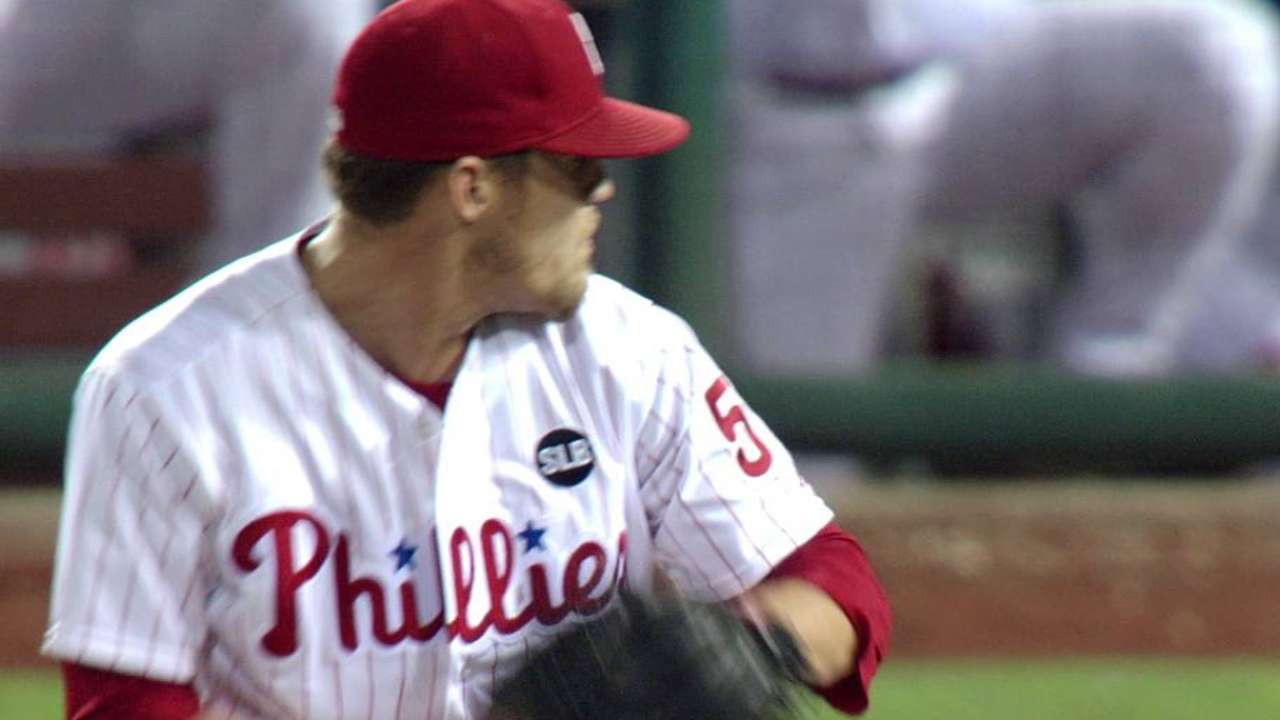 "Jimmy is Philly," Phillies right-hander Jerome Williams said. "He's forever a Phillie."
But fans gave the loudest cheers to Franco. He was hitless in his first three at-bats when he faced Dodgers right-hander Joel Peralta with the bases loaded in a tie game in the seventh. He ripped a 1-1 curveball to left field for his first career grand slam.
"That was amazing for me," Franco said. "My energy was high at that time. My first big league grand slam."
Franco is hitting .314 (11-for-35) with five doubles, two home runs, nine RBIs and a 1.004 OPS in his last nine games. Before he homered July 26 at Wrigley Field, he had not gone deep since June 23. Interim manager Pete Mackanin and bench coach Larry Bowa were talking about that during the game.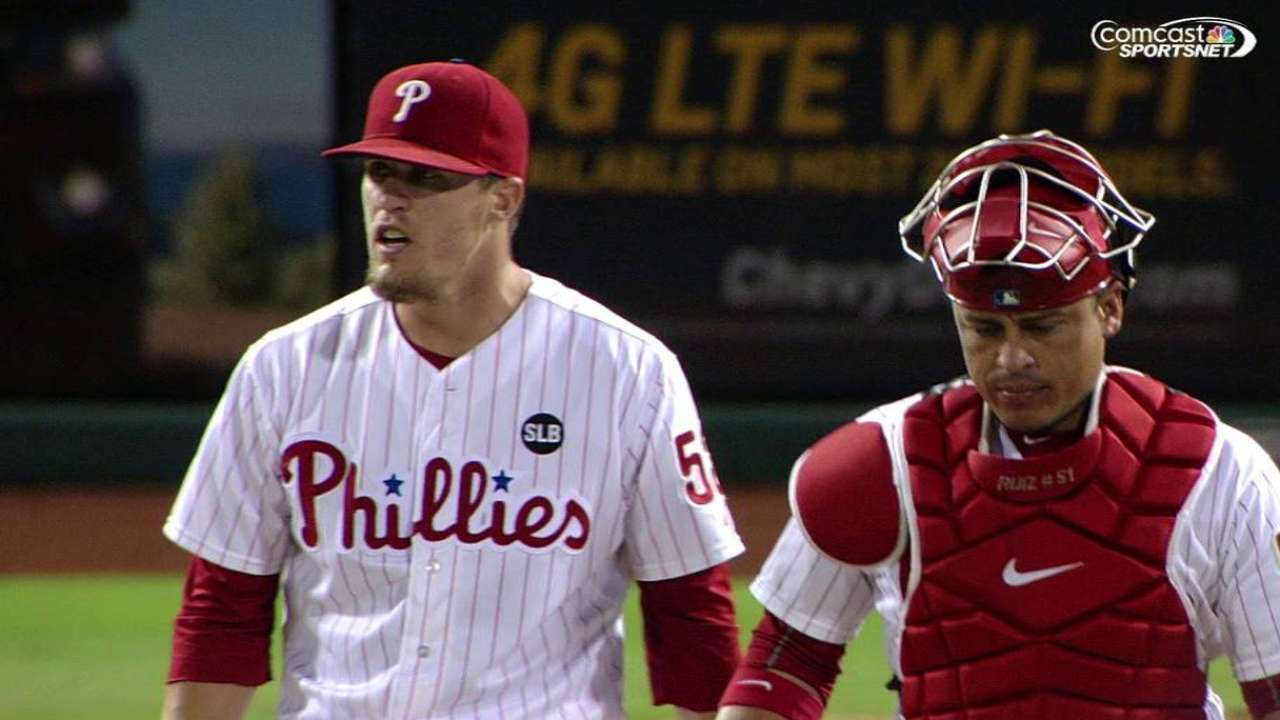 "We're kind of hoping he's going to hit a few more," Mackanin said. "Sure enough, the slam was nice to see. He's a gamer. He likes to play. He doesn't feel sorry for himself. He doesn't pout. He goes out to do damage. He plays to win and he's not going to give up."
Giles, who earned his third save, threw 34 pitches in 1 1/3 innings. He threw 20 strikes.
"I'd like to see him throw a few more strikes so I don't get as nervous," Mackanin said.
But he got the job done. Somehow, some way, the Phillies have been getting the job done since the All-Star break. It might not be 2008 anymore, but lately the Phillies have been getting fans to think about what might be in a few years.
Todd Zolecki is a reporter for MLB.com. Read his Phillies blog The Zo Zone, follow him on Twitter and listen to his podcast. This story was not subject to the approval of Major League Baseball or its clubs.