Hand labors, but throws zeros, awaits fate
Lefty gets through four shutout frames on pitch count, is unsure of what role he'll have next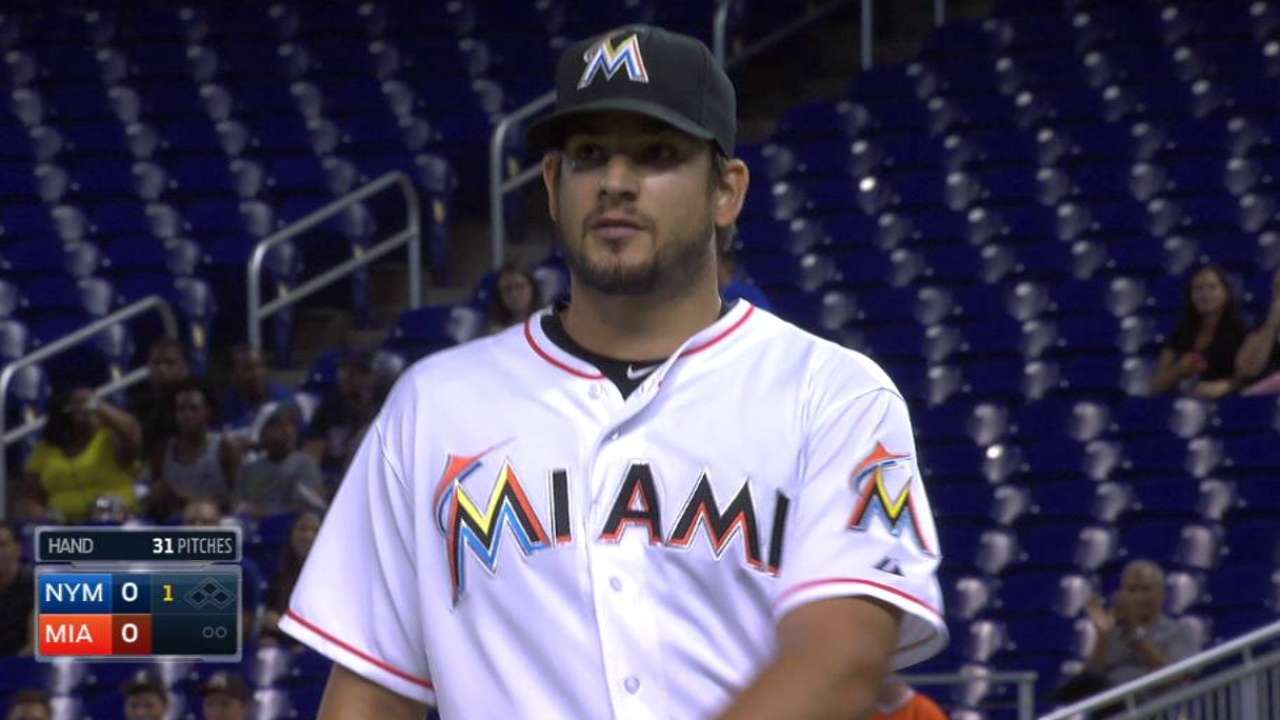 MIAMI -- Each day presents a potentially different challenge for Brad Hand. On Tuesday night, the 25-year-old found himself starting for the first time since June 8.
It wasn't the easiest of assignments, as the left-hander repeatedly worked out of trouble, but still managed to toss four shutout innings in Miami's 5-1 loss to the Mets at Marlins Park.
Hand, who opened the season as a long reliever, has been used in a variety of roles, including late-inning setup situations. Now he waits to see if he showed enough in a no-decision to stick in the rotation. Openings were created when right-handers Mat Latos and Dan Haren were traded to the Dodgers and Cubs, respectively.
Manager Dan Jennings praises Hand's gutsy 84-pitch effort, but noted he first must talk with pitching coach Chuck Hernandez before deciding who takes the mound five days from now.
"For Brad to step up and start, when he's been coming out of the bullpen, to give us that effort he did is huge," Jennings said. "He had traffic pretty much every inning, but he navigated his way through it. He made pitches when he needed to. That was huge."
The Mets loaded the bases off Hand in the first, and he was at 41 pitches when he collected his first out of the second inning. Because he has been pitching in relief, Hand's pitch count was in the 85 range.
"Throwing that many pitches and not giving up a run is pretty good," Hand said. "But I felt like I battled all night.
"It took me a while to get comfortable again. Those first few innings, I was kind of feeling around for everything a little bit. I know I threw a lot of pitches to those first four batters who I got out. I used 41 pitches for the first four outs. That's never good when you have a short pitch count."
In 28 appearances this season, Hand has made four starts.
Unsure what they might get from the lefty, the Marlins had rookie left-hander Adam Conley available to throw multiple innings if necessary. Conley worked 2 1/3 innings, giving up one run.
"Very pleased with the effort we got from Brad Hand and Adam Conley," Jennings said.
Like Hand, Conley, who started 18 games at Triple-A New Orleans this season, is an option to get starts in the final two months.
On Tuesday, it was Hand's turn to start. But the lefty knows his role could change tomorrow.
"I just come here every day with a positive attitude, and whatever they decide is totally up to them," Hand said. "I've just got to be ready to pitch."
Joe Frisaro is a reporter for MLB.com. He writes a blog, called The Fish Pond. Follow him on Twitter @JoeFrisaro and listen to his podcast. This story was not subject to the approval of Major League Baseball or its clubs.