MLB.com Columnist
Anthony Castrovince
Yanks make rare move, thrust rookie into race
Right-hander Severino to debut against Boston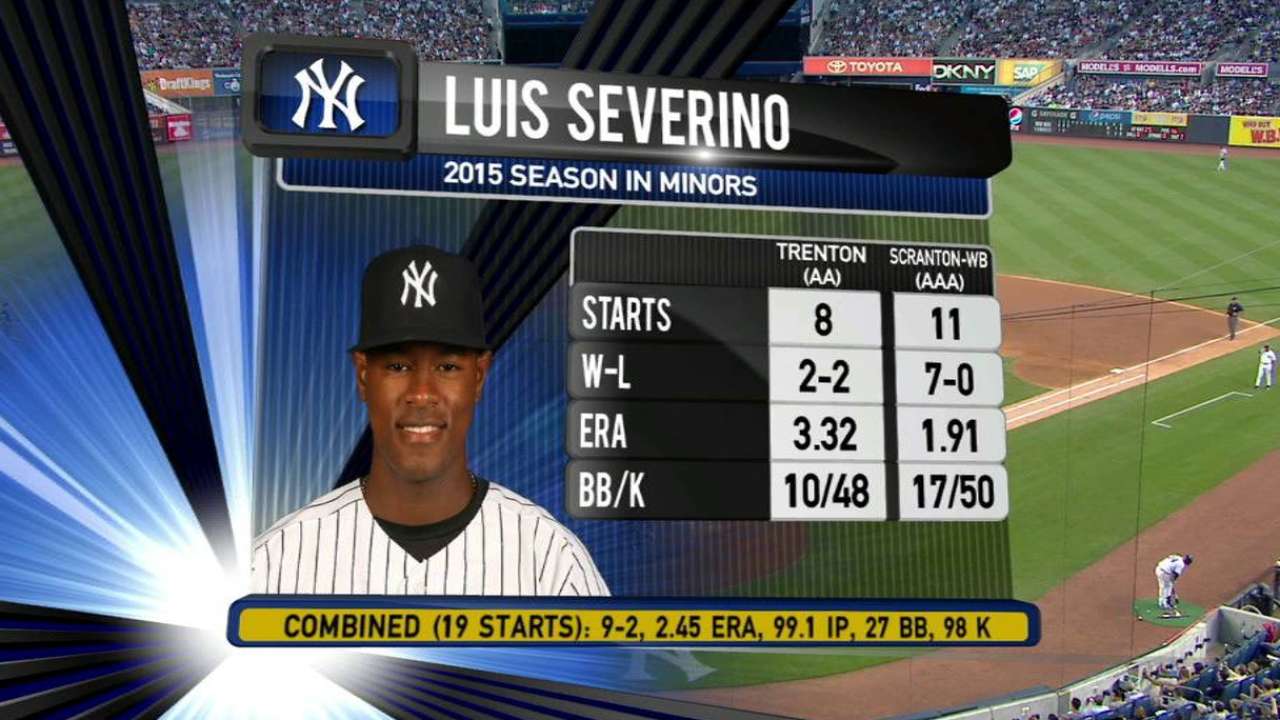 NEW YORK -- Possibly the most outward sign yet of the Yankees' new direction arrives tonight against the rival Red Sox. His name is Luis Severino. He's 21 years old with a slim body and a big arm. He was signed as an unknown teenager in his native Dominican Republic three years ago and has been mowing down hitters at Triple-A the past couple months. In other words, only those patrolling prospect lists or spending their summer nights at Scranton/Wilkes-Barre games know much about Severino.
It's Severino -- not Johnny Cueto, not Scott Kazmir, not Mike Leake or David Price or Cole Hamels -- who is seen as the solution to the Yankees' increasingly intricate rotational angst. It is Severino -- not some sexy or savvy external addition -- who will have to move the needle on a team built to win now.
"That's the dream of every Major League general manager," said Brian Cashman, who, as you know, holds that title with the Yanks, "that all your international signings and Draft picks can be the feeder system for your Major League team."
You might be saying to yourself, "But these are the Yankees. They don't need a feeder system. They feed on other teams' systems!"
For a long while, that was true. And for all we know, it may well prove true again in the not-too-distant future.
But what made last week's non-waiver Trade Deadline so fascinating was the restraint shown by the Bronx Bombers, while the Royals and Blue Jays and Astros went all-in on the acquisition front. The beauty of baseball in 2015 is that the old rules and roles no longer apply, and the beauty of this Yankees club, in particular, is that a once-barren prospect pipeline now has a kid like Severino -- and, eventually, Aaron Judge and Greg Bird, who are waiting in the wings.
Cashman, as GMs tend to do in July, had all kinds of discussions involving those three near-Major League-ready prospects, as well as Jorge Mateo, a toolsy shortstop who is at the Class A level. Ultimately, though, he had no intent of moving any of them to add another veteran piece to a largely veteran ballclub. Not even if that piece was a David Price-type, capable of taking this roster, which already has the third-highest average age (29.3) in the American League, to another level at a time when the Blue Jays, in particular, might be ready to pounce.
Reportedly there was eventually some thought to moving Mateo in the right deal with the Padres for Craig Kimbrel, who would have beefed-up an already intimidating back-end bullpen and possibly eased the strain on the starters. But by then, San Diego had decided to continue to give 2015 an earnest effort.
That was one reason for the Yankees standing pat.
Another?
"If you look at our top 10 prospects," said Cashman, "a lot of guys got hurt."
Cashman ran down the list: Outfielder Mason Williams will have shoulder surgery on Friday, left-hander Ian Clarkin has been rehabbing an elbow injury all year, catcher Luis Torrens had shoulder surgery in Spring Training, right-hander Domingo German (who Cashman deemed "the equivalent of many of the pitchers that were traded at the Deadline for other people") had Tommy John surgery, and third baseman Eric Jagielo had season-ending knee surgery last week.
So, with a hesitance to part with their most-prized prospects and a basic inability to market their next tier, the Yankees were just sort of stuck in neutral.
"People started trying to make offers regarding Bryan Mitchell, who we think a lot of," Cashman said. "In many cases, those veteran guys that people talk about can go in the rotation, they may not have been anywhere near as good as Mitchell, and Mitchell is under control for the next six years."
The Yanks didn't used to talk this way or act this way. But with so many cumbersome contracts already on the books, they've come to embrace the idea that controllable assets are the fabric of this game, even for a team with deep pockets. You see this in the way the Andrew Friedman-led Los Angeles Dodgers are operating right now, using their financial might to take on other people's problems, so long as it nets them young talent in return.
An obvious potential problem is that Severino might simply not be ready for the limelight. He's being thrust right into it. Even if the Yankees-Red Sox rivalry does not currently have the standings significance it once did, it still has an aura about it. And with Michael Pineda ruled out until September with a forearm strain, Masahiro Tanaka's elbow ligament a constant source of concern and CC Sabathia a mere shell of his once-dominant self, there's more than the usual amount of pressure on this kid to perform.
Really, wrack your brain and try to think of the last time the Yanks turned to a rookie in this prominent a role this late in a season in which they were contending. Shane Spencer had a big breakout at the end of 1998, but he was a part-time player on a team that was already cruising toward 114 wins. Robinson Cano took over for Tony Womack at second base in 2005, but that was early in the season.
You might have to go all the way back to Mel Stottlemyre in 1964 to find the closest comparable, and the Yankees can only hope Stottlemyre's precedent (a 9-3 record and a 2.06 ERA in 13 appearances) does, indeed, prove to be a precedent.
Though Severino is as yet untested, the Yanks liked the strike-zone aggressiveness they saw from him in a limited look this spring, and they like his makeup.
Are they putting too much pressure on him?
"If I traded for one of these big-name starters coming in, they'd feel pressure, too," Cashman said. "Just plug and play, we'll see what we get."
Unsaid in all of this is that the Yankees can't be ruled out from making an in-season acquisition before the Aug. 31 waiver Deadline. They've certainly got the financial resources to take on a big contract in this waiver period, or perhaps a savvy, low-risk pickup will come their way. Though the end result was ultimately the extension of the Yanks' October drought, Cashman earned kudos in the industry for his low-profile, big-impact additions last summer.
For now, though, these are the new Yankees in action. Cashman is not raiding the farm and the future to impact the present. What he's doing, instead, is inviting Severino to the big league scene and seeing if the improved system is ready to start delivering the in-season solutions every GM seeks.
Anthony Castrovince is a reporter for MLB.com. Read his columns and follow him on Twitter at @Castrovince. This story was not subject to the approval of Major League Baseball or its clubs.