Arrieta dominant now? Just wait, says Maddon
Cubs righty allows two hits in seven shutout innings for ninth straight quality start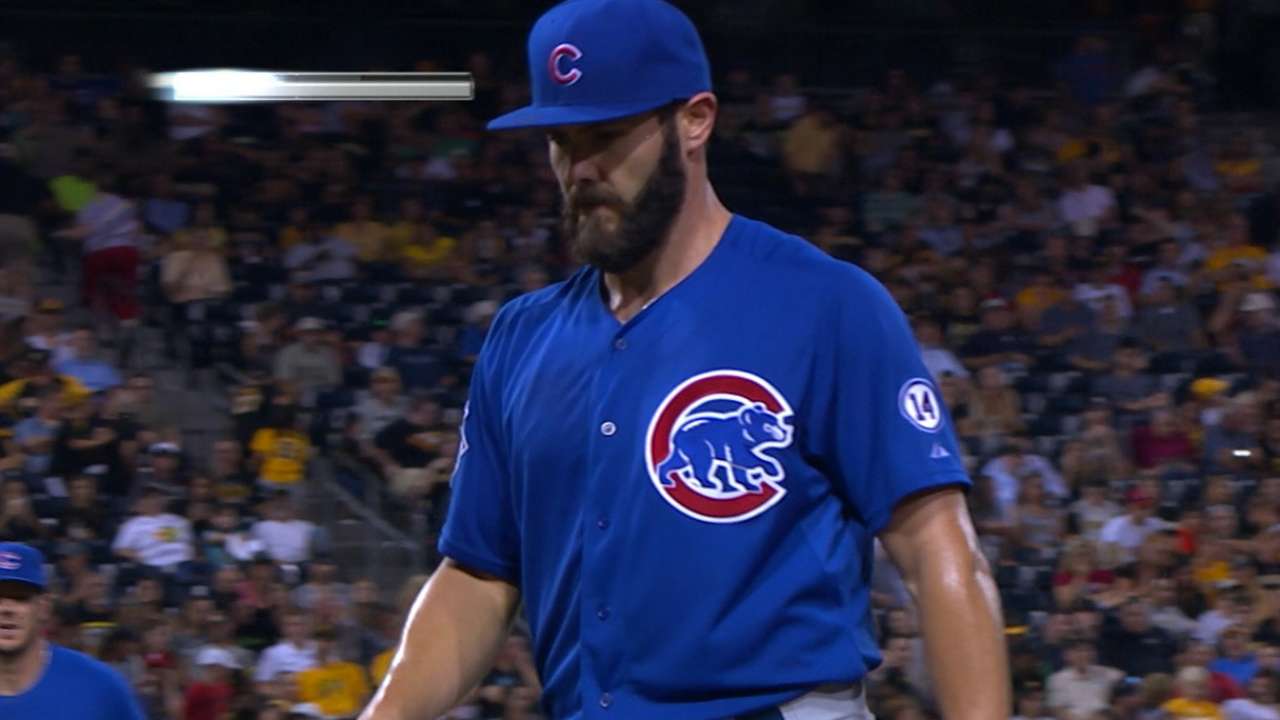 PITTSBURGH -- It might be hard to imagine, given the way he's pitched lately, but Cubs manager Joe Maddon believes Jake Arrieta is only going to get better.
Arrieta cut through the Pirates' lineup Tuesday night at PNC Park, allowing two hits over seven innings and striking out five as the Cubs won, 5-0, for their season-high-tying sixth straight victory.
Arrieta didn't let a runner get to third base all night. Only one of Pittsburgh's players reached second base against him, and he remained still as Arrieta retired the final three batters he faced in the seventh inning.
Everyone executed. All night. We keep this up, October will be waiting. #wearereallygood @Cubs

— Jake Arrieta (@JArrieta34) August 5, 2015
That ended yet another masterful performance for Arrieta, who has gone 6-1 with a 1.37 ERA during a stretch of nine straight quality starts. Tuesday's win improved his record to 12-6 with a 2.50 ERA, the seventh-lowest mark in the National League.
But Arrieta still hasn't reached his full potential, Maddon said -- perhaps as a warning to the rest of the NL.
"He is not there yet. He's not as good as he's going to become. When he really understands how to utilize all his weapons, it can get scary," Maddon said. "It's all there. I'm not complaining. The guy has been fabulous. But I'm saying there is another level of Arrieta over the next couple years."
Arrieta agreed with his manager's assessment, although there wasn't much to nitpick Tuesday night. Both of the hits he allowed were singles, and he walked three. Two of those baserunners were immediately erased by double-play grounders.
"I think everybody's probably got another gear. It's my job to find it and to stay in it," Arrieta said. "I think that being consistent is something I've been able to establish. It's kind of part of who I am. Now it's, 'How can I go out there and dominate every time I go out?'
"It's easier to say than do. But with the preparation and the proper game-planning, it's possible to go out there and have dominant performances every time out. That's what I intend to do."
He did just that Tuesday night, baffling Pittsburgh with his array of pitches, particularly the cutter. Pirates star Andrew McCutchen was responsible for two of the walks and half of the hits charged to Arrieta.
With Arrieta and left-hander Jon Lester atop their rotation, Maddon believes the Cubs have a one-two punch that could rival any duo in baseball.
"I think they're right there. I really do," Maddon said. "Jon has been there, and Arrieta is the guy who's arriving on the scene right now. He's got that kind of stuff."
With more to come, apparently.
"He's got all this stuff going on. Once he figures all those things out, I'm telling you, man," Maddon said. "He's really good, and he's going to get better."
Adam Berry is a reporter for MLB.com. Follow him on Twitter at @adamdberry. This story was not subject to the approval of Major League Baseball or its clubs.