Twins take pulse, confident bats will reawaken
Offense has scored 7 runs over last five games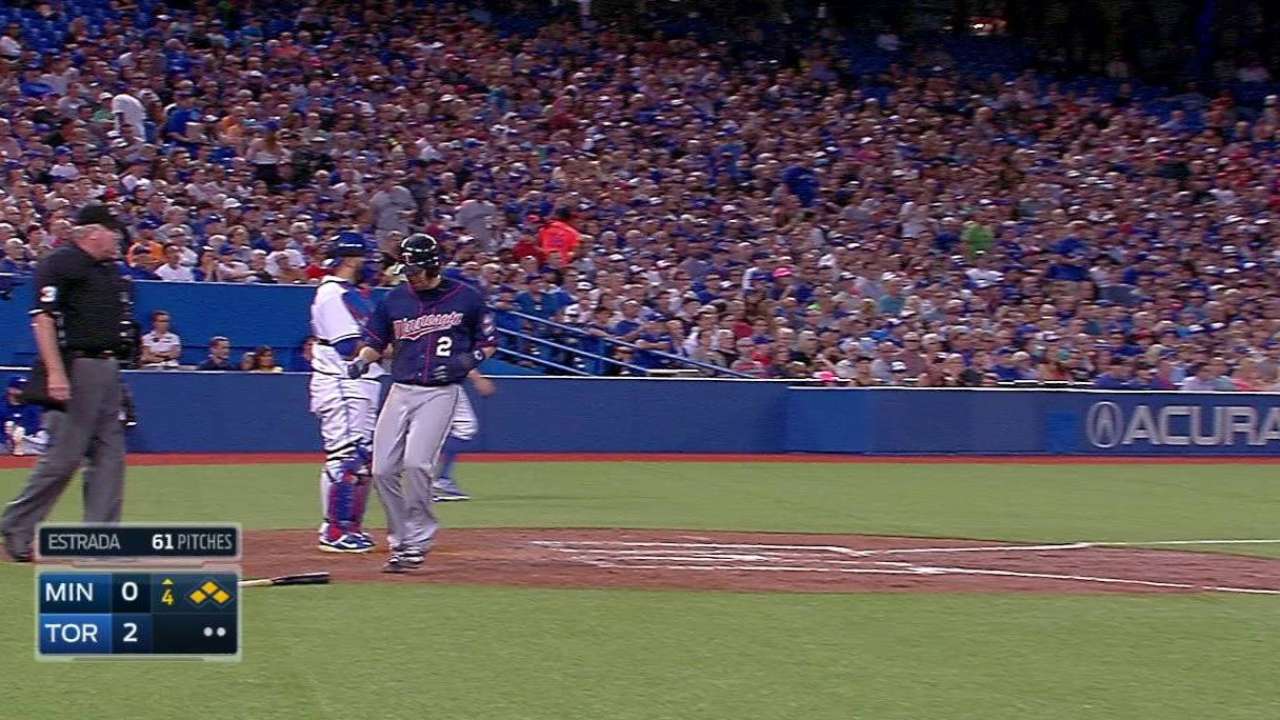 TORONTO -- Before Tuesday's game against the Blue Jays, Twins manager Paul Molitor held a meeting to get a feel for the pulse of the team with its recent struggles since the All-Star break.
The meeting didn't pay immediate dividends, as the Twins continued their offensive struggles in a 3-1 loss to the Blue Jays that knocked them out of a playoff position for the first time since May 3. But Molitor said he's still optimistic about his club with two months left in the season, as it has just been in a recent rut offensively, scoring seven runs over the last five games.
"The game was a decent game except for the fact that offensively our recent struggles continued," Molitor said. "It's been a rough trend for most of our guys as of late. We just talked about fighting the fight. I still feel like we have a good streak in us upcoming."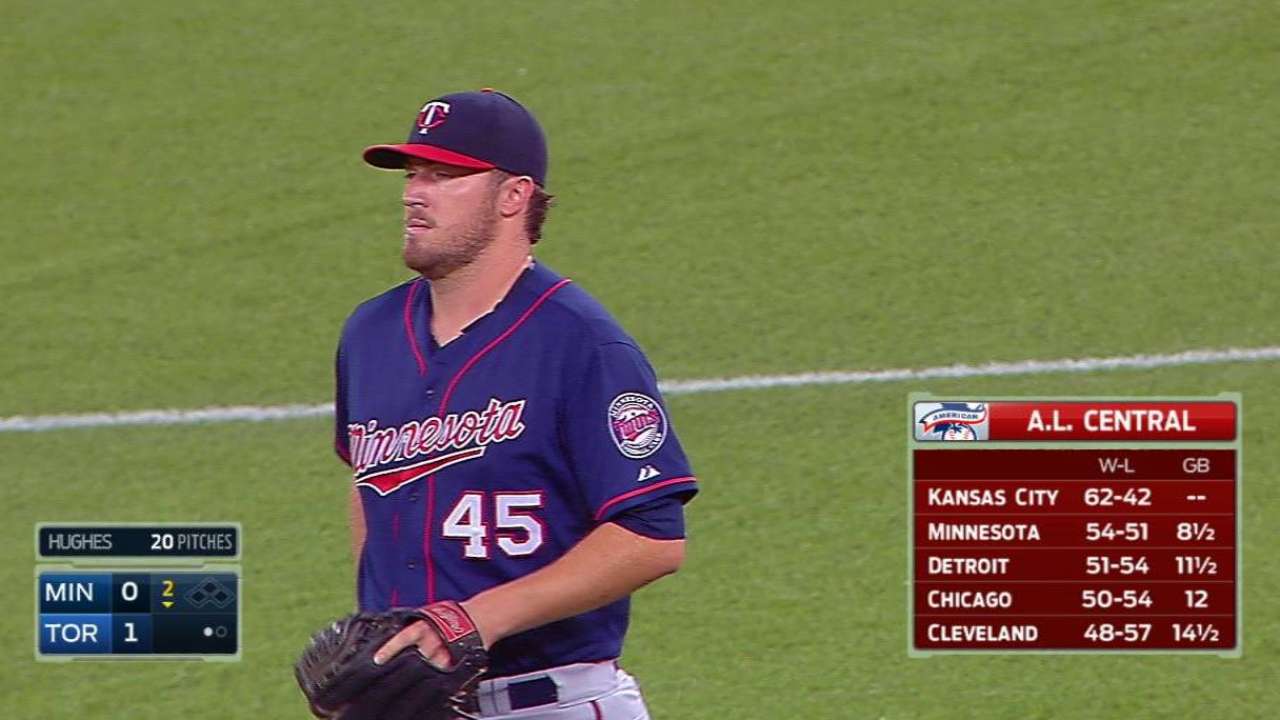 Molitor said the pregame meeting went well, as he felt the players were receptive to his message even if it ended with Minnesota's eighth loss over its last 10 games.
"It was kind of taking a pulse, seeing where we're at and that we're all on the same page," Molitor said. "Just threw some things out there about how things were going and what we needed to remember. It went OK. I wasn't trying to do a Knute Rockne or anything. Just kind of make sure we understand where we're at and what we have an opportunity to accomplish."
Twins players remained upbeat after the game, as they took Molitor's message to heart and said they're not worried about losing their grip on a Wild Card spot because it's still just early August and they've hit rough patches before this season.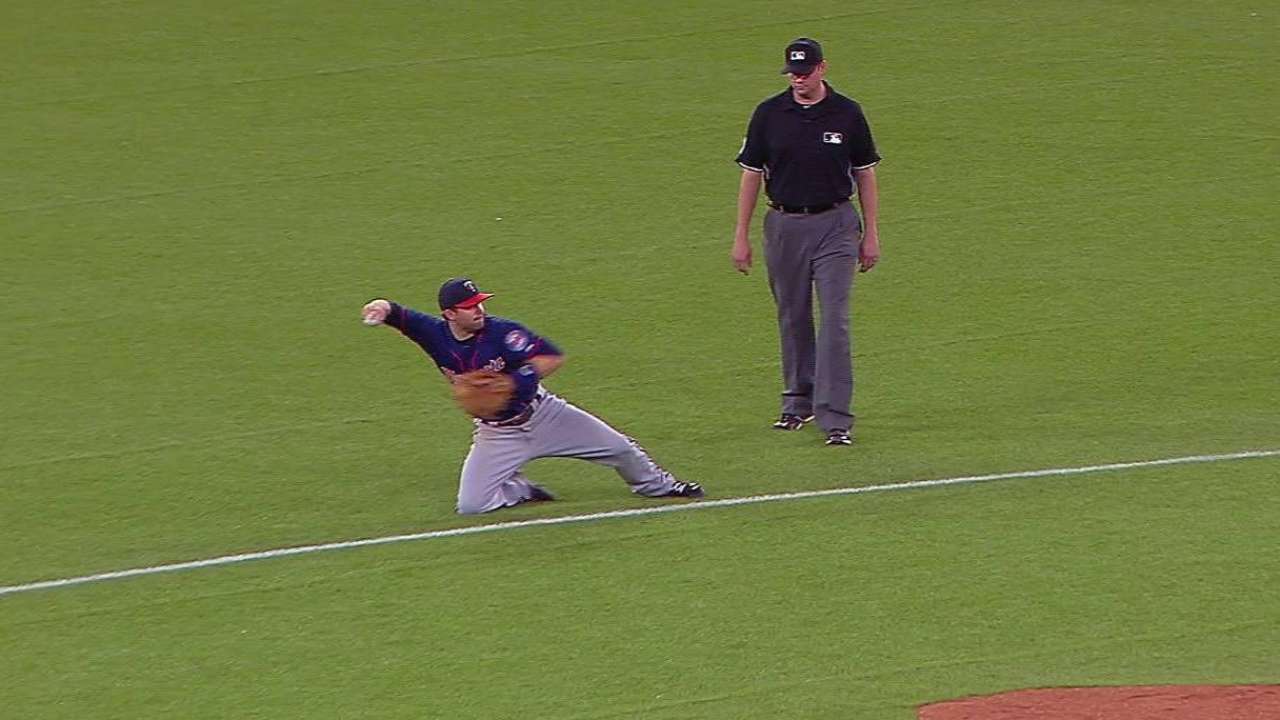 "We're still in a good position," third baseman Trevor Plouffe said. "There's a lot of baseball left. The thing we've done great all year is not to worry about what happened the day before. So we're not going to let that get to us. We're going to keep battling because that's what it's going to take come late September to still be in this thing. To continue to play meaningful games you have to put yesterday behind you."
Twins right-hander Phil Hughes kept the Twins in the game, allowing three runs in 5 2/3 innings, but Torii Hunter brought home the lone run with a sacrifice fly with the bases loaded in the fourth. It marked the fourth time over the last five games the Twins scored exactly one run, but Hughes echoed Plouffe's sentiments that the club is not panicking over its recent struggles.
"We look at the big picture and what we have ahead of ourselves," Hughes said. "I don't think anybody is worried about being a game in or a game out of the Wild Card. We just have to try to win every game we possibly can and not worry about what other teams are doing."
Rhett Bollinger is a reporter for MLB.com. Read his blog, Bollinger Beat, follow him on Twitter @RhettBollinger and listen to his podcast. This story was not subject to the approval of Major League Baseball or its clubs.