Prospect Shaffer homers for first career hit
Rays give 24-year-old the silent treatment when he returns to the dugout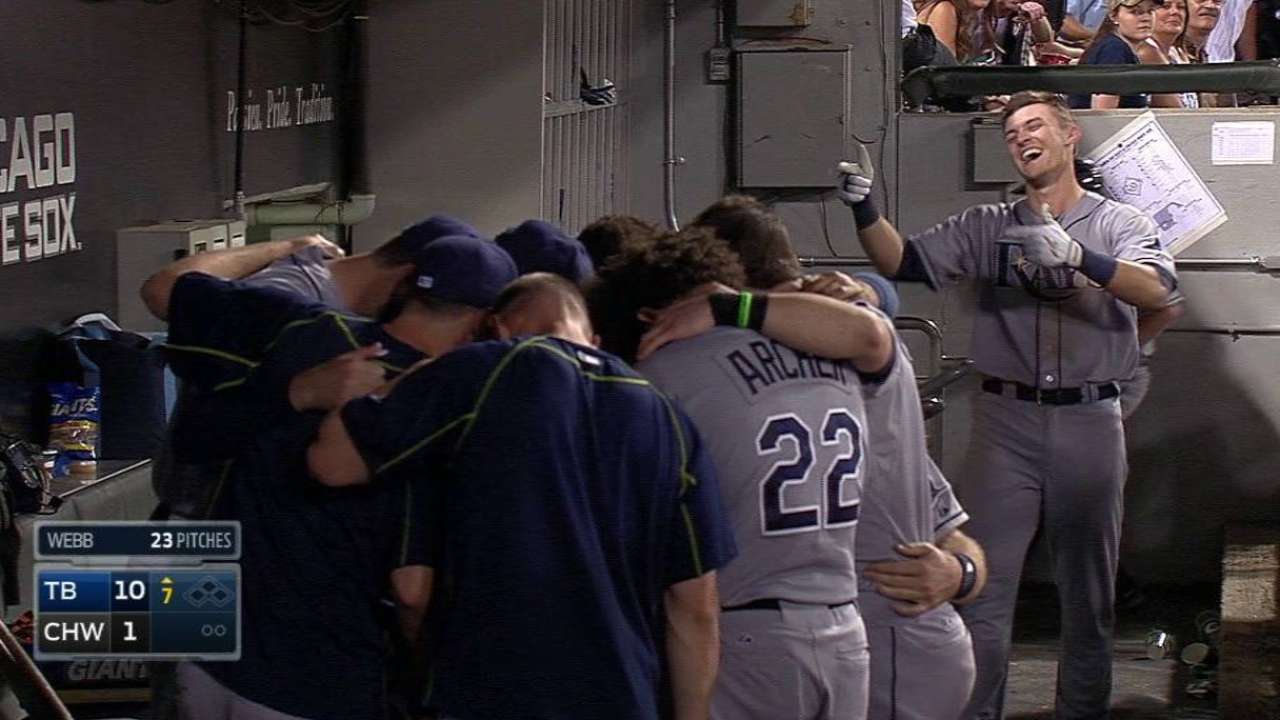 CHICAGO -- Rays prospect Richie Shaffer's first Major League hit came in style, clearing the right-field wall for a home run.
Shaffer, playing in his second game, connected on a 2-2 fastball from Daniel Webb in the top of the seventh during Tuesday's 11-3 win against the White Sox and went opposite field to push the Rays' lead to 10-1.
The pitch "was kind of middle-downish, put a good swing on it and I was just hoping it had enough," Shaffer said. "It was exciting."
Asdrubal Cabrera homered in the previous at-bat to lead off the seventh.
The rookie rounded the bases without tipping his hand about the adrenaline pumping through his body.
"Thankfully it was to right so I was kind of looking at it while I was turning," Shaffer said. "I tried not to get too excited on the bases. Act like you've been there before."
Once Shaffer reached the dugout, he got the silent treatment. No problem, Shaffer simply moved down the length of the dugout giving high-fives and hugs to his imaginary friends until he reached the spot where his teammates huddled in a circle.
"It was awesome," Shaffer said. "I knew they were going to do something. So I go in there and no one's looking at me or talking to me, so I gave some fake high-fives and handshakes to everyone. And they had their little ring going and I made my way down there and everyone was going nuts. It was an awesome experience. Everyone was having fun."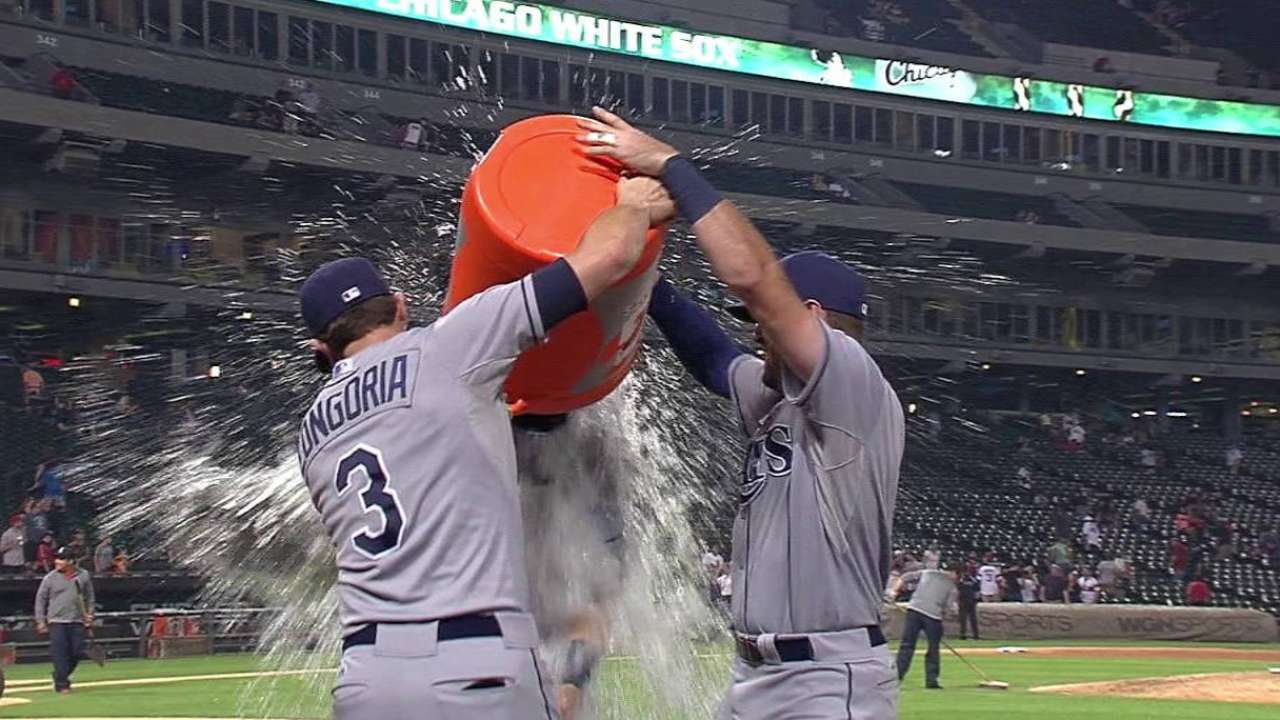 Rays manager Kevin Cash smiled recounting Shaffer's home run.
"That was pretty cool to see," Cash said. "The guys were pumped in the dugout. You don't want to over-celebrate in a game like that. They huddled up, that was cool to see. We get pretty excited for all the guys who come up and contribute."
Shaffer noted that he finally was able to feel somewhat calm prior to his third at-bat.
"After that second at-bat against [Chris] Sale I felt way, way better," Shaffer said. "Going back even to yesterday and then my first at-bat, I was really quick. Everything I was doing was really quick. And then after that, I sort of settled in and after that second at-bat I was like, 'I'm getting one today. I feel really good.'"
Shaffer's home run gave the Rays four homers on the night. They had not hit four home runs in a game since Sept. 7, 2014, against the Orioles at Tropicana Field.
The Rays selected Shaffer with the 25th overall pick in the 2012 Draft, and the 24-year-old right-handed hitter is ranked by MLBPipeline.com as the organization's No. 11 prospect. The Clemson University product had split this season between Double-A Montgomery and Triple-A Durham, hitting a combined .263/.361/.539 with 23 home runs and 59 RBIs over 94 games.
Shaffer became the eighth Rays player to make his first Major League hit a home run, and the third this year, joining Nathan Karns (July 21, 2015, vs. the Phillies) and Mikie Mahtook (April 15, 2015, vs. the Blue Jays). The others: Brandon Guyer (May 6, 2011, vs. the O's), Elijah Dukes (April 2, 2007, vs. the Yankees), Delmon Young (Aug. 29, 2006, vs. the White Sox), Brent Abernathy (June 25, 2001, vs. the Red Sox) and Esteban Yan (June 4, 2000, vs. the Mets).
Shaffer became the seventh Ray to hit his first Major League home run this season (Joey Butler, Tim Beckham, Mahtook, Karns, Allan Dykstra, and Curt Casali). The Rays also set a club record for most home runs by rookies in a season (39) this year. Shaffer is the eighth rookie to hit a home run for the Rays this season.
Bill Chastain is a reporter for MLB.com This story was not subject to the approval of Major League Baseball or its clubs.