Wood's odd balk helps fuel Phils' rally vs. LA
Dodgers southpaw exits after losing grip on ball, leading to Franco's go-ahead slam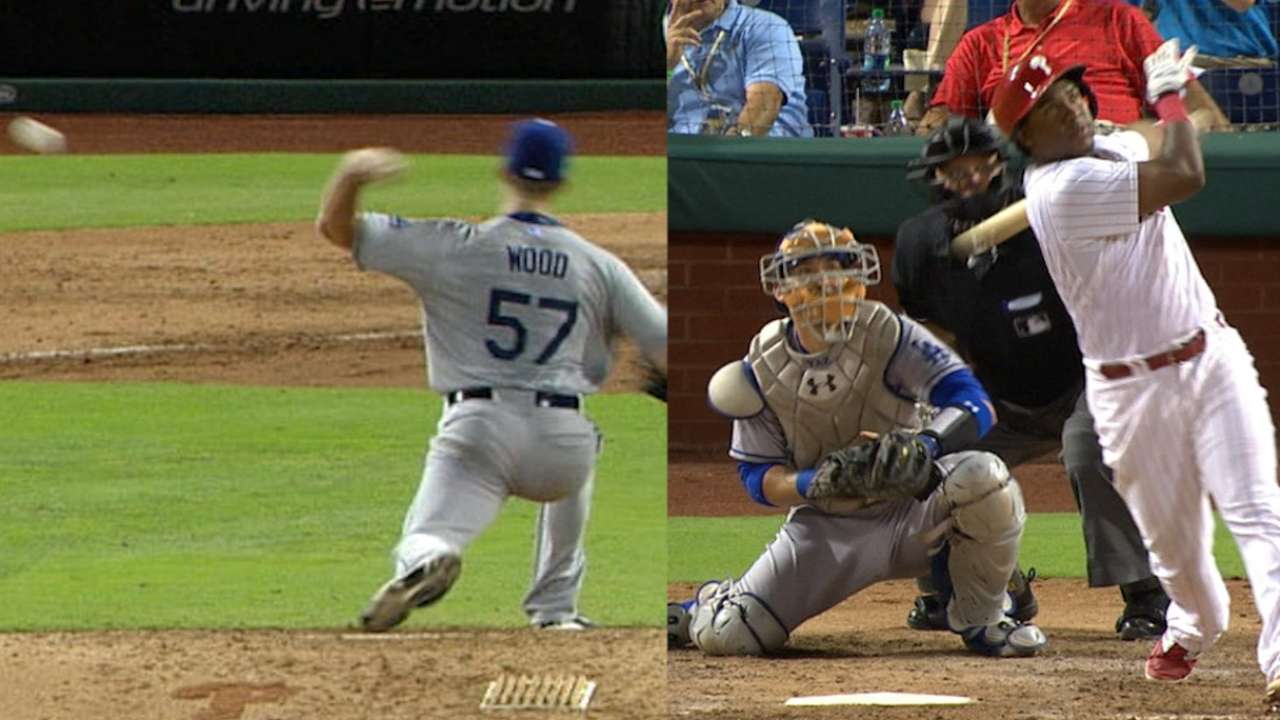 PHILADELPHIA -- Did Dodgers left-hander Alex Wood balk or not?
Wood had runners on first and second with one out in the seventh inning of the Dodgers' 6-2 loss to the Phillies on Tuesday when he let a 3-2 pitch to Odubel Herrera slip out of his hand. The ball landed between the mound and first base and Phillies catcher Carlos Ruiz, noticing that no Dodgers fielder bothered to pick up the ball, ran on the play and scored from second base.
Except he did not.
Umpires ruled the pitch a balk and sent Ruiz back to third.
Rule 8.01(d) states that "A ball which slips out of a pitcher's hand and crosses the foul line shall be called a ball; otherwise it will be called no pitch. This would be a balk with men on base."
The umpires ruled the play correctly.
"I knew it was a balk," Phillies interim manager Pete Mackanin said. "Because it didn't cross the foul line, it's a balk. The runners advance, but the ball is dead so the runner could not score. There is a certain play where if a balk is called and the pitcher makes a pitch and the hitter gets a base hit, then the hitter can elect to choose the hit. But that wasn't the case with that play. I don't think I've ever seen that before, but as it turned out it worked out best for us, with Maikel Franco's home run."
Wood walked Herrera on the next pitch to load the bases and Franco followed with a grand slam against reliever Joel Peralta.
Todd Zolecki is a reporter for MLB.com. Read his Phillies blog The Zo Zone, follow him on Twitter and listen to his podcast. This story was not subject to the approval of Major League Baseball or its clubs.